The German firm of Heckler & Koch, one of the best-known suppliers of military and police forces worldwide, has gone a long way since its first global commercial success, the G3 battle rifle series dated back to the 1950s. Heckler & Koch has since devoted most of its efforts to constantly develop new technologies, to meet the ever-increasing needs of élite warfighters around the world. The company's new products for 2012 have been actually first showcased at some defense expos in late 2011, but their official, large-scale launch took advantage of the Las Vegas SHOT Show this January.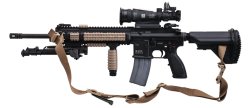 The first and most important new HK military product is a light machine-gun variant of the HK-416 assault rifle, Heckler & Koch's reinvention of Eugene Stoner's "Black Rifle", featuring an extremely reliable gas piston system, that has gained approval and adoption by countless Special Operations groups everywhere since its first launch in 2005. This 5,56x45mm-NATO LMG variant of the HK-416 will feed from any STANAG 4179 magazine, including high-capacity versions such as the BETA-C Mags and ARMATAC SAW-Mags, and is virtually cosmetically undistinguishable from the standard rifle, except for featuring a 16.5" heavy-profile barrel that increases its capacity to withstand repeated cycles of sustained fire. The mid-length barrel also makes it more manageable and thus apt for squad support groups in close quarters combat and MOUT (Military Operations on Urban Terrain) if compared with the currently-issued belt-fed lightweight and general-purpose machineguns. That's why this new version has been officially adopted by the United States Marine Corps and coded as M27-IAR ("Infantry Automatic Rifle"): fielding within combat units to complement (and partially replace) the currently-issued M-249 SAW (a.k.a. FN "Minimi") has already started, and is expected to complete in Summer 2013 with a total of 4500 samples acquired for a cost of $13 million; the M29-IAR will bridge the gap between the USMC individual weapon (the M16-A4 assault rifle) and the belt-fed squad automatic weapons, which will be retained in service in the order of tens of thousands. Plus, five-year, indefinite delivery, indefinite quantity contract calls for possible delivery orders up to $23,600,000 for the production, delivery, and associated support of the Marines' Infantry Automatic Rifle program.
«The fielding of the IAR will significantly enhance the ability of our infantrymen to gain and maintain fire superiority, reduce their fighting load and provide them a more ergonomic and accurate weapons system that can keep up during the assault», said Marine spokesman Major Joseph Plenzler in a press statement in June 2011.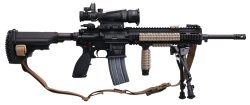 The Marine Corps approved the full rate production and fielding of the M27 Infantry Automatic Rifle during the summer of 2011. There will be one M27 IAR per four-man fire team, with three M27 IARs per squad, 28 per company and more than 4,000 across the entire Marine Corps.
«Winning the Marine's IAR competition is another milestone for our HK416», said Wayne Weber, President of Heckler & Koch USA. «Developed at no cost to the U.S. taxpayer and with U.S. military input in the aftermath of the September 11th attacks on America, the HK416 competed against ‒ and beat many worthy challengers. This contract award is a direct testament to the superior performance of the HK416 and it is an honor for Heckler & Koch to equip the Marines with such a fine rifle».

Another important victory for Heckler & Koch comes through the second new military product launched this year: the G-28 designated marksman rifle, based upon the 7,62x51mm-NATO HK-417 battle rifle system, has been adopted by the Bundeswehr (German Armed Forces) as its new Precision Marksman Rifle, and is already fielded by German troops deployed in Afghanistan.
The G-28 semi-automatic rifle is a .308-caliber designed and produced to deliver high-accuracy, medium-to-long-range fast-fire support to infantry platoons. It employs the same trigger group as the MR-308/MR-762 semi-automatic rifles sold worldwide to civilian shooters and as Police patrol rifles, yet the G-28 system also integrates a wide array of peculiar features that make it a unique weapon, and one of the world's best and most effective designated marksman rifles available, featuring a guaranteed and repeatable 1.5 MOA accuracy, high first-shot hit capabilities on human-sized targets up to 600 meters and an extremely high precision in suppressive fire against standing or moving targets up to 800 meters.

The G-28 semi-automatic designated marksman rifle employs an entirely stainless steel (not aluminium) upper receiver, with a free-float handguard equipped with four MIL-STD-1913 "Picatinny" rails for tactical accessories, while another interface for optical sights is located on the top of the receiver itself. The 16.5-inch, chrome-lined barrel, equipped with flash hider/muzzle brake that dubs as a quick silencer attach/detach point, is made entirely in-house by Heckler & Koch, through its best cold-hammer forging technologies. The G-28 comes also equipped with an HK-416 type pistol grip, a 6-positions telescopic stock with adjustable butt-pad and cheekpiece, and an enlarged "Winter" trigger guard, and is fed through 20-rounds double-stack detachable translucent plastic magazines.


The G-28 rifle system is available in two variants: the above-described "Standard" model and a more manageable "Patrol" model featuring a shorter, lighter trigger guard and a standard HK-417 telescoping stock without adjustable butt-pad and cheek riser. Both models feature a low IR-visibility greenish/brown paint finish, called the RAL8000, and feature a 75% parts commonality with the HK-417 battle rifle. Multiple conversion kits will also be made available to make the G-28 rifles ever more mission-adaptable or to better suit each unit's specific needs. The accessories included and/or recommended by Heckler & Koch for the G-28 rifles include the Schmidt & Bender 3-20x50 or 1-8x28 scopes, red-dot AIMPOINT Micro-T1 gunsights, Rheinmetall Soldier Electronics LLM01-RAL8000 laser target designators, Qioptiq Merlin LR night vision devices, L3-Insight CNVD-T35 thermal sights, and the Jenoptik HLR15 and Vectronix PLRF15 laser rangefinders. Each G-28 rifle is delivered in a proprietary Peli case and comes with a noiseless carry sling.