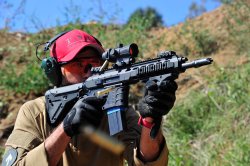 The ARAK-21 was originally announced in 2013 by its manufacturer − the Faxon Firearms, LLC. company out of Cincinnati (Ohio, U.S.A.) − and first publicly showcased at the 2014 SHOT Show in Las Vegas.
The ARAK-21 is an upper receiver conceived to be compatible with basically any centerfire AR-15 variant lower receiver available on the commercial markets, and to M16 and M4 lower receivers for MIL/LE customers.

The idea behind the ARAK-21 is to improve the general reliability of Eugene Stoner's quintessential black rifle and allow the current owners and operators of all variants of America's most quintessential modern sporting rifle to switch to a different platform without having to purchase a new gun.

The Faxon Firearms ARAK-21 upper receiver is a totally self-contained system conceived to provide − both in terms of conceptual modernity and performance − basically what civilian shooters and professional operators seek in the last generation of "black rifles" such as the Beretta ARX-100/ARX-160/ARX-200 family, the Bushmaster/Remington ACR, the FN SCAR or the Robinson Armament XCR, among others.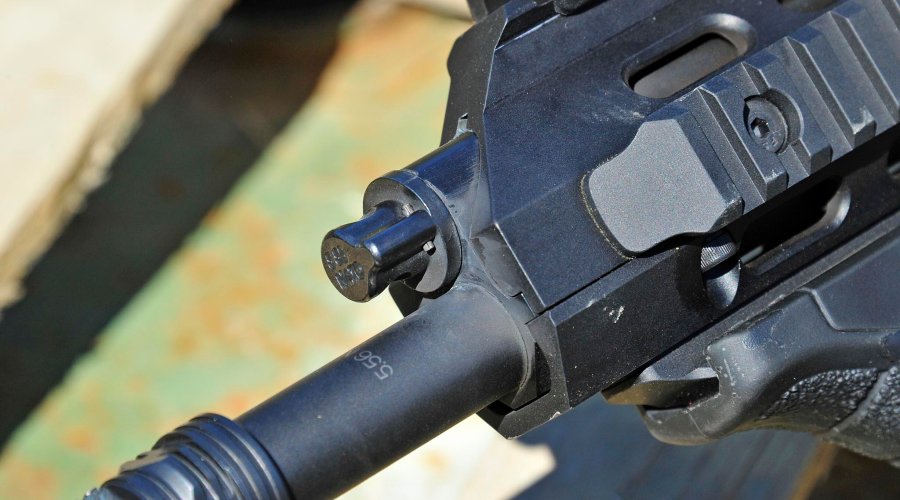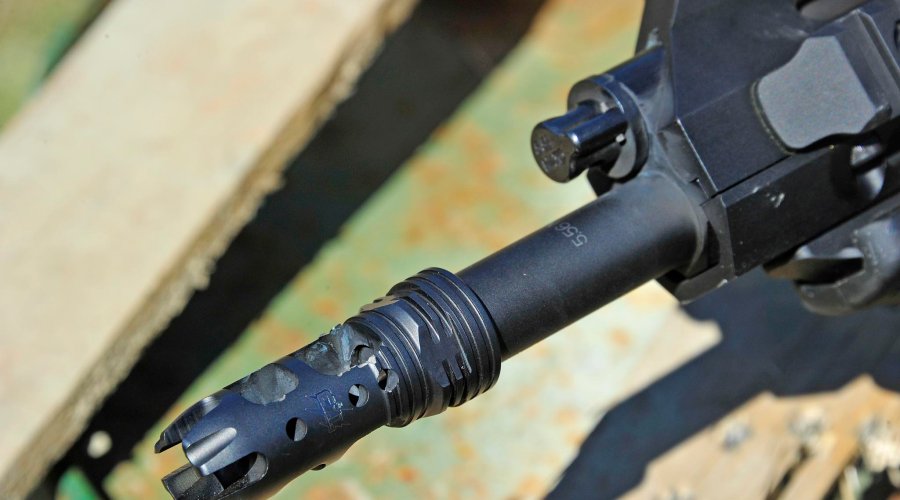 What the Faxon Firearms ARAK-21 system shares with all the above-mentioned models is the indirect-impingement gas-operated system, replacing the direct gas impingement system that is linked by many to most of the drawbacks of the AR-15 platform − most notably those linked to the build-up of carbon-heavy fouling within the system.

Plus, just like all of the above, the Faxon Firearms ARAK-21 system is not bound to use fixed or telescopic stocks only, but can also mount (and operate) sidefolding stock models, greatly enhancing portability and maneuverability among other factors. But we will see that in a moment.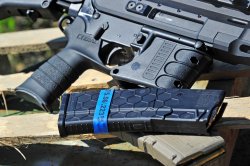 Currently Faxon Firearms manufactures the ARAK-21 upper receiver in 5,56x45mm/.223 Remington − convertible to .300-AAC "Blackout" − and 7,62x39mm caliber variants. The ARAK-21 XRS complete rifle, built around an ARAK-21 upper receiver and Faxon Firearms' own lower, is also available in the United States.

Available barrel lengths include 12,5 inches, 16 inches and 20 inches, and the ARAK-21 system is also available in a right-side ejection only version or in an ambidextrous variant, with selectable ejection ports located on both sides to meet the needs of left-handed shooters and professional operators, particularly in CQB situations or whenever right-side ejection could disturb other shooters.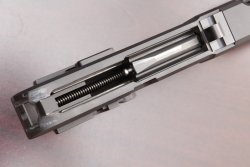 Faxon Firearms is also considering to expand the ARAK-21 line with a plethora of future variants in other calibers (possibly 6,8x43mm SPC and 6,5 Grendel), and the ARAK-31 − a .30-caliber version of the platform, initially chambered in 7,62x51mm/.308 Winchester and compatible with AR-10 lower receivers − should be launched in early 2016.
The Faxon Firearms ARAK-21 upper receiver is imported in Europe by Tactical73 S.r.l., headquartered in Venaria Renale − a town located in the metropolitan area of Turin, Italy − and as of today it is available only in its 12,5 inch barrel variants, both in .223 and .300-AAC. all4shooters.com obtained a .223-caliber ARAK-21 in early summer 2015, and put it through several tests in the course of the following months.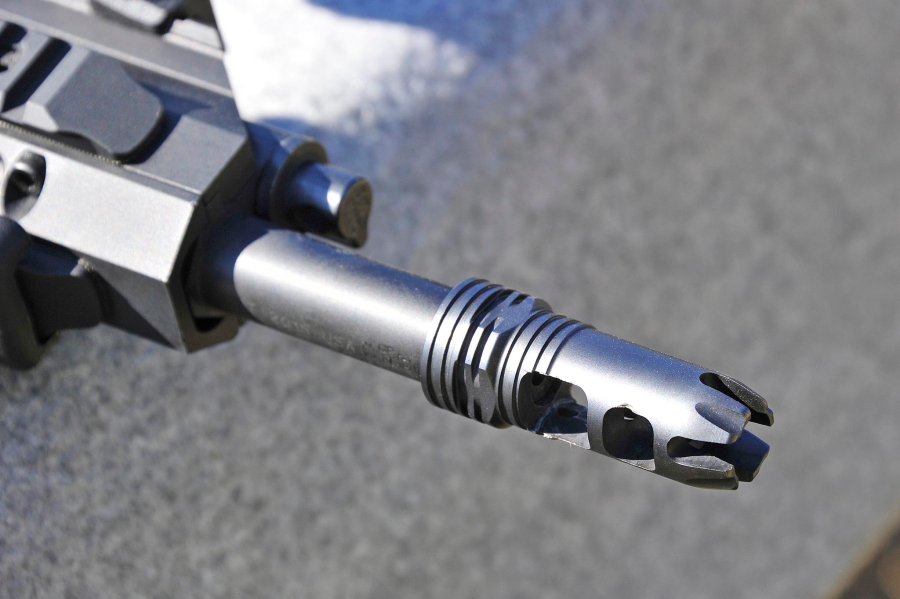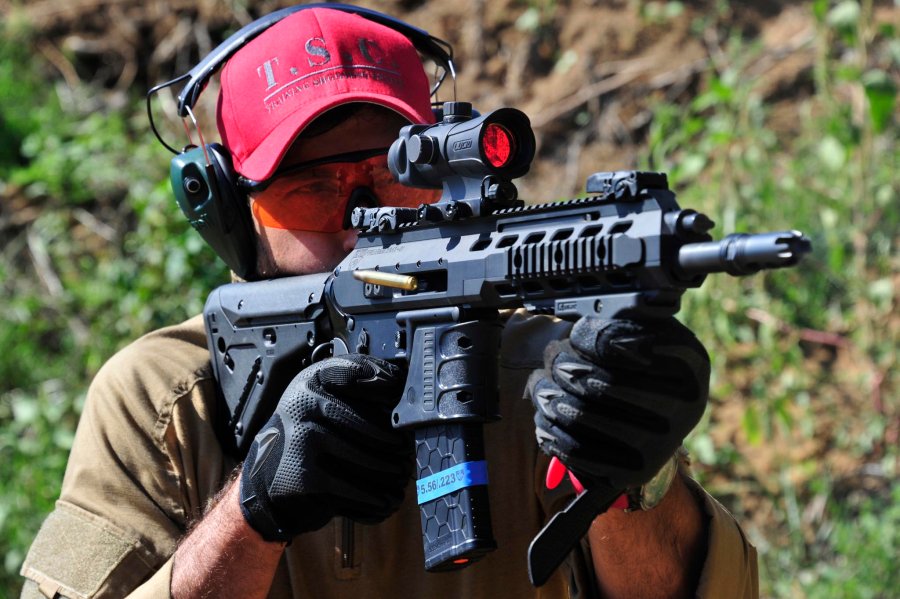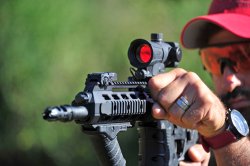 According to the laws and regulations of many European Countries, the Faxon Firearms ARAK-21 would be considered a firearm component or a conversion kit − this meaning that a gun license would be required for purchase, and it would have to be registered, but it wouldn't count as a gun itself and its use would be mostly unrestricted. And indeed, the ARAK-21 can be seen as a conversion kit, given how it converts the AR-15 platform to a completely different working principle.
More specifically, the AR-15 rifle or carbine with an ARAK-21 upper receiver installed would switch from the factory DGI (Direct Gas Impingement) system to a long-stroke piston operation.

The "ARAK" denomination stands exactly for what it sounds like: AR is for "AR-15", AK stands for "AK-47". Faxon Firearms found a way to adapt the AK's long-stroke op-rod system to its historical rival on the battlefield, Eugene Stoner's AR-15 and all variants thereof.

Many modern AR-15 variants did switch between the original DGI principle to the largely cleaner and more reliable piston system, but most of them went for a short-strike piston system. The ARAK-21 is different.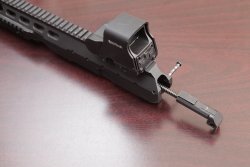 The removal of a pin located on the rear portion of the ARAK-21 upper receiver is all it takes to remove the rear end plug and subsequently the entire bolt group, and take a look at it: the similarity between the ARAK-21 bolt system and the AK-47 bolt assembly is striking − but so are the differences, as Faxon's high-technology manufacturing and craftmanship are evident, and so is the level of engineering and effort put in adapting the AK-47 long-stroke piston to a last-generation system.
What tells the ARAK-21's long-stroke working system from the AK's is the removable, rotating bolt head with eight locking lugs, the modern design and the high-precision manufacturing with extremely tight tolerances − all aimed to ensure the performance and accuracy one would expect from a next-gen American-made weapon system.
The gas block is located over the barrel, and features an adjustment valve that can be easily operated by the shooter to adapt the performance of his or her ARAK-21 to the type of ammunition used, and turns out particularly handy when the ARAK-21 is equipped with silencers or sound suppressors.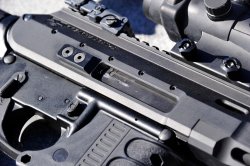 The factory-issued flash hider is screwed on a threaded muzzle, and can easily be removed and replaced with silencers or sound suppressors where legal (and this unfortunately excludes many European Countries − including Italy, where we tested ours), or with other muzzle devices.

As a conversion kit, the ARAK-21 is conceived for both civilian shooters and professional operators (military or law enforcement personnel). The ARAK-21 itself has no effect on the semi-automatic or full-automatic capabilities of the firearm it's installed on, and can thus not be restricted as a military firearm component; nonetheless it is compatible with all MIL-SPEC AR-15 type lower receivers, and this includes M16 rifle and M4 carbine variants. As such, it would make a perfect choice for those militaries or government agencies seeking to upgrade their arsenals to the latest generation of weapon systems while at the same time retaining the existing stocks of M16s/M4s.

The Faxon Firearms ARAK-21 chassis is fully machined out of a solid block of 7075-T6 aluminum alloy, which is then hard-anodized under military specifics in a plethora of colors. The sample we tested is black, but on the U.S. market the ARAK-21 is distributed in several other color options including red, green, blue, or light grey.

Other features of the ARAK-21 include a full-lenght top MIL-STD-1913 "Picatinny", providing a practical attachment point for iron sights or optical gunsights. Three shorter Picatinny rail portions − attached to the sides and under the handguard through flat-head socket cap screws − allow the installation of tactical accessories.
The only component of the upper receiver chassis that can be detached is the lower portion of the handguard, kept in place by six Allen screws.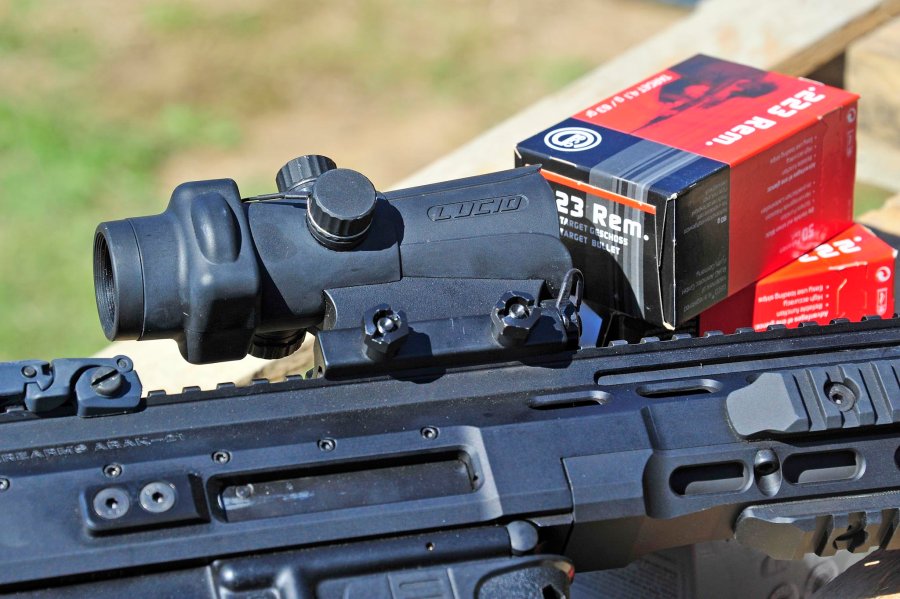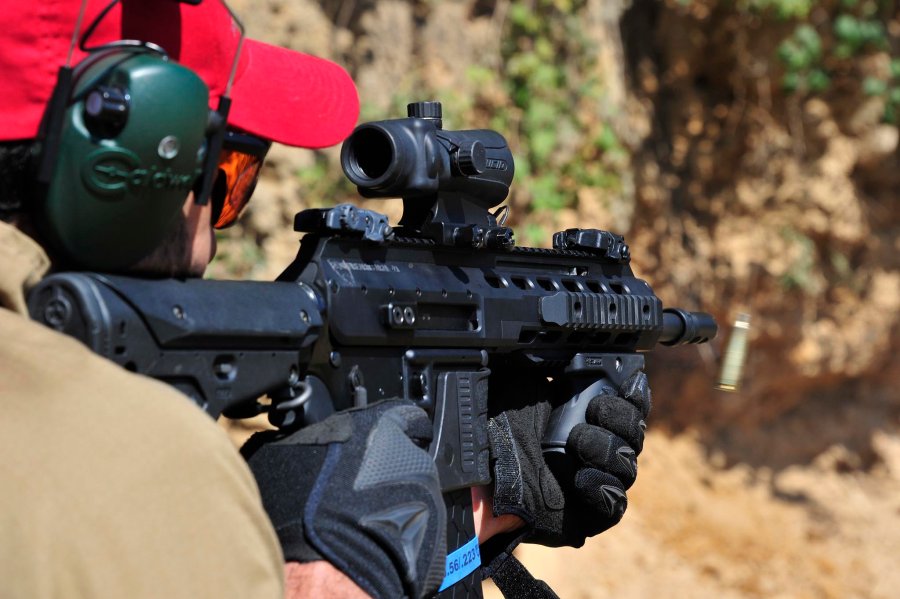 Once said screws are removed, following the basic field-stripping of the ARAK-21, the barrel can be removed and replaced with another one, differend by caliber, by length, or both.

As a matter of fact, the ARAK-21 system is basically the same for all the three available calibers − .223 Remington/5,56x45mm NATO, .300-AAC "Blackout" and 7,62x39mm − only the barrel and the rotating bolt head change. The version we used was an Italian import 12,5 inch barrel version, featuring six right-handed grooves and a 1:8 pitch, marked "5.56 NATO".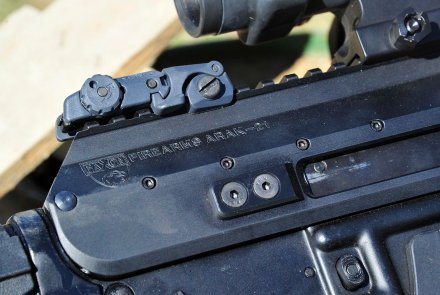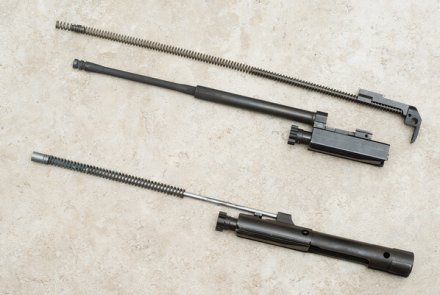 The Faxon Firearms ARAK-21 upper receiver features several venting holes all through the front portion, in order to reduce the odds of overheating during sustained fire. The non-reciprocating carrying handle is attached to an ambidextrous slot right above the barrel, and can be removed and reinstalled on the opposite side in order to adapt it to right-handed or left-handed shooters.
Being totally self-contained, the ARAK-21 doesn't need the AR-15's typical recoil buffer to work. Any lower receiver that's fitted with the ARAK-21 can thus be installed − and operated − with side-folding stocks in lieu of the standard fixed or telescopic stock installed on a buffer tube.
The Faxon Firearms ARAK-21 is definitely heavier than a standard AR-15 upper receiver − adding at least three kilograms to the overall weight of the gun − but it is also well balanced, and helps to control recoil and muzzle climb in rapid or even full-automatic fire.
The manufacturing is visibly state-of-the-art − and rightfully so, since Faxon Firearms uses the best available materials and operates the best available machineries.

The slight scratches than can appear on the outer portion of the ejection window are no symptom of a defect, but rather of the extremely tight tolerances of the ARAK-21, a sign of top craftmanship and high accuracy.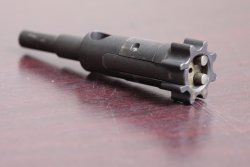 When installed on some commercial lower receivers, the ARAK-21 upper can still have some wobble − it happened with us with our NORINCO CQ/A-M4 lower receiver. That can be fixed with aftermarket accessories such as Brownell's AccuWEDGE  − and seems to have close to no effect on the inherent accuracy of the Faxon Firearms' upper receiver.
And indeed, our Faxon Firearms ARAK-21 upper receiver shown its inherent accuracy and capabilities in all our tests, which we ran in several outdoor ranges in the Italian regions of Sardinia and Lazio, in several occasions between the months of June and October, 2015, on ranges of around, or exceeding, 50 metres − taken as a standard distance at which an average shooter (not an expert or a pro!) would probably want to give a try to a 12,5 inch barrel.
We obtaine our best groups overall with GECO 5,56mm/.223 FMJ loads with 62 grains, after using Winchester and Fiocchi loads to zero our Lucid HD7 red dot sight. Likewise, a following mag dump − shooting during a tactical movement drill, using Sellier & Bellot ammunition − gave satisfying results. We're confident that we could have obtained even higher accuracy if we used a rest or other types of optics, even at longer distances.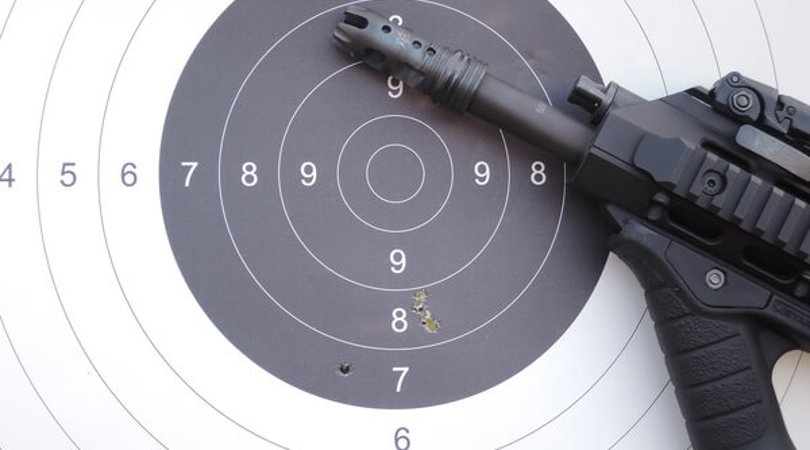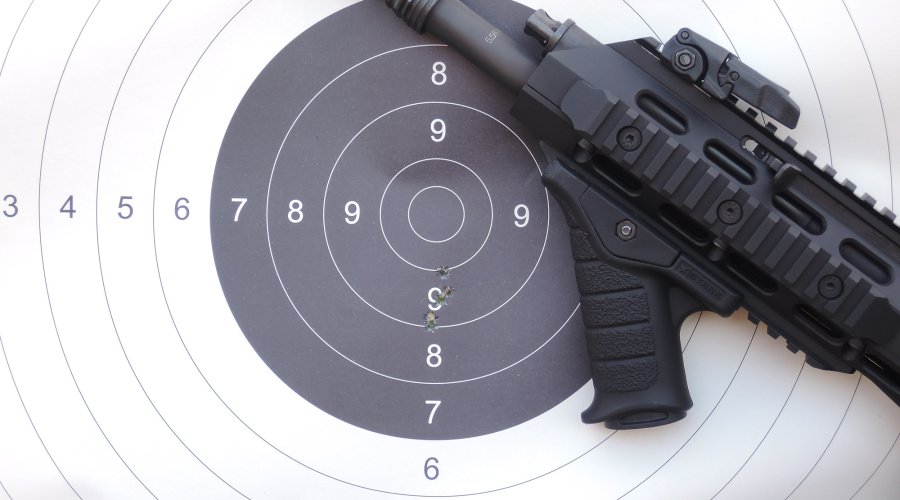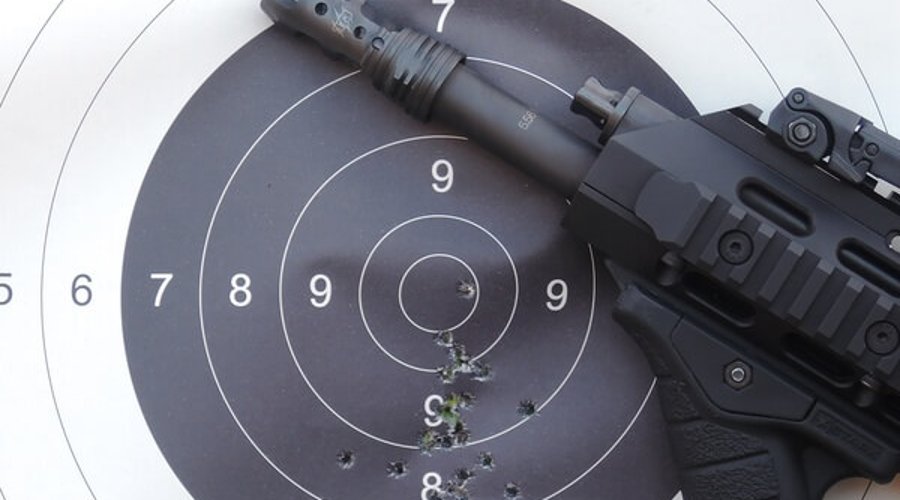 We highly reccommend the Faxon Firearms ARAK-21 upper receiver to all civilian shooters and professional operators that may want to upgrade their AR-15 variant to a latest-generation platform without having to totally retrain: as a matter of fact, the only control that changes when shifting from the standard AR-15/M16/M4 configuration to the ARAK-21 is the cocking handle − all others (magazine release, hold-open device, safety or fire selector) remain the same, given how the ARAK-21 is a drop-in upper and installs on existing AR lowers.
In the United States, the starting retail price for the Faxon Firearms ARAK-21 upper receiver is set at $1.199,00; in Italy − given local taxes, VAT, import and export fees, customs duties, the current exchange rate between the U.S. dollar and the Euro, and others − the single-barrel, .223/5,56mm-caliber 12,5 inch variant is sold at €1.724,30 while the "Combo" variant (issued with a 12,5 inch .223/5,56mm barrel and a 12,5 inch .300-AAC "Blackout" barrel) is sold at €2.106,84.