Article also available in other languages

FABARM - Fabbrica Bresciana Armi S.p.A.
Those who consider the pump-action shotgun as a quintessentially American firearm, should better think again. As a matter of fact, the first effective and mass-produced pump-action, lever-action and semi-automatic shotguns were conceived and manufactured in the United States, engineered by John  Moses Browning and by Christopher Miner Spencer, and the U.S. Armed Forces were the first ever to use pump-action shotguns on a large scale on the battlefield, from the Mexican punitive expedition and World War I onwards. And still, another global powerhouse has been manufacturing and selling pump-action shotguns on a global scale ever since the 1970s: Italy. The Italian gun industry has a centuries-old tradition in shotgun making, and when pump-action shotguns started to become increasingly popular for law enforcement and military purpose outside of the United States, Italian companies were quick in conceiving and manufacturing innovative and effective variants of the design that quickly gained global acceptance and fame: so to speak, the Franchi SPAS-12 went on to become a global icon in pump-action shotguns, and the quintessential combat shotgun of the 1980s.
Headquartered in the northern Italian town of Travagliato, the FABARM S.p.A. company − founded at the beginning of the 20th Century as the "Fabbrica Bresciana d'Armi" by the Galesi family, one of Italy's most ancient dynasty of gunmakers − launched its first pump-action shotguns, dubbed the Martial and the SDASS, in the year 1970.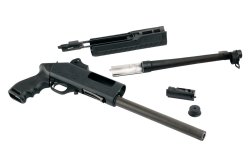 FABARM - Fabbrica Bresciana Armi S.p.A.
The FABARM shotgun quickly rose to global fame as technically and stylistically conventional models (exception made for the models used by the British-based Viking Arms firm to manufacture the peculiar SOS-12 custom model back in the 1980s), while at the same time offering solidity, reliability and affordability to civilian shooters, private security personnel, Police and military operators in Italy and in the whole of Europe at first, then in the United States and in the rest of the world. The FABARM company proceeded to a restyling of its pump-action shotguns line in the past twenty years or so, turning them into increasingly modern products so to meet the everchanging needs of professional operators and simple citizens looking for reliable means of personal, family, household and property protection. A few years ago, FABARM launched an ultra-short pump-action shotgun − aptly dubbed the Martial Ultrashort − that came with a four-shots magazine and an 11-inches barrel. Before FABARM, Franchi had been only Italian company to ever market an ultrashort pump-action shotgun, but while the PA-3 model had been only made available to Police and military customers, FABARM offered the "Martial Ultrashort" on the international civilian markets; being such a short pump-action shotgun strictly regulated, or outright forbidden for civilians, in many jurisdictions, the company also launched an 18-inches barrel variant shortly thereafter. And development of super-short pump-action shotguns at FABARM continues.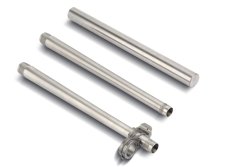 FABARM - Fabbrica Bresciana Armi S.p.A.
Fact is, a lot of Police and military units often express interest for this kind of equipment. Military special forces and Police SWAT teams may need to equip operators with a secondary shotgun, in addition to the basic assault weapon, to provide high-impact close-quarters combat capabilities and to allow the use of less-lethal ammunition − including, but not limited to, rubber batons, lachrimatory or traumatic shells, paint markers or Taser-XREP extended-range electrically-charged projectiles − for these situations when the use of force continuum may require a quick increase or decrease: thats the case for military peacekeeping operators that may have to face crowds of unarmed protesters, or armed insurgents hiding between innocent civilians; and that's also the case for hostages situation calling for Police operators to use accurate non-lethal shots to neutralize the threat when lethal ammunition may cause collateral damage. Of course, said shotgun should also be capable to use high-power loads, such as penetrators or breaching shells, to bust through barricades or doors when the situation asks for a forced entry; if it's a stand-alone weapon and not an accessory, said shotgun should be as compact and lightweight as possible, in order not to be of hindrance for the operator himself and to remain easy to handle in confined spaces; and, last but not least, it should be a slide-action (or pump-action), since no semi-automatic shotgun has ever been made so short and reliable at the same time, and by all means, most of the above-mentioned non-lethal shotshells are loaded with a reduced amount of primer, which would not develop the necessary gas or recoil impulse levels to allow a semi-automatic shotgun to cycle properly.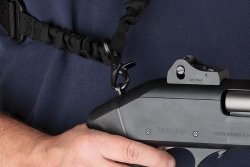 FABARM - Fabbrica Bresciana Armi S.p.A.
FABARM answers these needs with a new add-on to its "Law Enforcement" products line this year: dubbed the Martial Pistola 11", FABARM's new pump-action shotgun is merely 23 inches (53cm.) long, sporting a mere 11"/28cm. cold-hammer forged barrel with cylindric choke. The frame for this stubby shotgun is machined out of a single block of ERGAL-55 aluminium alloy − that's the very same 7075-T6 alloy used for the manufacture of upper and lower receivers for AR-15 semi-automatic rifles and carbines, M16 assault rifles, M4 assault carbines, and all derivatives thereof. All external metal parts (barrel, frame) on the FABARM Martial Pistola 11" shotgun are protected by a matte black finish, the frame being hard-anodized, while the bolt group is hard-chromed. The pistol grip and handguard coming with it are made out of reinforced polymer; other features include LPA Ghost Ring sights and a 4+1 shells overall capacity − four shots in the magazine tube plus one in chamber. The FABARM Martial Pistola 11" sports a 3"/76mm chamber for "Magnum" shotshells, although the full 4+1 capacity can be obtained only using standard 2.¾"/70mm shells. The FABARM Martial Pistola 11" shotgun is sold in a polymer case and features a sling ring on top of the pistol grip, which allows the use of a single-point sling as a concealed carry system for personal defense purposes, open carry, VIP protection duties, and so on. The frame is also tapered for optional MIL-STD-1913 "Picatinny" rails, which would either allow the use of optical aiming devices or the installation of Picatinny quick-attach/release brackets, similar to the ones sold by Knight's Manufacturing or RM-Equipment for the M203 grenade launcher; with such an interface attached and the pistol grip removed, the FABARM Martial Pistola 11" can be attached under the railed handguard of any standard assault rifle or carbine as a secondary or accessory breaching/CQB shotgun.
Sensied Consulting S.à.r.l.
The FABARM Martial Pistola 11" pump-action shotgun can also fit other stocks manufactured by the FABARM company itself for other tactical shotguns of its line; the Martial Pistola 11" can be purchased with said optional stocks mounted in lieu of the standard pistol grip, but these may also be purchased as aftermarket accessories and installed by the owner himself/herself. The FABARM Martial Pistola 11" pump-action shotgun is already on sale on the civilian market in Italy: manufacturer's suggested retail price tops 880.00€ for the standard pistol grip version, 918.00€ for the "Pro-Force" stock version (pistol grip and fixed buttstock), and 1000.00€ for the "Telescopic" stock version, coming with a pistol grip and an M4-type collapsing buttstock. Civilian sales outside of Italy are not confirmed yet: such a short shotgun may be restricted, if not outright prohibited, in many legislations − it would definitely be an NFA item in the United States. Last, the FABARM Martial Pistola 11" shotgun is being used by the SENSIED Consulting company − headquartered in the Swiss town of Villeneuve − as a basis to prepare the Sensied K1, a custom-made tactical pump-action shotgun issued to the Special Operations units of the French Air Force.