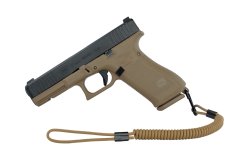 GLOCK Ges.m.b.H., © GLOCK Ges.m.b.H.
Just recently we reported that GLOCK will equip the French army with service pistols in the next future. The "Pistolet Automatique de Nouvelle Génération" (new generation automatic pistol) – PANG for short – is a GLOCK 17 Gen5 with sand-colored frame and black slide.
The new holster is a safety model from Blackhawk's T-Series
Over 75,000 holsters will be provided for the new service pistols. The Blackhawk T-Series L3D safety holster is made from injection-molded polymer and features a thumb-activated retention facing the body which, when activated, allows the safety lever to fold away and release the gun. In this respect, the holster is comparable to the Safariland SLS. Thanks to to the "Quick Disconnect System" with male and female adapters, the holster can be worn in different ways, as a thigh or belt holster and at chest height on the plate carrier.