Armament Technology's optics manufacturers offer products of the highest quality and performance for professional use. Their brands include high-end riflescopes such as ELCAN and Tangent Theta, along with professional accessories such as Tenebraex anti-reflection filters. Armament Technology is now expanding its range with the SAI riflescope and XOPTEK illuminated dot sight. Through RUAG Ammotec, the products for the military and law enforcement sectors are also coming to Europe. This equipment is not sold in any civilian version. Nevertheless, we would like to inform you about the state of the art.
Armament Technology: Tangent Theta and SAI 6 riflescopes

The 5-25x56 mm Professional riflescope from Tangent Theta has a new addition: the TT525 is now available not only in black, but also in Coyote Brown. In addition, Armament Technology supplements the TT525 series with another reticle called JTAC. A clear advantage of this reticle is the open or free area at the top and sides of the field of view. This allows for faster identification of the target without occlusion.

With a magnification of one to six times, the SAI 6 riflescope from SAI Optics provides a rugged and versatile solution for a variety of requirements. The SAI 6 features an LED-illuminated reticle in the first image plane for accurate rangefinding and ballistic hold-off at any magnification. The scope's close-range effectiveness is ensured by the patented "Rapid Aiming Feature" reticle and a superior field of view. The SAI 6's slim and rugged design offers many options for modular mounting.

Armament Technology ships the new SAI 6 short dot scope, like all Tangent Theta riflescopes, with Tenebraex honeycomb filters and dust caps from the factory. These are of course also available for purchase individually.


XOPTEK red dot sight: a new reflex sight from Armament Technology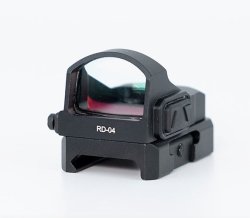 Armament Technology introduces the XOPTEK micro-reflex red dot sight, an in-house production. The manufacturer is thus expanding its range to include a sight for use at close and medium ranges. The requirement for XOPTEK was to meet the criteria of a lightweight, fast and cost-effective red-dot sight. With the help of two available adapter plates, XOPTEK can be mounted directly on the Picatinny rail or even as an additional sight on an ELCAN Specter.

The XOPTEK stands out from other red dot sights with a practical feature: its CR2032 battery with a service life of up to 34,000 hours (at medium brightness level) can be replaced from the side. So when changing the battery, the sight can remain mounted, eliminating the need to readjust and re-zero. Armament Technology's XOPTEK Micro-Reflex red dot sight is available with either a 4-MOA or 6-MOA dot.

All Armament Technology products are available from RUAG Ammotec in the military and law enforcement markets only.

---
For more information on Armament Technology optics please visit the manufacturer's website.