Article also available in other languages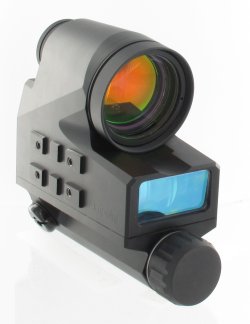 Chronologically speaking, this is not a real "new" product: military operators and gear enthusiasts will remind the first samples of this system to have been first showcased at the 2010 edition of the Paris EUROSATORY defense technologies expo.
However, three years and a half later − almost entirely spent in trial and evaluation, both at the range and on the battlefield, which also included a yet undisclosed numbers of combat engagement against insurgent and Taliban forces in Afghanistan − the final version of the digital fire control system for shoulder-fired rocket launchers and other medium and heavy-calibre support weapons, conceived by Swedish-based Aimpoint AB − a global leader in tactical optics and gunsights for hunting, sports shooting, defensive and professional (Military, Law Enforcement) applications − is ready to roll at last.

Dubbed the FCS-12, it has been showcased to selected media members and high-rank military personnel only − not to the general public! − during the 2013 trade shows season: as a matter of fact, Aimpoint had it ready for demonstrations at the Las Vegas SHOT Show, at the IWA in Nuremberg (Germany) and in other, mosre strictly military-oriented exhibitions, including IDET, IDEX and LAAD.
The Aimpoint FCS-12 was conceived following the constant trend at innovation, modernization and acquisition of network-centric capabilities that most western Armies, and many other military organizations worldwide, are currently undergoing in order to better face the present and future asymmetric threats represented by enemy Special Forces, Commando-type and infiltration units as well as by irregular forces such as terrorist, guerrilla and insurgent groups. For over a decade, the research and development efforts of many major players in the military armament and equipment sector have been focused on coming out with technical solutions that may either successfully integrate digital and network-centric technologies in existing squad-level support weapons (rocket launchers and RPGs, light machineguns and general-purpose machineguns, grenade launchers) or embody them in totally new weapon systems, so that selected operators may effectively engage human and vehicle targets, either unarmored or lightly armored, even when moving or behind a solid cover. THese experiments led to the creation of now well-known solutions such as the US-made XM25 CDTE counter-defilade grenade launcher and the South Korean S&T-Motiv K-11 DAW dual-use airburst assault weapon.
The FCS-12 system sports however a considerable advantage: it has been meant since the very beginning to be an accessory, not an integral part of a totally new weapon system, this meaning that it can be installed and used − very easily, despite the technical complexity of the system − on a plethora of existing, already fielded rocket launchers, rocket-propelled grenade launchers, and other weapon platforms.

The Aimpoint FCS-12 fire control system is built around a fully waterproof, weatherproof, highly resistant hard-anodized aluminium chassis, that has been proven to be resilient to aggressie chemicals as well. The FCS-12 system integrates an 1x parallax-free optical channel sight − featuring an infinite exit pupil and multi-coated lenses, with a band-pass filter that makes it 100% compatible with most, if not all, of the currently-existing and available night vision, thermal and fusion devices − as well as an 1550nm/1.55µ laser rangefinder that's both eye-safe according to all military and civilian specs while at the same time remaining undetectable by night vision devices. The rangefinder has a very high resolution (1m at the maximum range), and will be effective up to 1km. on solid targets with at least a 10% light refraction rate and up to 1.8Kms on grass and other vegetation.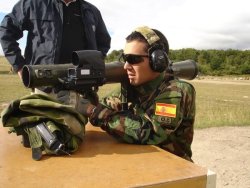 The Aimpoint FCS-12 is approximately seven inches long, 3.5 inches wide and 6 inches high, for an approximate weight of around 3.5 pounds; it is powered by a power pack that may hold up to six commercial-grade or reloadable 1.2V to 3.6V AA batteries, and may be used continuously for over four days with a fully charged power pack.

Its Head-Up Display consists of a series of LEDs that may be set manually to sixteen different functions and options for intensity and power consuption. Its embedded digital ballistic computer comes factory pre-loaded with five different algorhytms, but it can be manually loaded with others and will hold up to fifty different algorhytms in memory; each algorhytm matches a specific weapon/ammunition combo, which the system will keep into account when calculating the point of impact against the target, as well as the exact moment and point when and where to pull the trigger. The system will also keep into account parameters such as the type of target, its distance, the ballistic drop compensation for the specific ammunition, its rotation, the propellant temperature and the angle. Once the Aimpoint FCS-12 is powered up, the user will only have to point at the target and press the remote switch, which can be positioned on the pistol grip of the weapon. In less than one second, an illuminated dot will appear on the FCS-12 display, inticating the point where to aim.
The Aimpoint FCS-12 fire control system is already available on the military market, and is in service with the Armed Forces of several European and NATO Countries, including Spain, Sweden, and the United States. It is not available for sale on the civilian market.