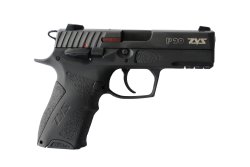 ZVS Holding A.S., headquartered in the Slovakian town of Dubnica nad Váhom, has been in the ammunition manufacturing and firearms development business since it was first established, in the 1920s. Ever since, it has been developing and mastering technologies and techniques to offer high-technology, highly modern products: so to speak, the Scorpion EVO-3 A1 9x19mm sub-machinegun, manufactured by CZ in Czech Republic, was originally born as an original ZVS Holding project, dubbed the "Laugo". And, as a matter of fact, ZVS has been working to establish and launch a series of self-manufactured firearms for some years now, and by 2013 it might just be the right time for the company to appeal the international markets thanks to a pistol design that takes upon modernity without forgetting classic, tried-and-true solutions and features.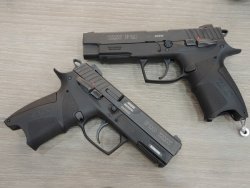 Those of yours who faithfully followed ALL4SHOOTERS.COM's specials from trade shows (SHOT Show, IWA and EXA) in the last two years will know that the first pictures of the first pistol by ZVS Holding, dubbed the P20, were released during the 2012 IWA expo in Nuremberg (Germany). The first final-stage working prototypes were first showcased to Military and Law Enforcement customers at the ensuing IDET expo in Brno (Czech Republic) a couple of months later, while the first final, pre-production models were introduced this year at the IWA expo. The P20 is based on a CZ-modified Browning-type locking principle (they're thus more akin to a CZ pistol than to anything else), and yet, it features a fibreglass-reinforced polymer frame with ambidextrous slide stop and manual safety, and reversible magazine catch. The P20 is an external hammer-fired, SA/DA pistol featuring a 101mm barrel on an overall lenght of 190mm, and comes equipped with high-visibility sights. It will be made available in 9mm and .40 Smith & Wesson calibers, feeding through 14-rounds or 16-rounds double-stack magazines, made of metal, with a polymer pad.
This video has been hidden because of an external service (YouTube) that could potentially collect personal data.Allow video services for the duration of the visitAllow video servicesStop allowing video services
Versatilty is, however, the key feature of the P20 pistol. It may be converted from 9mm to .40, and vice-versa, simply by swapping slide, barrel and magazine − the frame having been designed to be compatible with the different sizes of the components. Furthermore, by swapping the entire upper portion (barrel, slide, recoil spring and its rod, breechblock), it will may be converted to the P21 variant: essentially an "accurized", longer barrel version, conceived for IPSC competitions.
ZVS Holding is slated to launch the P20 and P21 pistols on the European markets by September 2013, its price ranging around 600 Euros (roughly 800,00US$). Overall it's a soundly, honestly built pistol, that's been made to last, and at that price, it's sure to be competitive on a lot of markets, both in Europe and the Americas.