The name is somewhat impressive – Walther Magnum Pistol, or  WMP – but the "magnum" here is not the usual .44 or .357: this is one of the very few handguns – pistol and revolvers – offered in the fast .22 Winchester Magnum Rimfire cartridge, and the first Walther pistol in that chambering as well.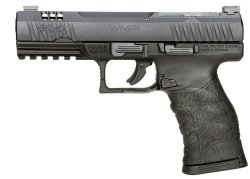 Besides that, the Walther WMP has some other relevant features worth of note. For example, even if it follows the typical Walther design, this is not just an adaptation of any previous Walther model, sporting instead unique mechanics.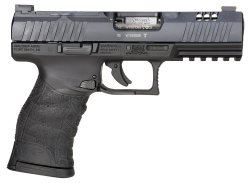 The WMP is a hammer-fired, polymer-framed, full-size pistol with a single action trigger. It also offers an optics-ready aluminum slide with interchangeable plates (to fit most red dots) and very refined ergonomics, including some nice texturing on the grip and a first-time patented ambidextrous mechanism that incorporates both button and HK-style paddle magazine releases. Called the Quad Release, this means that it provides 4 total activation points – the reason why the manufacturer claims that the Quad Release mechanism is "the most versatile ambidextrous mag release ever created".
A ported barrel with three ports on each side of the slide allows for reduced recoil and muzzle flip. The trigger integrates the usual safety lever. The slide stop is ambidextrous.
Sights consist of a serrated rear notch and a fiber-optic front sight.
Walther WMP, to be ready in every situation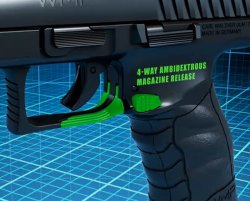 Lightweight, ruggedness, easy field strip capabilities, accuracy, and of course very low recoil, are all pluses included in the package. 
What is the Walther WMP intended for? The manufacturer makes it clear that this is not just a target practice plinker. Quality and craftsmanship are too high for that use alone. 
Well, according to Walther, the WMP is intended for outdoor use. That is, fun and recreation, varmint hunting, but also to be ready in case of life-threatening situations – hence the pay-off, "it's your duty to be ready".  
The Walther WMP is shipped with two polymer-coated 15-round magazines and 2 optics adaptor plates. All this for an MSRP in the U.S. of $549, which still makes the WMP an affordable gun.
Walther WMP specs and price
| | |
| --- | --- |
| Caliber: | .22 WMR |
| Slide Material:  | Aluminum |
| Frame Material:  | Polymer |
| Barrel Length:  | 4.5″/114 mm |
| Overall Length:  | 8.2″/208 mm |
| Width: | 1.48″/37 mm |
| Height:  | 5.66″/144 mm |
| Sights: | Fiber optic front, serrated rear |
| Weight (W/ Empty Magazine):  | 27.8 oz/788 g |
| Magazine Capacity:  | 15 rounds |
| Optics Ready:  | Yes |
| Trigger Pull Weight:  | 4.5 lb/2,041 g |
| Price (MSRP):  | $549 |