While many manufacturers of polymer pistols usually provide their sporty variants only with longer barrels/slides and perhaps improved grips, Walther goes a step further with the Q5 Match SF. About three years ago, the Q5 Match with polymer frame set the course for a new match pistol with a 5 in / 127 mm long barrel and a correspondingly long sight radius.
The heart of the SF is the steel grip frame, which brings about 14.1 oz / 400 g more. Thus, the total weight grows to around 42.32 oz / 1,200 g. The dust cover was extended up to the muzzle. In addition, the spring guide rod made of stainless steel also contributes to more muzzle-weight. Moreover, the beavertail in the rear section allows the hand to have a deeper grip.  Two models are available, the Standard and the Pro. 
Other features of the Q5 Match: the barrel with polygonal rifling, as well as the micrometric back sight  with red fiber optical front sight. In addition, a large number of mini red dot sights (MRDS) can be mounted using the in-house adapter plates. The blue trigger blade should provide better sporting characteristics too. The magazine still holds 15 cartridges in 9 mm Luger (17 with the extended base pad of the Pro model).
Testing the Walther Q5 Match SF
Following the invitation to Ulm, we were also able to gain some practical experience at the in-house shooting gallery. The reduced recoil due to the steel grip frame was clearly noticeable, especially if compared to the lighter Q5 match. Without any problems, we were able to place 9 out of 10 shots into the 10 of a DSB-target at a distance of 10 m at a fast firing rate. In addition, no malfunction occurred with the approximately 150 cartridges we fired. Thus, the Walther Q5 Match SF impressed us quite positively. 
See the practical test of the Walther Q5 Match SF in the video:
This video has been hidden because of an external service (YouTube) that could potentially collect personal data.Allow video services for the duration of the visitAllow video servicesStop allowing video services
Our preliminary conclusion: the price is great!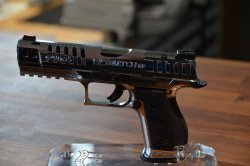 The price of the new Q5 Match SF is noteworthy. The Standard model has a price tag of 1,698 euro. The Pro model, which features a blue jet funnel in addition to the adjustable sear engagement complete with matching magazine pads, comes at 1,898 euro. 
Thus, the all-steel version is about 500 euro more expensive than the polymer Q5 Match. Certainly not too much to ask for an all-steel pistol carrying the label "Made in Germany". The Walther Q5 Match SF will be available immediately.