With the newly introduced PPS M2 RMSc, Walther is offering an interesting combination package composed of its sub-compact pistol with a Shield RMSc red dot sight. The 9mm Walther PPS M2 has been around for a while and we already described it here: Walther – Three new pistols: PPQ M2 .45 ACP - PPS M2 - Q5 Match.
To sum it up, PPS stands for Polizei-Pistole Schmal or Police Pistol Slim: it's an ultra-slender, striker-fired pistol with polymer frame and pre-tensioned DAO trigger system characterized by a single-stack magazine with enough space for 6 or 7 rounds (depending on the magazine option) in 9 mm Luger. 


Among its features a very low profile with front and rear slide serrations and a barrel with polygonal rifling. Slide and barrel are Tenifer coated, with a matte finish. Unlike other polymer-framed guns, the  Walther PPS M2 has no interchangeable backstraps, but ergonomics are designed so that the frame grip that can fit most users. It's basically a concealed-carry gun, till now available as standard with three-dot metal sights only. 
Walther PPS M2  RMSc: added value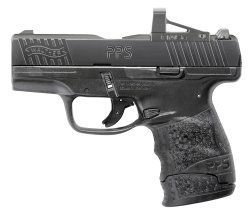 The new version sports a RMSc red dot sight with a factory-milled slide. Walther includes a cover plate if you want to remove the optic and use just the iron sights. This wouldn't be a wise choice, anyway, since the mini reflex sight is a real added value for the user, making the PPS M2 more versatile in any shooting or self-defense scenario.
As for the red dot sight itself, it's a slimmed down version of the Shield's RMS model: a parallax free, clear polymer optic designed without a red reflective filter on the lens to ensure minimal visual signature.

The sight body is made from aerospace-grade aluminum and has an anodized matte black finish. 
Price for the Walther PPS M2 RMSc combo pack is 699 USD.
Walther PPS M2  RMSc: technical data
| | |
| --- | --- |
| Model:   | PPS M2  RMSc |
| Caliber:  | 9mm Luger |
| Action:  | striker-fired pistol |
| Barrel length:  | 3.18 in / 80 mm |
| Overall length:  | 6.3 in / 160 mm |
| Magazine capacity: | 6, 7 or 8 rounds |
| Price: | 699 USD  |
| Weight (empty):  | 21.1 oz / 598 g |