The Walther PPQ was first introduced in the market in 2011 as an evolution of the 90s-era P99 which was Walther's first striker-fired pistol and a big change from the previous P38, P5, and P88 double-action pistols. The original PPQ came with a 4-inch barrel and an ambidextrous paddle magazine release. In 2013 they modified the design of the PPQ, adapting it to the demands of the most desirable US market, removing the trigger guard magazine release with a more conventional push-button release. This new version, called Walther PPQ M2, ended up replacing the PPQ's basic model in the production and catalogs of the German company. Now, new for 2017, Walther has introduced the 5" PPQ M2 Standard long slide model, better suited for duty use.  
Walther PPQ M2 Standard non-ported slide
This new 9mm variant features a port-free slide designed with law enforcement and military customers in mind. The solid slide – similar to the PPQ Q5 Match series slide, but without porting - minimizes points of entry for debris or foreign objects to enter the firearm, making it more reliable in operational contests.  The longer barrel also means additional ballistic energy and a longer sight radius for better accuracy on target.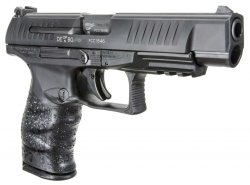 Other than that, the new PPQ M2 Standard sports the same features of the PPQ family, especially its excellent factory trigger. Walther claims that it's "the finest ever on a polymer, striker-fired handgun". PPQ stands in fact for "Police Pistol Quick Defense Trigger", and it indeed has a crisp, light pull around 5.6 lbs (2,5kg) and a short .4 (10mm) trigger travel. That's because the PPQ has a pre-loaded striker assembly and the trigger does not partially load the striker spring as it does on other striker-fired guns. The reset is just .1 (2,5mm) , allowing for a fast second shot.
Technically, the PPQ M2 is a polymer-frame pistol with a standard Browning tilt-barrel cam-lug action design. The sculpted grip has interchangeable backstraps to fit the shooter's hand. In the front there is a MIL-STD-1913 Picatinny Rail Accessory Mount. The pistol has two drop safeties, plus a firing pin block. The extractor also shows a red spot of paint (loaded chamber indicator) when a cartridge is chambered. All controls are ambidextrous.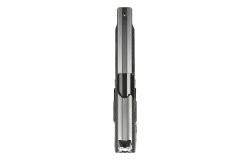 The slide and the polygonal rifled barrel are Tenifer coated  for durability against the elements. The slide has front and back serrations. Sights are of the three-dots, polymer style and the rear sight is screw adjustable for windage while front sights of different heights are available. Self illuminated sights are optional.
The magazine has a capacity of 15 9mm rounds.
The recommended retail price on the US market is 749,00 US dollars.