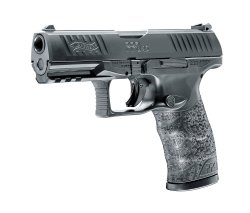 On August 11th, Walther Arms, Inc. − the north-American subsidiary of the famous German-based Carl Walther GmbH company, headquartered in Fort Smith (AR) − announced that Walther's first .45 ACP caliber semiautomatic pistol will be distributed starting October 1st, 2015.
Dubbed the Walther PPQ 45, this new service and defense-oriented handgun will be built in Walther's main plant in Ulm (Germany), and will fill a historical caliber capability gap in the company's product line.

Given the chambering − probably the most quintessentially American caliber ever − the U.S. market will be the first to have it. There are no provisions for European or other international distributions outside of the United States yet, but will be evaluated should a market demand arise.

No indications concerning manufacturer's suggested retail pricing (in the U.S. or elsewhere) have been provided so far; the company however disclosed several technical and construction features about Walther's first .45-caliber pistol.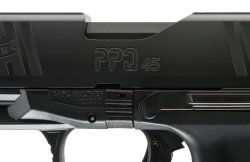 As its own name suggests, the Walther PPQ.45 is a .45-caliber variant of the tried-and-true Walther PPQ M2 design, built around a high-strenght, fibreglass-reinforced polymer frame − with a slip-proof textured, ergonomic pistol grip featuring interchangeable backstraps − and a machined matte black stainless steel slide, with front and rear serrations for easier handling and chamber checks; dovetailed to the slide are standard fixed front and rear sights

Just like all the variants of the Walther PPQ M2, the new PPQ 45 sports a totally ambidextrous hold-open/slide stop lever and an "American-style" magazine push-button design on the left-hand side, which can be switched to the right for left-handed shooters; this more standard magazine release system replaced the quintessentially German ambidextrous "paddle"-style magazine release lever located at the base of the trigger guard on all PPQ M2 variants, hence why the first-gen PPQ magazines are not compatible with PPQ M2 pistols.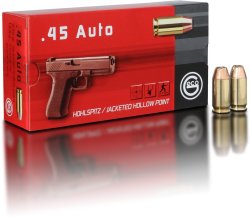 The Walther PPQ 45 is about 18,7cm (7.4") long overall, 14,7cm (5.8") high and approximately 3,3cm (1.3") wide; its overall weight ranges around 794 grams (1.75lbs) with an empty magazine. Its 108mm/4.¼" barrel sports the same outer Tenifer finish used on the slide.
Just like the other Walther PPQ variants, the PPQ 45 is a striker-fired, short recoil, locked-breech design based on a modified Browning cam-lock system.

Its patented "Quickdefense" trigger offers a trigger travel of approximately 9 millimetres (0.4"), a 2,5mm/0.1" trigger travel and a trigger pull of about 25N/5.6lbf.

Walther's "Quickdefense" trigger has so far proved itself to be nothing short of excellent in controllability, providing rapid-fire capabilities without sacrificing recoil management.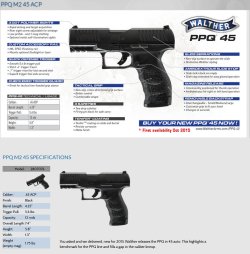 Other features of the new Walther PPQ 45 pistol include a MIL-STD-1913 "Picatinny" rail providing a swift and secure attachment point for tactical accessories; a redesigned ejection window, patterned to provide total reliability with .45 calibre brass; four steel slide guides within the injection molded frame; and a stamped steel double-stack magazine with polymer buttplate, offering an overall capacity of twelve .45-caliber rounds.
As of today, all pistols based upon the now legendary P99 design (including the PPQ itself) were enthusiastically welcomed by civilian shooters and professional operators alike. We can safely assume that the .45 ACP caliber version of the design will likewise be warmly greeted. It may take a while before we may be able to try one and offer you a full review, but we'll do it as soon as possible, so stay tuned on all4shooters.com to remain up-to-date with everything concerning Walther's new .45 caliber pistol!
This video has been hidden because of an external service (YouTube) that could potentially collect personal data.Allow video services for the duration of the visitAllow video servicesStop allowing video services