Old guns never die, they simply come in a final edition: before ceasing its production for good, Walther is introducing the P99 AS pistol in a special version, the P99 AS Final Edition.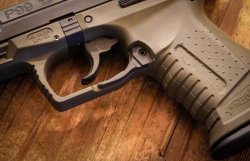 With design phase starting as early as 1994 as a replacement for the P5 and the P88 models and specifically developed for the German police, the Walther P99 has been around since 1997. 
Now, after a quarter of a century of service in both law enforcement and civilian hands – including a few appearances in some 007 movies – "the time has come to say our final farewell," the manufacturer announces. But "Walther felt it only fitting to give this 26-year-old iconic handgun one final run before sunsetting it for good". And here comes the Final (and limited) Edition of the P99 AS. 
Walther P99 AS Final Edition, a "nostalgia gun"
The AS variant was originally introduced in 2004. In case you are wondering, the designation stands for "Anti Stress" and is referred to the stageable trigger with an extremely short reset. As explained by Walther, "That is the so-called anti-stress trigger, which is designed to reduce stress-related accidental discharges. single- and double-action modes both begin with the trigger in the forward position. Squeezing the trigger slightly, when in single-action mode, will set it into the rear position. If you remove your finger, the trigger will remain in the rear position. Squeezing it further will cause the striker to fire the round in the chamber."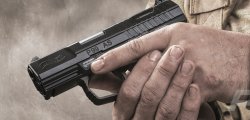 Chambered in 9mm (9x19), the P99 AS Final Edition nostalgically features the desirable OD Green frame that distinguished early production but with a "Final Edition" engraving on the slide. The pistol will also come in a durable and equally as limited special edition custom fit weather-proof case. The package includes two magazines and a challenge coin to commemorate the final edition. From a mechanical and functional standpoint, the P99 AS Final Edition is the same as the rest of the P99 series: it is a DA/SA striker-fired, polymer-framed gun with a cocked striker indicator, loaded chamber indicator, four internal safeties, and a de-cocking button on the top of the slide. Polymer white-dot sights are elevation and windage adjustable. Barrel is 4"/102 mm long. The grip has S/M/L backstraps to accommodate users different hand sizes. Takedown is tool-less. The ambidextrous paddle-style magazine release is incorporated into the trigger guard. Magazine capacity is 15 rounds – 10-round magazines are available as an option.
A classic firearms collectors' gun, and a nostalgia item for some, the farewell P99 AS Final Edition has an MSRP of $849.
Walther P99 AS Final Edition specs and price
| | |
| --- | --- |
| Caliber: | 9mm Luger (9x19) |
| Barrel Length:  | 4"/102 mm |
| Overall Length:  | 7.1"/180 mm |
| Height:  | 5.3"/135 mm |
| Width: | 1.3"/33 mm |
| Weight (Empty):  | 24 oz/680 g |
| Magazine Capacity:  | 15 rounds |
| Safety: | 3 auto |
| Sights: | Polymer white-dot, adjustable |
| Price (MSRP in the U.S.):  | $849 |