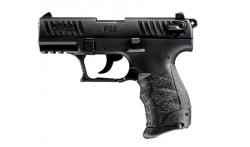 Ever since it is part of the UMAREX Group, the German-based Carl Walther GmbH gun company is paying an increasing amount of attention to the rimfire sporting arms market. Its latest Colt, HK and UZI-based are becoming increasingly popular worldwide, yet most people forget that the trend started with Walther producing a rimfire variant of one of its own handguns, more specifically the P22 variant of the P99 service pistol. The P22 has since become a mainstay of the Walther line, and has evolved along with the full-size P99 itself.
Its most recent version, dubbed the P22Q, incorporates the ergonomic improvements of the PPQ, Walther's new service pistol introduced at the 2012 SHOT Show. Just like the previous P22 model, the P22Q is a scaled-down rimfire variant and at the same time much more than that. A straight-blowback semi-automatic pistol, the P22Q sports a single stack magazine that holds up to ten .22 Long Rifle rounds. Unlike the original PPQ, the P22Q isn't striker-fired but features an external hammer and a prominent manual safety switch located on the rear portion of the slide.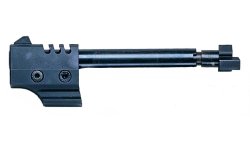 The Walther P22Q features a polymer frame with ergonomically-designed grip, interchangeable backstraps and a frontal tactical rail, and a stainless steel slide. The magazine release lever and the safety switch are ambidextrous, front sight is fixed and rear sight is adjustable for windage. The slide also features rear and front serrations. The P22Q is available in four versions: the "Standard" one, featuring either black or nickel-coated slide, is 6.3-inch long and sports a 3.42" barrel; a special version of the "Standard", dubbed the "Digital Camo", features a black slide and a pixelated camo finished frame, but is otherwise identical.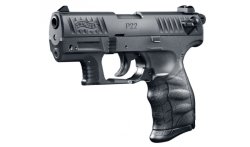 The "Target" version, also available with black or stainless slide, features instead a 5" barrel with muzzle compensator and a rail that will result ideal to install a mount for a red-dot or reflex sight. What's interesting is that a "Target Kit" is available as an aftermarket accessory for the "Standard" variant, and merely consists of the compensated 5" barrel which can be installed on any P22Q version to turn it into a perfect shooting machine for high-level target practice or competition in a matter of minutes.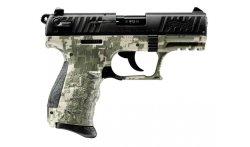 Last, the P22Q-IL capitalizes into the returning popularity of compact rimfire pistols for defensive purposes, especially for women and small-handed persons, particularly in the United States. Otherwise akin to the standard version, the P22Q-IL variant integrates a visible red-dot laser pointer under the frame. The direction and collimation of the beam can be easily adjusted through a Torx key.
The Walther P22Q is already on sale in some European markets for an MSRP that ranges from approximately 300US$ and up, according to the model. All other markets should check local listings and retailers about availability and price.