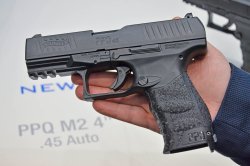 The German-based Carl Walther company showcased three semi-automatic pistols at the IWA expo in Nuremberg; first displayed between the late months of the year 2015 and the latest edition of the SHOT Show in Las Vegas, these three handguns will soon be available to the sport shooting, personal defense and service markets in the European continent as well.
First announced in August 2015 in the United States, the PPQ.45 is soon to be distributed on this side of the Big Pond. A 18,7cm long pistol, sporting a 108mm-long barrel and an overall weight of 794 grams unloaded, the PPQ.45 is the first .45-caliber pistol to be mass-produced by Walther. Sporting a Quickdefense trigger and the PPQ's signature striker-fired, polymer-framed design and controls configuration, the new PPQ.45 holds twelve rounds of .45 ACP in its magazine, and its ejection window has been redesigned to prevent jams with .45-caliber brass.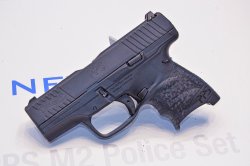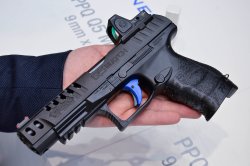 The 9x19mm caliber PPS M2 semi-automatic pistol is conceived for concealed carry as a primary or secondary (back-up) defensive weapon for civilian and law-enforcement personnel; holding six or seven rounds in the magazine, depending from the version, the PPS M2 sports a vastly redesigned slide and barrel, and a standard push-button magazine release in lieu of Walther's quintessential ambidextrous release lever.
Last, but not least, the Q5 Match 9mm semi-automatic pistol brings the potential of the PPQ M2 pistol platform into a fully-kitted IPSC and USPSA competition platform. Sporting a 5" barrel and a vented slide, along with the PPQ's classic pre-armed striker-fired trigger system, the Q5 also features LPA Match fiber-optic sights, a blued trigger and magazine floorplate, and an integrated interface system that allows the quick installation of red-dot sights.