Walther's most recent addition to the segment of 9 mm handguns is model CCP that  stands for  "Concealed Carry Pistol". 
If one then adds AIWB, which means Appendix Inside Waistband to describe the location at which the weapon is worn, the purpose of the firearm created by the Walther development team headed by Thomas Scheunert becomes immediately clear: a compact pistol used for self-defence or the coup de grace when hunting. Viewed from the outside, the CCP looks a bit like a diminutive P 99 Q/PPQ. 
But on the inside the manufacturer has used an entirely different system, bringing in a gas-delayed blowback mechanism to complement the polygon barrel with its rigid connection to the frame. Essentially, it is the same as the Heckler & Koch P7 pistol series. There are two differing details, though: a hard metal plate to prevent melting, and a gas discharge bore eroded into the bottom on one side of the barrel. Buyers of self-defence pistols around the world include increasing numbers of women, so Walther has taken care to keep the recoil spring light, ensuring a more comfortable racking procedure than a number of other compact pistols.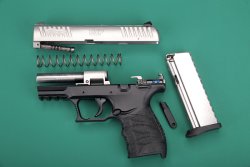 The Walther CCP test
The Walther CCP tested came in a duotone look with Cerakopte stainless slide and a black polymer backstrap.
The finishing: both halves of the frame fitted perfectly snug without showing any metal seam. The slide is well-matched with the underbody, apart from a very slight slackness. Finally, the weapon did rattle a little when shaken, although this is essentially par for the course among gas-delayed handguns with pistons (-1 point).
The trigger characteristics: the path of the trigger mechanism, which according to the factory is designed to be torque-free, was 7 millimetres at 2250 grams, slightly below the official value of 2500 grams declared by Walther. But the trigger on the test model had a visible and noticeable creep, and slipped slightly after discharge (-2 points). In contrast, the trigger frame design was extremely positive, anti-slip, pleasantly flush, and came with three well-conceived, oval ridges on each side. An easy-to-handle, pleasant-to-shoot weapon, even with hard loads, which certainly can't be said of all compact pistols. However, one tester with large hands found the grip slightly too small (-1 point).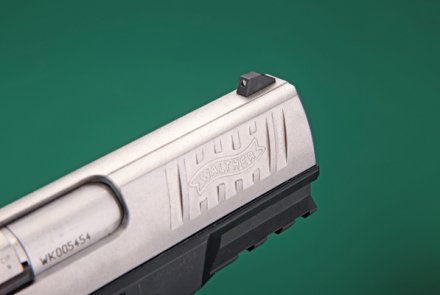 The plastic used for the sights raised a few eyebrows (-1 point), but as a plus point did come with three replacement front pieces to allow the height to be adjusted. The sight image was sharp and clear. Looking at the handling elements, the testers disliked that the weapon is designed for right-handers, and that only the magazine release button can be switched from left to right. But what we did like: if a handgun is going to come with a thumb safety, it has to be as light and clearly defined in its movements as this one. Disassembly is a little more annoying, as it requires tools and tends to end up being a rather tedious procedure – a statement that applies just as much to putting the pistol back together (-2 point). The handgun experienced a chambering problem when shooting Fiocchi ammunition, but this was the only deduction in the chambering/safety test section (-1 point). The pistol scored a top precision value of 69 mm (-14 points) when shooting from the sandbag.
Summary of the Walther CCP test:
All in all: "pretty cool" is what a US colleague had to say about the Walther CCP. Our testers mainly criticised the laborious disassembly procedure. We believe that Walther should improve on this. But to finish up with the real plus point: the current price on the right side of €600. Even young hunters with an eye to their wallets will find an entirely suitable coup de grace weapon to match their budgets.
Score for the Walther CCP in 9 mm Luger:
| | |
| --- | --- |
| Score  | Points |
| Precision (max. 50 points) | 36 points  |
| Chambering/safety (max. 10 points) | 9 points  |
| Trigger characteristics (max. 10 points) | 8 points |
| Trigger frame design (max. 5 points) | 4 points  |
| Handling elements (max. 10 points) | 8 points  |
| Sights (max. 5 points) | 4 points |
| Finishing (max. 10 points) | 9 points |
| Total score (max. 100 points) | 78 points  |
| Test grade | good |
| Rating | 4 out of 6  |
---


Shooting test: Walther CCP
| | | | | |
| --- | --- | --- | --- | --- |
| No. | Factory cartridge | Group size | v2 | E2 |
| 1. | 115 grs Fiocchi FMJ | 79 mm | 349 m/s | 454 J |
| 2. | 124 grs Federal Tactical JHP | 69 mm | 338 m/s | 459 J |
| 3. | 124 Sellier & Bellot nontox FMJ | 89 mm | 307 m/s | 379 J |
| 4. | 139 grs GECO FMJ | 98 (79) mm | 274 m/s | 338 J |
| 5. | 147 grs Hornady TAP JHP | 88 mm | 282 m/s | 379 J |
Note: group size = 5/4-shot groups, fired at a distance of 25 metres from a sandbag support, stated in millimetres, measured from that whole centre to bullet hole centre. v2 = bullet velocity two metres in front of the muzzle, stated in metres per second. E2 = bullet energy in joules two metres in front of the muzzle. Bullet abbreviations: FMJ = Full Metal Jacket, JHP = Jacketed Hollow Point.