The 4.5" Scorpion-X and 6" Scorpion-X models are the latest addition to  Volquartsen Firearms' line of .22 LR rimfire pistols. Both configurations utilize the new Volquartsen LLV-X upper featuring multiple hole mounting locations allowing for a variety of popular red dots to be mounted directly to the top of the upper.
"Why did we develop the flat top universal red dot mounting system? Many of us were introduced to pistol shooting using iron sights and having the red dot mounted directly to the top of the upper makes that red dot acquisition like those same iron sights," the manufacturer explains.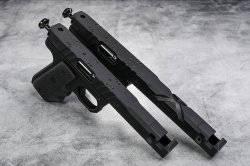 The flat top universal red dot mounting system also allows competitive shooters faster sight acquisition keeping the red dot mounted as low to the bore axis as possible – that is, directly to the top of the upper.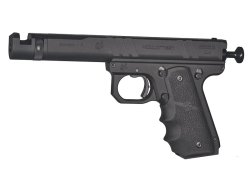 The Scorpion-X is compatible with the following optics: Burris Fast Fire, C-More RTS 2, C-More Slide Ride, JP Enterprises Jpoint, Leupold DeltaPoint, Shield Sights Mini Sight, Sig Sauer Romeo 1 Pro, Sig Sauer Romeo 3 Max, Sig Sauer Romeo 3 XL, Trijicon RMR, Vortex Viper, Vortex Venom, Vortex Razor.
The LLV-X upper is also available as a stand-alone product for prior Scorpion .22 LR models. Moreover, it is compatible with the Ruger MKII/MKIII factory bolt. The stainless steel breech face is designed to withstand years of use.

Volquartsen Scorpion-X, lightweight and accurate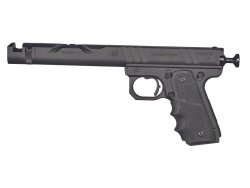 The receiver is CNC-machined. Receiver and Type III hard anodized barrel shroud are precision-machined as one piece from aluminum.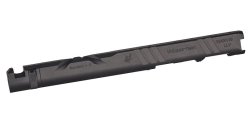 The 4.5" or 6" precision stainless steel barrel has been machine-honed and lapped, and contoured to reduce weight without sacrificing accuracy. The breech is  laser-hardened, while the muzzle has a  ½ x 28 thread. A single-port compensator comes with the package, as is an accurizing kit for a 2.25 lb trigger pull.
The 1911 style Volquartsen Target Frame features black Hogue grips.
Magazine capacity is 10 rounds for both the 4.5" and 6" models. Price for the complete pistol in the US is $1,410, irrespective of barrel length. Volquartsen Firearms offers the 4.5" and 6" uppers a stand-alone parts priced at $514.