The Model 20 from Vigilance Rifles is a 9mm Para submachine gun with a decidedly original look, thanks to the massive aluminum body that resembles so much a machine gun's receiver, complete with a pivoting lid that allows quick access to the gun's internals. The Vigilance Arms Model 20 is fed by magazines with a capacity of 10, 18, 25, 32 and 50 9mm rounds. The barrel is easily field-replaceable by loosening a 2-inch-diameter retaining nut. This transforms the Model 20 from a submachine gun into a pistol caliber carbine. For now, the barrel is available in 8- and 16-inch lengths (20 and 40 cm, respectively).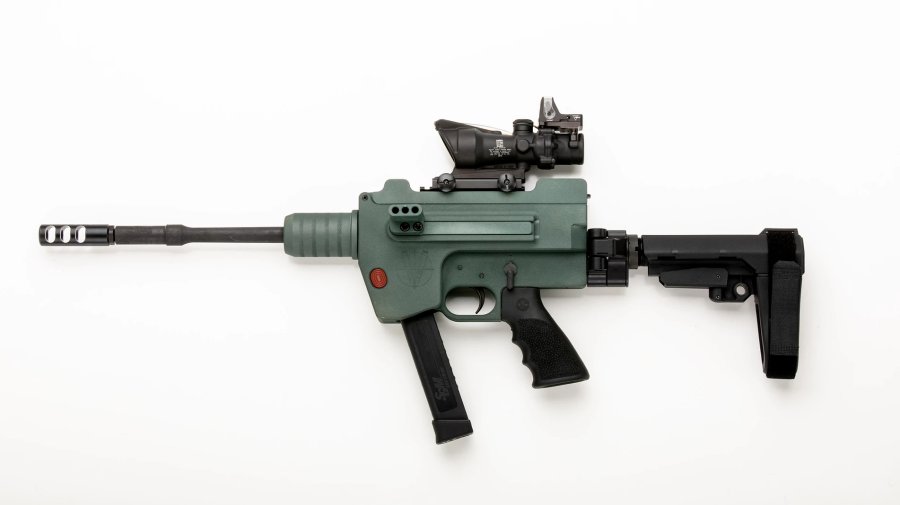 Vigilance Rifles Model 20, the ugly duckling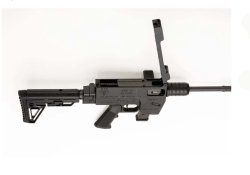 Surely, one of the most curious aesthetic features of this firearm  is the body featuring rather heavy lines and the lack of a real handguard, which would certainly help a lot in aimed shooting.  It should not be difficult to modify the barrel retaining nut to allow the mounting of a handguard, perhaps of the M-Lok type, which would certainly improve ergonomics.
The Vigilance Rifles Model 20 submachine gun is available in a semi-automatic version for the civilian market and in a full-auto model reserved to law enforcement. The 6061-T6 aluminum body with Cerakote finish is very particular, with its massive and squared shape culminating in the rear with a fake buffer tube that has no mechanical function but serves only as an interface for mounting aftermarket AR15-type stocks, even folding ones. The receiver lid, where the sights and the optics Picatinny rail are placed, opens at the push of a button, allowing an easy access to the bolt for maintenance. An automatic safety prevents firing when the lid is open. The trigger assembly is identical to that of an AR15-type rifle, as is the pistol grip. The charging handle, which does not move during firing, is curiously on the left side of the receiver, as is the magazine release. The Model 20 can use any GLOCK, Magpul and ProMag magazine. The price of the basic version in the US is $1699 (about 1400 euros at current exchange rates).
---
For more information please visit the manufacturer's website.
Find all the news from SHOT Show 2021 on all4shooters/all4hunters.