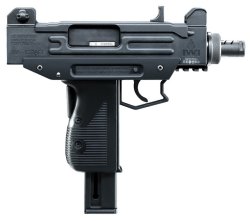 A couple of years ago, the Ulm-based Carl Walther GmbH company − wholly owned by the UMAREX Sportwaffen GmbH group, otherwise known for its airguns − entered the military-style rimfire sporting arms market with its own brand by marketing its "Colt-Walther" line of .22-Long Rifle, almost-perfect semi-automatic civilian replicas of the Colt M-16A3 assault rifle and M4-A1 assault carbine called respectively M16-OPS and M4-OPS.

Only one year later the same company marketed the "Walther-HK" line, comprising semi-automatic .22 versions of the HK-416 assault rifle and of the MP-5 and MP-7 sub-machineguns. By 2012, once again, Walther decided to enter under the spotlights at the Las Vegas SHOT Show and showcase its new series of military-inspired, semi-automatic, rimfire leisure plinkers: the "Walther-UZI".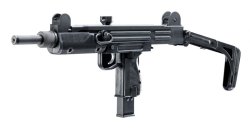 Launched on the market by the end of January 2012, the "Walther-UZI" line of rimfire rifles and carbine comprises the "Uzi.22 Pistol", a rather large-size semi-automatic handgun that dubs as a small-caliber variant of the world-famous "UZI-Pistol", by itself a civilian variant of the "Micro-UZI" sub-machinegun conceived for VIP close protection details. There are little, if any, differences between the "UZI.22 Pistol" and the original 9mm/.45 UZI pistol, being it a 1:1 scale reproduction, and with the controls configuration remaining basically the same − two-positions safety switch on the left side of the frame, just over the trigger guard, top cocking lever, adjustable sights with protective side metal leaves, grip-mounted safety. Changes are instead radical as far as it concerns the working system, which is now a regular closed-bolt blow-back operation, standard for rimfire chamberings. The front part of the barrel is encased in a metal jacket, and thus the real caliber of the gun will be immediately clear at a frontal inspection. The "UZI.22 Pistol" comes equipped with a MIL-STD-1913 "Picatinny" rail located in front of the trigger guard, and feeds through single-stack metal magazines with side cuts that may hold from 15 to 20 rounds of .22-Long Rifle ammunition. A second version of this pistol, dubbed the "UZI.22SD Pistol", comes equipped with a longer barrel encased in a short fake silencer and a Picatinny quad-rail.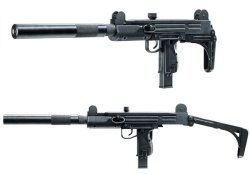 The "UZI.22 Carbine" is not much different from the "UZI.22 Pistol" as per concept or working system, yet it keeps faithful to the original UZI sub-machinegun in dimensions, controls configuration and weight − being mostly made out of steel stampings and even featuring an underfolding metal stock. The version conceived for the European market features a short barrel, detachable sling swivel and the UZI's traditional handguard, which may be removed to reveal a Picatinny rail. The variants produced for the US civilian market will instead come with a 16.1" barrel encased in a tubular metal shroud that mocks the look of a silencer.