10. Browning Buck Mark Vision Black/Gold Suppressor Ready – Vortex Red Dot
With their "retro sci-fi" look, the latest versions of Browning's classic .22 LR autoloading pistol have not gone unnoticed. The Buck Mark Vision Black/Gold Suppressor Ready – Vortex Red Dot, in particular, features a lightweight Vision barrel with aluminum outer sleeve and inner steel barrel, a Vortex Crossfire Red Dot  for faster target acquisition, and a 1/2"-28 suppressor-ready threaded barrel with muzzle brake. The black UFX composite grips have a rubber overmolding. Still, a great choice for both plinkers and competitive shooters. The Browning Buck Mark Vision Black/Gold Suppressor Ready – Vortex Red Dot  carries an MSRP of $979.99.
9. Cimarron Firearms Lonesome Dove Walker .44 revolvers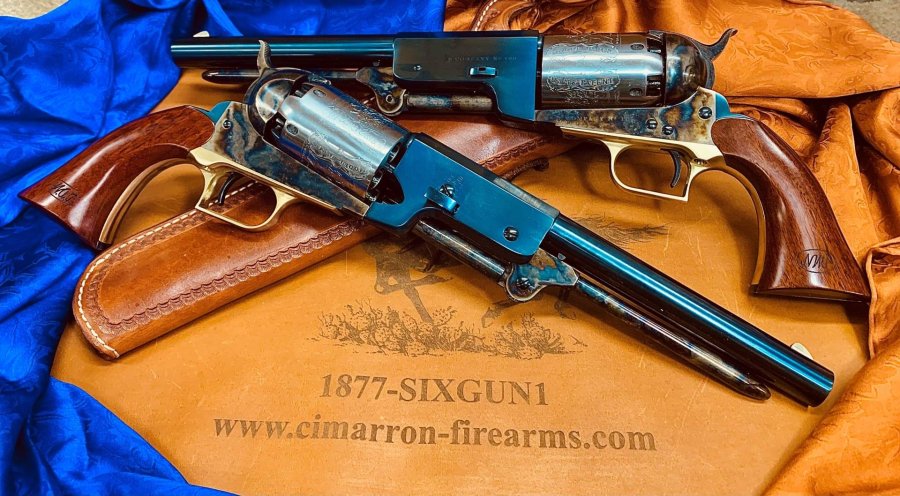 Inspired by Larry McMurtry's famous characters from his Pulitzer Prize winning novel, "Lonesome Dove" (1985), Cimarron Firearms Lonesome Dove Walker .44 revolvers feature a a 9"/228 mm barrel in a charcoal blue finish, a white engraved cylinder, and case-color hardened finish on the frame and hammer. The trigger guard and grip frame are in brass, with a steel backstrap, and finely figured walnut grips sporting a cartouche. The guns are authentically marked, one with "Capt. Augustus McCrae, Texas Rangers Frontier Battalion" down the backstrap and his Texas Ranger Division "E Company No. 120" on the left side of the frame and barrel, and the other with "Capt. Woodrow F. Call, Texas Rangers Frontier Battalion" and "E Company No. 119." MSRP is $739.70.
8. DRD Tactical  MFP-21 pistol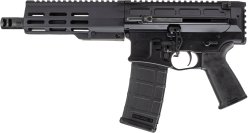 Based on a semi-automatic direct impingement system, the MFP-21 Pistol from DRD Tactical features a newly designed lower with an integrated Picatinny rail on the butt plate which allows you to mount a brace, sling or other accessories. A patented technology allows you to run without the need for a buffer tube, giving you better maneuverability in close quarters or tight spots. Caliber is .300 Blackout, but a 5.56 NATO version is coming soon. Barrel is 8"/203 mm long with muzzle brake, and the charging handle on the left side is non-reciprocating. Bolt catch, safety and magazine release are all  ambidextrous. All in all, the overall length of just 18"/457 mm makes this the perfect backpack pistol. Price tag is $2,500.
7. Ruger Birdshead-Style Wrangler revolvers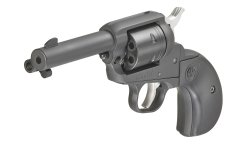 Ruger ha recently added three additional models of the .22 LR Wrangler line of single-action revolvers featuring a Birdshead-pattern grip frame. These are affordable and reliable firearms sporting three attractive Cerakote color options: black, silver and burnt bronze. Manufactured through the use of modern CNC-machining methods and with a 3.75"/95 mm cold hammer-forged barrel, the new compact six-shot models are ideal for having some Western-style fun at the range. And together with the affordability of rimfire ammo, price is the least of your concerns, at just $279.
6. Cabot Moonshot 1911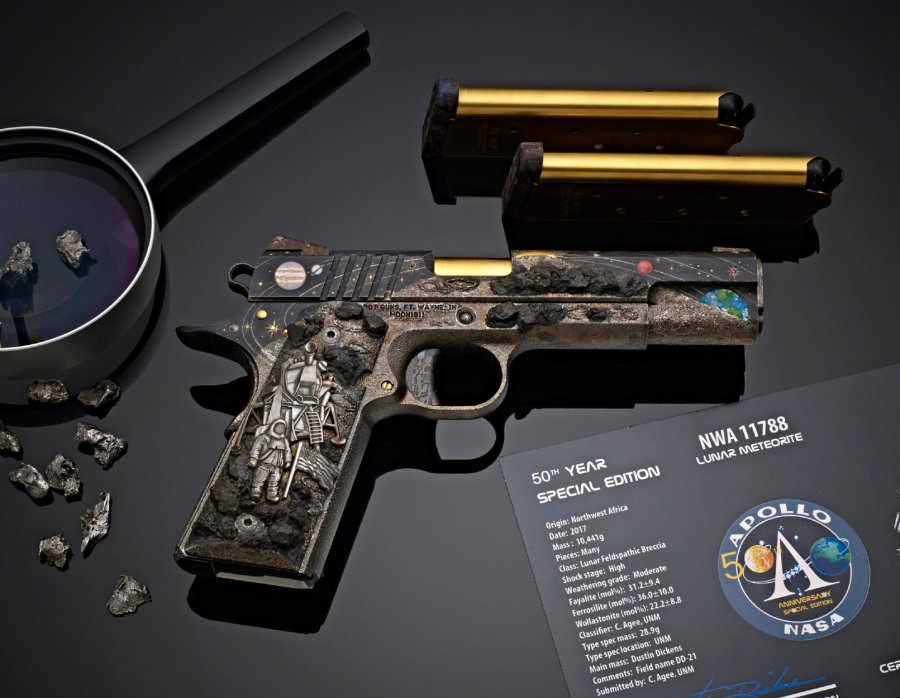 A 1911 pistol encrusted with lunar meteorite: this suffices to understand that we are talking about a very "One of a Kind" gun. The Moonshot from Cabot Guns is in fact handcrafted with precious stones and crowned with a certified lunar meteorite. "Through the painstaking placement of lunar meteorite, small diamonds, rubies, sapphires, and gold inlay, the Moonshot delivers a dynamic view of our solar system—from the perspective of the lunar surface," they explain. Not exclusive enough? Cabot will also mint an NFT of Moonshot as the company launches into the Metaverse to initiate a digital collection of Cabot 1911s on the blockchain – if you know what non-fungible tokens (NFT) and blockchains are all about. Price is adequate for an exceptional, truly unique masterpiece like this: $250,000, or best offer. Sale is till pending on the manufacturer's website at the moment...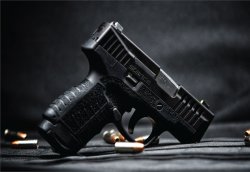 Last time Savage introduced a pistol it was more than a century ago. So, after all these years they had to do it right: the new Savage Stance is a 9mm EDC micro-compact carry gun offered in three color options (Black, FDE and Gray), with or without manual safety, and in a choice of standard sights, night sights or a package including a Viridian red laser. The gun actually follows all modern trends in carry guns design, including a removable chassis as the serialized component of the pistol. The stainless steel barrel is 3.2"/81 mm long while magazine release and slide catch are ambidextrous. Ambidextrous manual safety models are available too. The Stance comes with 2 magazines and capacity options from 7, 8, or 10 rounds. The gun is also offered with night or standard sight options, or in a package including a Viridian E-Series red laser. Prices are $479 for the versions with standard sights, $548 for the night sights version, and $561 for the laser package.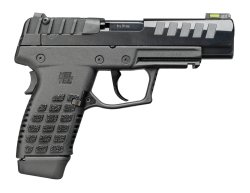 They claim it is "the lightest, thinnest double-stack 9mm on the market": the P15 pistol from KelTec weighs only 14 oz/396 g, is 0.875"/22 mm wide and boasts a 15+1 magazine capacity. The barrel is 4"/101.6 mm long. A striker-fired carry pistol with polymer frame, it features hi-viz sights. Barrel is  4"/101.6 mm long. The P15 comes with two magazines, one for a patent pending capacity of 15 rounds, and the other for 12 rounds for better concealment. hi-viz sights include a tritium and fiber optic front sight and a fully adjustable tritium two-dot rear make up the. Safety and magazine release are ambidextrous MSRP for the KelTec P15 is $425.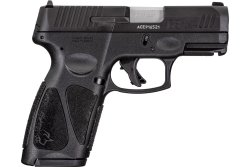 Call it a "Hybrid" or "crossover" model – the result is the same: a concealed-carry handgun with a more substantial grip length for better comfort and more capacity. The new 9mm Taurus G3X features the full-size frame of the G3 model and the compact slide of a G3C. It uses a 15-round magazine but is also compatible with Taurus G3 17-round magazines. A polymer-framed, striker-fired gun with single action only trigger with restrike capability, the G3X has no manual safety. Price is attractive: : $342.98, with two 15-round magazines included.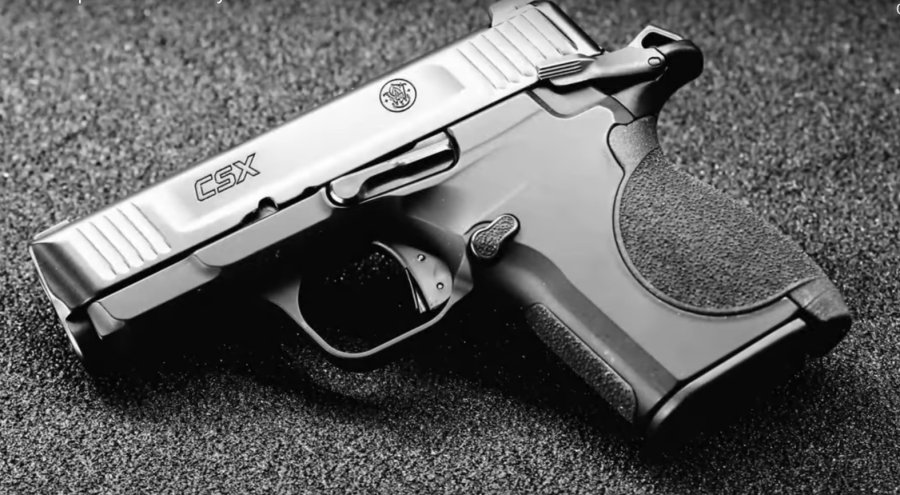 Still another 9mm micro-sized carry gun in our Top Ten. But this time it's not a polymer-framed, striker fired pistol: the Smith & Wesson CSX is a very classic all-metal, hammer-fired pistol, with 3.1"/79 mm barrel and a 10+1 capacity with a short magazine or 12+1 cartridges with the regular-length magazine. The CSX is in fact built on an aluminum alloy frame with interchangeable polymer back straps. The manual thumb safety and elongated slide stop are ambidextrous. Price is $609.
1. The "High Power" pistols from FN, Springfield Armory and Girsan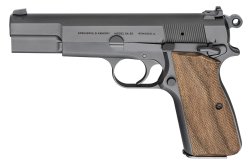 At number one of our Top Ten we find a handgun that, surprisingly, is almost 90 years old – the acclaimed High Power, a 1935 design conceived by John Moses Browning and perfected by Dieudonné Saive. Or, to be more precise, we find three High Powers. At the SHOT Show there were in fact at least three manufacturers who offered their own version of the HP: the Turkish Girsan with the MC P35 model, Springfield Armory with the SA-35 and FN itself with an all-new version of the High Power, featuring improvements to ergonomics and fire control design, accuracy and increased magazine capacity. After many decades in the shadow of the other legendary brainchild of John Moses Browning – the 1911 – in this 2022 the 9mm HP is taking its revenge at last!