First came the full-size 5" model in .45 ACP, then the full-size 5" version in 9mm, then a 4.25" option, again in .45 ACP.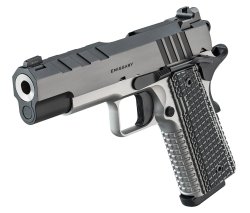 According to this alternation, it was just a matter of time before a 4.25" (108 mm) variant in 9mm would also be offered – and here comes the new 9mm Emissary 4.25", the latest 1911-style pistol from Springfield Armory.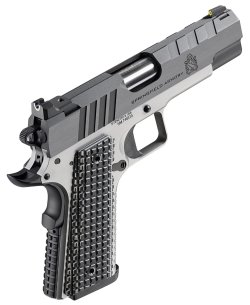 Its classic yet modern, extremely clean lines include custom-grade features, announced by the "dual-tone" finish with a forged stainless steel frame and forged carbon steel slide or the stylish custom milled "Tri-Top" cut on the slide. 
But it's not out about aesthetics: the squared trigger guard – a characterizing detail of all Emissary line of pistols – allows foe easier operation even with a gloved hand, while the slide's flattened top strap finished with 40 LPI serrations reduces glare when aiming. 
As for the sights, we have a tritium and luminescent front sight and a Tactical Rack U-Dot rear sight for easy target acquisition in all lighting conditions. All in all, sight picture is pleasantly clear and  bright.

Springfield Armory Emissary 4.25" in 9mm, the "bridge"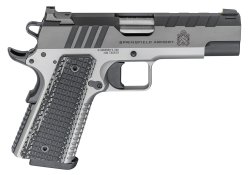 "The Emissary bridges defensive and custom pistols", they claim at Springfield Armory. Construction is rugged indeed, with a match grade heavy-profile bull barrel for maximum accuracy and reduced felt recoil/muzzle flip. 
The heavier stainless steel frame also helps tame the gun compared to a polymer-framed gun. Lock time is guaranteed to be ultra-fast, for ideal performance even in a defensive situation, together with the solid-body, flat-faced trigger. 
The 9mm 4.25 Emissary, like the same-size .45 version, lacks the integrated Picatinny accessory rail found on the full-size pistol, however.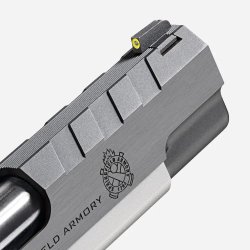 Controls are all black, and are on the left side only: not a problem if you are right-handed, but south paws will not be too happy.

The VZ Grips Thin-Line G10 feature a grenade checkering pattern and look quite grippy.
The  latest "Commander-sized" iteration of the Emissary in 9mm is fed by a stainless-steel 9-round magazine with base pad.

With two magazines, the new Springfield Armory 9mm Emissary 4.25" carries a not-so-inexpensive MSRP of $1,349, in line with the other Emissary models – stylish 1911s rarely come cheap, anyway. 
Springfield Armory 1911 Emissary 4.25" in 9mm specs and price
| | |
| --- | --- |
| Caliber:   | 9mm |
| Frame: | Stainless-steel |
| Slide: | Carbon steel |
| Barrel Length:  | 4.25"/108 mm |
| Sights: | Tritium/luminescent front, Tactical Rack U-Notch rear |
| Grips: | VZ Grips Thin-Line G10 |
| Magazine Capacity:   | 9 rounds |
| Weight: | 40 oz/1134 g |
| Overall Length:  | 7.75"/197 mm |
| Height:  | 5.25"/133 mm |
| Price (MSRP):  | $1,349 |