Most people probably associate Turkey as a supplier of firearms more with numerous inexpensive break-action or self-loading shotguns. The manufacturer Canik, whose company name is derived from the mountain range of the same name at the company's headquarters, belongs to the Samsun Yurt Savunma Sanayi ve Ticaret A.Ş. (SYS) Group and is thus one of Turkey's defense manufacturers. Since 1998, the company has also been active in the field of handguns. It started with all-steel pistols based on the CZ 75, such as the Canik P100 and P120 models, which were discontinued a few years ago. Since 2010, Canik has taken on polymer frame pistols and has earned a good reputation, especially in the USA with its apparently glutted market, thanks to a good price/performance ratio. 650 employees manufacture around 450,000 pistols and 2,500 M2 machine guns in the gigantic caliber 12.7x99 aka .50 BMG per year. That's quite remarkable, because that's more than 1,200 pistols a day. According to the company, 95% of its production is exported to 68 countries.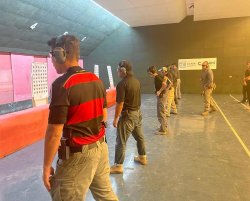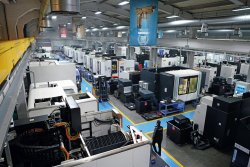 For the past year, the manufacturer has even maintained a 15,000 m² Canik Academy near Istanbul. Here, four indoor firing ranges and two training houses for tactical scenarios are available primarily for military and police units. This is a smart move, because it allows the company to offer the appropriate training for the weapons at the same time. The manufacturer's bestsellers are the TP models, which are available from subcompact to full-size (some of which all4shooters.com has already presented here). Later, the Mete models followed. 
New on the market is our current test gun in the form of the Canik SFx Rival, which is suitable in concept and equipment for sporting use. In addition, the design evokes associations with popular U.S. tuning companies such as Agency Arms or ZEV Technologies. Canik also has a new accessories brand, Mecanik. It currently offers red dot sights, suppressors and a clothing series will follow, according to the manufacturer.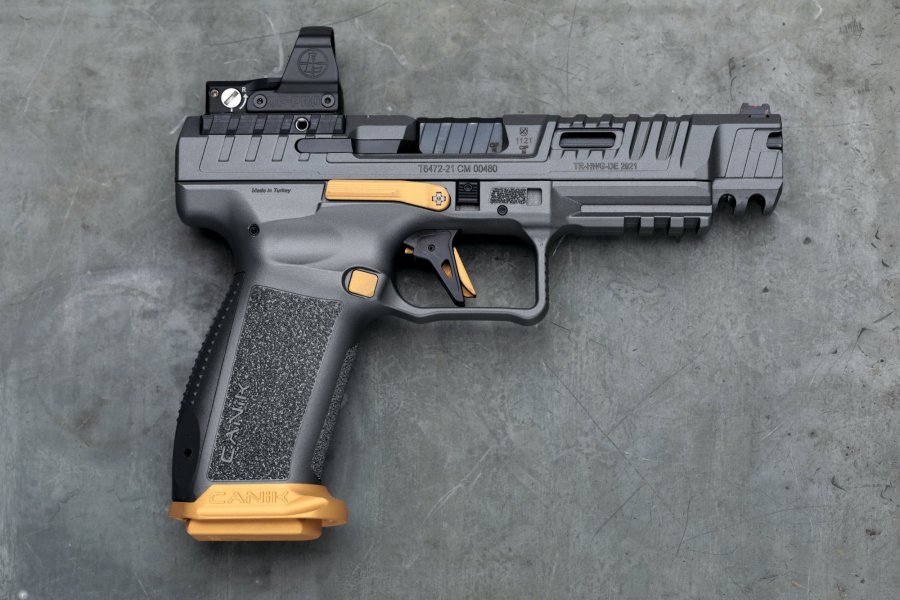 Available only in gray, the Canik Rival stands out first and foremost for its distinctive, decorative millings on the slide and barrel. The milling cutter has been made to dance quite a bit to give it this eye-catching design, which is usually only found on far more expensive custom pistols of American origin. The double-sided slide stop lever, removable magazine funnel, magazine base pads, trigger blade, and interchangeable magazine releases have been gold Cerakote plated. The texturing of the grip surface is somewhat reminiscent of fine skateboard tape and provides appropriate purchase. The grip circumference can be changed with two enclosed interchangeable backstraps. In addition, the gray hard case also contains an additional 18-round magazine, two aluminum magazine base pads, a magazine loading aid, and a custom-fit polymer holster. Finally, Canik also wants to appeal to those interested in IDPA and IPSC.
Important for IPSC: the Canik SFx Rival is already approved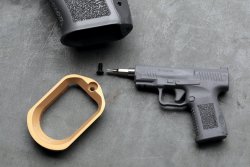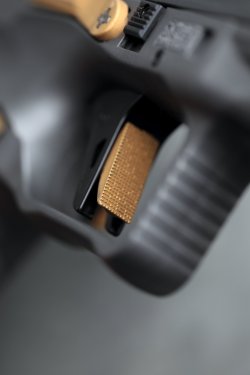 An important note for IPSC shooters: the Canik SFx Rival has already been included in the list of pistols approved for the IPSC Production/ Production Optics Division, but in this case the magazine funnel must not be mounted, of course. In construction and technology, the model corresponds to many other current polymer frame pistols.
A striker-fired action ensures a consistent single-action trigger pull from the first to the last shot. We measured the trigger pull weight at around 2,000 grams on average, which we would have preferred to be a bit less for the sporty range. However, our subjective impression is that the trigger weight is lower anyway, because 1,200 grams are already used up in the takeup and the contact surface for the index finger on the trigger blade is quite wide at around 9 mm. The reset travel of one millimeter is short and crisp, which is advantageous for fast shot strings.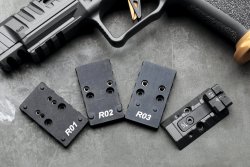 Of course, the latest "racehorse" from Canik can't be missing the cutout for a mini red dot sight on the top of the slide. And here, four adapter plates are added to the extensive equipment. Thus, MRDS (Mini Red Dot Sights) from Noblex/Doctor, Meopta, Insight, Vortex, Leupold Delta, Trijicon, C-More STS, Shield and many others that share the same footprint can be mounted. For those who understandably lose track of the ever-increasing number of mini red dot sights and their corresponding footprints, this rather informative website tells you what's compatible with what. Canik, by the way, also optionally offers two more adapter plates for the indestructible Aimpoint Acro C2/P2 as well as the SIG Sauer Romeo 3 and C-More RTS-2.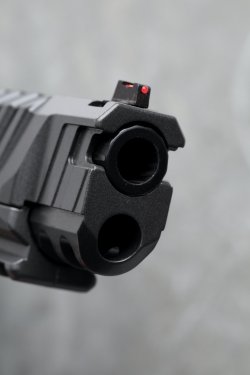 From the factory, the Canik Rival SFx is fitted with iron sights consisting of a deep-seated micrometer sight and a narrow fiber optic front sight. 
Since the micrometer sight sits in the cover plate of the MRDS cut, the "co-witness" concept is inevitably missing here, so you can't use the iron sights to continue to work in the event of any MRDS failure. 
You have to decide for yourself whether you can live with this or not.
Our test gun had an overall clean finish and surface coating on the inside and outside, and the barrel sat in the slide without any noticeable play. 
In this respect, there is no need to hide from European or North American competitors.
Test impression: the Canik SFx Rival shoots accurately and reliably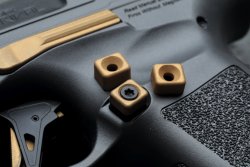 There were seven loads to choose from for our test, ranging from 95 to 158 grains, almost the entire weight spectrum that the universal 9 mm Luger has to offer. The best result of 41 mm from the sandbag rest was achieved by our handload with the excellent Hornady 115 Grains HAP bullet. Only theoretically worse and also available to non-reloaders, the fast Magtech 95 Grains partial jacketed round, at 42 mm. Third place was shared by the GECO 115 Grains DTX and the heavy Fiocchi 158 Grains FMJ at 50 mm. The calculated average was 53 mm, proving that the Canik SFx Rival shoots quite decently with the ammunition selected for testing. As always, the individual results were formed from the calculated average of two 5-shot groups.
 In the subsequent dynamic test, there were no malfunctions to report, and the magazines engaged cleanly even when fully loaded. All in all, Canik's top model with the chic exterior did not allow itself any weaknesses in our test.
Canik SFx Rival sport pistol specs and price
| | |
| --- | --- |
| Manufacturer: | Canik |
| Model: | SFx Rival |
| Price: | 1,149 euro |
| Caliber: | 9mm Luger |
| Magazine Capacity: | 18 rounds |
| Frame: | Polymer with steel inserts |
| Slide: | Steel, gray Cerakote coated |
| Barrel Length: | 5"/127 mm |
| Groove – Land Diameter: | 9.06 mm – 8.84 mm |
| Rear Sight: | 3.6 mm, serrated micrometer rear sight |
| Front Sight: | 2.9 mm, serrated ramp with fiber optic insert |
| Sight Radius: | 7.75"/197 mm |
| Safeties: | Trigger, firing pin |
| Trigger: | Single action; average pull weight: 1,973 g |
| Weight (w/ Magazine): | 28.9 oz/820 g |
| Dimensions (LxWxH):  | 205x36x145 mm |
| Extras: | Hard case with spare magazine, 2 backstraps, 4 adapter plates for red dot sights, holster, magazine loader, cleaning tool set |
How does the Canik SFx Rival perform against the competition?
The Canik SFx Rival has an outer appearance that is otherwise only known from rare, expensive U.S. custom pistols. In terms of workmanship, function and shooting performance, it can impress. The equipment with four adapter plates, color-coordinated plastic holster in carbon look as well as spare magazine and much more is very lush. However, at a price of 1,149 euros, it is also roughly on a price level with comparable German polymer pistols with sporty features such as the Heckler & Koch SFP 9 Match OR (1,235 euros) or Walther Q5 Match OR 5" (1,289 euros). There were no complaints about accuracy and workmanship. So, the Canik SFx Rival is a real rival for the established brands, as the product name suggests. The times when the manufacturer sold its products primarily via the price are probably rather a thing of the past.