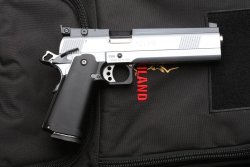 Actually, you are amply equipped with a single-stack 1911 for PPC/1500 shooting. Double-stack magazines and correspondingly high fire power are not necessary here. Nevertheless, a 20-round "2011" model can also have its appeal in this discipline if, for example, the hands turn out to be large or you want a long, heavy dust cover.

"Igel" means "hedgehog" in German. The fact that our test model bears the name of the prickly mammal can be traced back to a legal dispute that STP once fought with STI in the USA. Without going too deeply into this old matter, the English term "Eagle" became the phonetically similar sounding German "Igel", which is Karl Prommersberger's way of teasing his opponents on the other side of the pond a bit. 

STP Igel with Aristocrat sight rib – The latest version of the competition pistol from Prommesberger in detail

The Igel is thus a "2011" model with steel slide guiding rails and aluminum grip. The fact that the grip has no checkering is intentional. Self-adhesive skateboard tape cut to shape, which is included with the gun, provides a lot of grip and is practically not noticeable. If it becomes blunt at some point, it can be replaced quickly and inexpensively. A long slide is home to the 6"/152 mm KKM ramped barrel. At around 0.7"/18 mm in diameter, it also brings with it a certain amount of front-end heft. The all-metal match pistol has a total weight of 3.3 lb/1495 grams.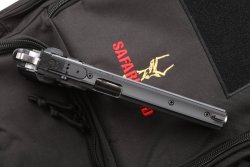 An Aristocrat tri-set sight rib sits on the slide top. Of course, one may question who needs or benefits from pre-settable sights at all. On the one hand, these are shooters who have to compensate for different points of impact at different ranges. On the other hand, such sights can also be used at one distance for targets of different sizes. Of course, one could also use a micrometer sight here, but you must not miscount when changing over under competition stress. The multi-position sights show with numbers which setting was selected – with a micrometer sight it is more difficult. The American Aristocrat sight rib is also available without the somewhat bulky rail and is slightly cheaper at 100 euros less. If you prefer to go "old school" with a Bomar micrometer rear sight, you can of course do that too, and then the prices are just under the 3000 mark, at 2950 euros.

In addition to the 9mm Luger version, the STP Igel LWD 6.0 is also available in .45 Auto. Those who need it can also order the sports version, which incidentally bears the "Made in Germany" label, that comes with two barrels in .40 S&W and 10 mm Auto respectively. Although there is a nice contrast on our test gun, you can of course also get them with black DLC (Diamond like Carbon) coating. The barrel sat in the slide with no noticeable play, and the frame-slide play was also pleasingly low. This is all the more interesting when you consider that the front slide guide surface is just 1.18"/30 mm long and this already ends in the area of the slide stop lever.

STP Igel 6.0 LWD specs and price

| | |
| --- | --- |
| Model:  | STP Igel 6.0 LWD Aristo PPC |
| Price:  | 3390 euro |
| Caliber: | 9mm Luger |
| Magazine Capacity: | 19 rounds |
| Grip Frame:  | Steel substructure, aluminum grip |
| Slide: | 19.75 oz/560 g, steel |
| Barrel Length:  | 5.86"/149 mm |
| Rear Sight:  | Tri-set Aristocrat, 2.85 mm |
| Front sight:  | 3.15 mm Target |
| Sight Radius:  | 8.26"/210 mm |
| Safety: | Double-sided lever on the grip; grip safety |
| Trigger: | Single action |
| Trigger Pull Weight:  | 41.41-42.96 oz (1174-1218 g), average: 41.8 oz/1185 g from 10 measurements with Trigger Scan |
| Lock Time:  | 5 ms |
| Total weight (incl. Magazine):  | 3.3 lb/1495 g |
| Dimensions (LxWxH):  | 3.14x1.57x6.33 oz (248x40x161 mm) |
| Extras:  | Lubricant, hard case, hex wrench, skateboard grip tape. |
With the PPC 1500 pistol STP Igel 6.0 LWD on the shooting range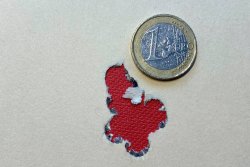 This time, we selected ten loads, including two handloads, in the bullet weight range from 95 to 147 grains for the shooting performance test. The fact that the 147-grain Federal American "Eagle" shot best out of the STP "Igel" was pure coincidence. The 10 rounds were together in a 0.94"/24 mm group. Next came our handload with the 115-grain Hornady HAP bullet in front of 5.8 grains of Vihtavuori 3N37, at 1.06"/27 mm. The inexpensive 124-grain GECO FMJ made it to 1.41"/36 mm, with 9 rounds converging on 0.94"/24 mm. The average of all loadings was a respectable 1.53"/39 mm and 90% of all loads tested were under 1.96"/50 mm. The best five loads then had to prove themselves once again on the 50-meter line. Here again, the 147-grain American Eagle was able to hold its own in first place with 1.96"/50 mm. The inexpensive GECO 124-grain FMJ was only just behind with 2.04"/52 mm. The 115-grain Hornady HAP load came in at 2.36"/60 mm. So the first two loadings mentioned would also have what it takes to hold the oval X of the PPC 1500 target even at 50 meters.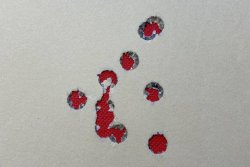 Unfortunately the top cartridge, of all things, caused two extraction malfunctions in the approximately 400 shots fired. The cases Incidentally almost only tumbled out of the ejection port with this loadings. For even weaker loads, a softer recoil spring can be used for help. That's why STP includes a 7-lb spring in addition to the standard 10-lb spring. When shooting freehand, we also felt the somewhat ponderous slide movement. The 19.75 oz/560 grams of mass also provide for a somewhat rocking shooting behavior.
STP Igel 6.0 LWD Aristo PPC: our test conclusion

The Igel 6.0 LWD Aristo PPC combines high magazine capacity paired with a high level of accuracy. With the rail and the multi-position sight, it is rather something for specialists. However, the high-quality workmanship and first-class shooting performance and not least the sights also want to be paid for, so that our test gun goes over the counter for 3390 euros.