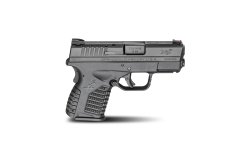 With provisions for legal concealed or open defensive carry in all fifty U.S. States and with the demand for defense-oriented firearms increasing outside of the United States as well, the Springfield Armory, LLC. company out of Geneseo (Illinois) launched this year a new variant of its XD-S line of concealed carry semi-automatic pistols.

The new variant of the XD-S platform – first showcased at the SHOT Show, in Las Vegas – is chambered for the much popular and hard-hitting .40 Smith & Wesson caliber, and fits through flush-fit six-rounds single-stack magazines or through extended seven-rounds magazines.
Just like all XD-line pistols, the new Springfield Armory .40-caliber XD-S is a striker-fired design built around a polymer frame. It is 16cm/6.3" long overall, and sports an 8,3cm/3.3" cold-hammer forged Melonite carbon steel barrel; the overall weight ranges around 652 grams/23oz. with an empty 7-rounds magazine.