Springfield Armory has just unveiled the new Ronin EMP 1911-style pistol models, a combination of the features of the Ronin series of pistols with the CCW-ready Enhanced Micro Pistol (EMP) platform. 
Why the plural? Because Springfield Armory is actually offering two variants, an ultra-compact 3″ with a 9+1 capacity, and a 4″ version with a 10+1 capacity. "The result is a potent and packable EDC partner that offers the smallest 1911 in the world," is the manufacturer's claim. But chambering is not the classic .45 ACP: the Ronin EMP are 9mm pistols.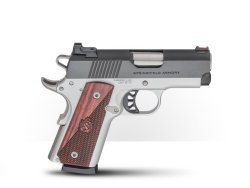 The new guns have been in fact specifically engineered around the 9mm cartridge and its overall shorter length, and rather than simply shortening the barrel and slide like most compact 1911 pistols, the EMPs also have a shortened frame, with a reduced grip radius for both enhanced comfort and concealability. 
According to Sprigfield Armory, the Ronin EMP models even feature 11 proprietary parts distinct from a standard 1911 as a result of this adaptation. These parts are: the frame, slide, firing pin, firing pin spring, extractor, ejector, trigger, plunger tube, plunger tube assembly, grips and magazine.
Ronin EMP, steel slide and alloy frame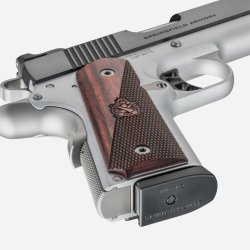 Slide and barrel feature forged steel construction, while frames are forged alloy frames. Aesthetically, we have a two-tone finish: the carbon steel slide features a hot salt blue finish while the lightweight aluminum frame has a satin silver Cerakote finish. In both the 3" and 4" version the bull barrel is bushingless and features a fully supported ramp. The signature Crossed Cannon wood grips with a hybrid checkered/smooth surface add a nice, warm touch to this modern yet classic gun.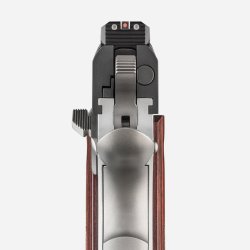 A fiber optic front sight and a tactical rack rear sight, extended beavertail grip safety with memory bump, and magazines with extended base pads are other interesting features of the new Ronin EMP 1911s.
"The EMP has long been a popular CCW pistol for 1911 fans, due to its incredible ergonomics and easily concealable dimensions," says Steve Kramer, Vice President of Marketing for Springfield Armory. "And now with the new Ronin EMP, shooters get one with all the benefits and features of the Ronin series of 1911 pistols."
If you are spoilt for choice between the ultra-compact 3″ and the 4″ versions, price won't help you make a decision, since they are both offered at $849 in the US. Currently it's open, when we will see these models in EU. Prices are just an indication from the US market.
Springfield Armory Ronin EMP specs and prices for the US
| | | |
| --- | --- | --- |
| Model: | Ronin EMP 3"       | Ronin EMP 4" |
| Caliber: | 9mm  | 9mm |
| Barrel:  | 3" forged stainless steel, match grade      | 4" forged stainless steel, match grade |
| Slide: | Forged carbon steel, blued       | Forged carbon steel, blued |
| Frame: | Forged aluminum alloy, satin aluminum cerakote       | Forged aluminum alloy, satin aluminum cerakote |
| Sights: | Fiber optic front, tactical rack white dot rear       | Fiber optic front, tactical rack white dot rear |
| Recoil System:  | Dual captive recoil spring w/ full length guide rod       | Flat wire w/ full length guide rod |
| Grips: | Wood | Wood |
| Magazine Capacity:  | 9 rounds      | 10 rounds  |
| Weight: | 24 oz/680 g      | 27.5 oz/779 g |
| Length: | 6.6"/167 mm      | 7.6"/193 mm |
| Height: | 4.8"/122 mm      | 5.1"/129 mm |
| Price (MSRP):  | $849  | $849 |