This video has been hidden because of an external service (YouTube) that could potentially collect personal data.Allow video services for the duration of the visitAllow video servicesStop allowing video services
Smith & Wesson first introduced its SW-1911 pistols line quite a few years ago, now. Highly regarded as some of the best 1911 derivatives available on the market today, Smith & Wesson's SW-1911s are highly sought after by sports shooters, professional operators, and average citizens alike. The success of this high quality line has been so high that the Company decided to introduce two new variants to the series, adding the typical touch of the Performance Center master gunsmith to turn the two new entries into perfectly tuned machines for both competition shooting and continuous carry, both open and concealed, for duty purposes or personal defence.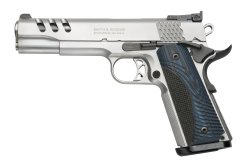 Designed as a specialized option for competition orientated shooters, the SW-1911PC "Custom" is manufactured with a stainless steel slide and frame and features a 5-inch barrel and hand-fitted features available only from Smith & Wesson. Chambered in .45 ACP, the pistol shares exclusive custom made Performance Center features with its hand-cut chamber, hand-polished feed ramp, hand-tuned action job and hand-lapped frame and slide rails for increased reliability and accuracy. Built to the highest specifications, the SW-1911PC "Custom" pistol is standard with a precision crown muzzle, oversized external extractor and an ambidextrous frame safety. Professional shooters will appreciate the pistol's competition-based features including a match grade trigger with over travel stop, speed configuration hammer and crisp 3.5 to 4 pound trigger pull. For improved handling, the 1911 pistol has been fitted with blue G10 custom grips featuring 30 lines-per-inch checkering. On the frame of the pistol, the Performance Center has helped reduce overall weight with slide ported lightening cuts, which also give a distinctive look to this classic design. On top of the slide, an adjustable rear sight and black post front sight aid in precise alignment during competition. Other Performance Center features include a match-grade throated barrel and a Briley spherical bushing for improved accuracy. A glass bead finish, traditional grip safety, plus an 8+1 magazine capacity round out the features of this custom 1911 package from Smith & Wesson. The Performance Center Custom SW1911 measures 8.7 inches in overall length and has an empty weight of 40.5 ounces.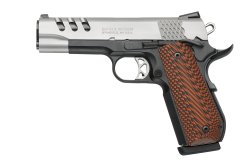 Sharing the same handcrafted and customized features of its full-size brethren, the SW-1911PC "Round Butt" combines scandium alloy metallurgy with a commander-length frame. Measuring 7.95 inches in overall length the SW-1911PC "Round Butt" offers a reduced weight of 29.6 ounces. Ideal for concealed carry or recreation shooting, the SW-1911PC "Round Butt" is standard with a scandium frame mated with a stainless steel slide and barrel. As with all 1911 pistols offered from the custom shop, the new model has been hand fitted and assembled with the highest quality components and meticulous attention to detail. Customized features of this design include a Performance Center action job, throated barrel, polished feed ramp and a precision crowned muzzle with a Briley spherical barrel bushing. The SW-1911PC "Round Butt" shares other common features of the 5-inch model including a competition match trigger with over travel stop, competition speed hammer and orange G10 custom grips. The pistol's two-tone finish and slide ported lightening cuts add a distinguished look to this long-standing platform, while its ambidextrous controls and smooth operating features elevate performance. On top of the slide, the Performance Center has enhanced sight alignment with a black post front sight and an adjustable rear sight. Available with an 8+1 magazine capacity, the new commander length pistol provides yet another quality option in Smith & Wesson's robust line of 1911 configurations.
Smith & Wesson's new SW-1911 "Performance Center" pistols were first seen at the 2013 SHOT Show in Las Vegas last January, and were finally launched on the world market two months later at the IWA expo in Nuremberg (Germany), although the buying frenzy that afflicted the US domestic gun market when the first pieces of anti-gun legislations were submitted in the wake of last December's Sandy Hook shooting in Newtown (CT) made these a little bit hard to obtain outside of the United States, as all production capabilities of Smith & Wesson − as well as those of most of the American gun industry − were mostly absorbed by the domestic demand and production for export was drastically reduced. Although anti-gun proposals failed in Congress a few weeks ago, the market still hasn't found its way back to normal, and we can't thus guarantee the Smith & Wesson SW-1911 "Performance Center" pistols to be available anywhere, nor we can provide accurate pricing. All inquiries should be placed directly with the Company or with its national distributors worldwide.