Smith & Wesson, America's biggest name in handgun manufacturing, has unveiled two new versions of the SD pistols series, designed to assist with self protection and home defense needs.
Standing for "Self-Defense", the SD models have been launched early in 2011 as a lower-cost alternative to the higher-priced, and more professionally-oriented, M&P line of Smith&Wesson pistols, and are intended for civilian users who require a simple to use, affordable yet reliable instrument of personal, housing and property protection.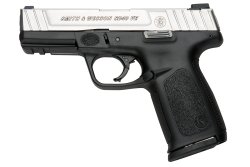 Chambered respectively in 9x19mm and .40-Smith & Wesson, the new SD9-VE and SD40-VE semi-automatic pistols combine value with the best features of the earlier SD, M&P and "Sigma" lines enhanced and evolved into a new generation of firearms that will meet the everyday shooters' requirements in terms of both functionality and price, delivering top-grade performance into a reliable option for any need in protection
The foundation of each SD9-VE and SD-40 pistol is laid on a lightweight polymer frame, designed to deliver in the areas of comfort and durability. On the stainless steel slide, the SD9-VE and SD40-VE pistols feature a distinctive two-tone finish along with aggressive front and rear slide serrations for improved firearm handling. Among the key features found on the Smith&Wesson SD9 -VE and SD40-VE is the Self Defense Trigger (SDT™): providing a smooth, consistent trigger pull, the SDT™ design helps to enhance accuracy while providing users with increased confidence. To further aid in accuracy, the SD9-VE and SD40-VE pistols come standard with a white-dot front sight and a white two-dot rear sight.
For optimal comfort and control, the SD9-VE and SD40-VE pistols have been fitted with an 18-degrees natural point of aim, ergonomic grip with aggressive front and back strap texturing. The Smith&Wesson SD9-VE and SD40-VE have both been built with a textured finger locator, which is placed directly above the trigger guard on the left and right side of the frame. Underneath the barrel, a universal Picatinny-style equipment rail is standard for optional tactical lights, lasers and other popular accessories.
The SD9-VE is available with either a 16+1 or 10+1 round capacity while the SD40-VE is standard with either a 14+1 or 10+1 magazine capacity. Both pistols have an unloaded weight of 22.7 ounces and a slender width of 1.29 inches. With a 4-inch barrel and an overall length of 7.2 inches, both models are fully compatible for personal protection or home defense measures. Each pistol comes with two magazines and the Smith&Wesson lifetime service policy.
The SD9-VE and SD40-VE have a suggested retail price of 379,00$ on the U.S. market, and are currently shipping.