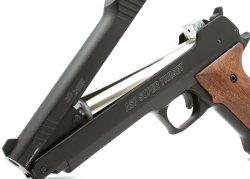 A highly accurate, all-metal, entry-level 10-meter target pistol featuring a 7.5" rifled barrel for increased accuracy and a crisp, fully-adjustable trigger: this is the new SIG Sauer Super Target .177 caliber, SIG's first single-shot pneumatic air pistol .
"We are excited to offer our first pneumatic air pistol and the Super Target truly lives up to its name.  It is a super pistol for target shooting – accurate and precise, delivering match-grade performance," says Matt Handy, Director, SIG AIR.
Super Target: no CO2 cartridges needed
With a muzzle velocity of up to 400 fps, the Super Target is powered through a pneumatic operation system and requires no CO2 cartridge for use. To operate it, you must simply release the slide by pulling the hammer back, while simultaneously pulling the slide up and over until completely open. Insert the pellet, close it, and you are ready to fire.  
Total length is 10.25" / 260 mm, with a barrel length of 7.5" / 190 mm and a weight of 2.5 lbs / 1134 g. Custom grips are wood. A match-grade adjustable trigger and adjustable rear sight complete the package. Moreover, a Premium Pistol Case included with every Super Target Air Pistol. The price you have to pay for all this in the US is 399.99 USD (MSRP). As usual, price may vary in other countries.
Along with the Super Target air pistol SIG AIR also introduces a new line of airgun pellets.
The  Zero Pb  is a hollow point lead pellet available in .177 and .22 calibers with bullet weights of 8.18 gr and 16.66 gr respectively. It's designed for pest control and hunting small game. The  Dagger Pb  is a domed lead pellet available in .177 (8.18 gr) and .22 (16.66 gr) calibers and well suited for pest control, training, target practice and plinking. The  Venom Pb  is a round lead pellet available in .177 (7.87gr) and .22 (14.50 gr) calibers, and optimal for training and plinking. Lastly, the  Match Pb  is a flat lead pellet available in .177 cal (7.71gr) and optimized for training and plinking.    
The SIG AIR Super Target and new line of pellets are already available for purchase at the  sigsauer.com/store .