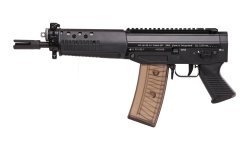 True: large-size semi-automatic pistols chambered in 5,56x45mm/.223 Remington caliber and based on the layout of the SIG SG550/556 rifle system have been around for a while on the U.S. market, and some of these models are actually plentiful.
With one considerable exception: the SIG Sauer SG553P semi-automatic pistol.

A civilian-grade variant of the SIG SG-553 "Commando" assault carbine, the SG553P pistol is incapable of select-fire operation and comes without SIG's signature folding polymer stock. It is otherwise compatible with all other accessories conceived for the SG-553 select-fire carbine, including railed handguards and double-stack detachable translucent polymer magazines.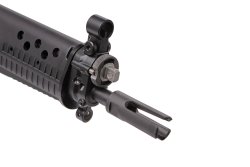 Unlike the popular SIG Sauer P556 semi-automatic pistol, the SG553P is not manufactured in the United States, but in the main SAN - Swiss Arms A.G. plant in Neuhausen, Switzerland. Needless to say, this distinctly European firearm offers the excellent craftmanship and quality that the SIG brand is known for worldwide, and set a standard on their own in terms of dependability and performance.
Once imported in the United States of America in very limited quantities (and for very high prices!) by M+M Inc., the SG553P has been out of the U.S. market for a while... that is, until now. Just a few days ago, SIG Sauer, Inc. − the north-American branch of the group, headquartered in Exeter (New Hampshire, USA) − announced that a limited quantity of SG553P pistols is being imported from Switzerland to the U.S. civilian market.

Being a pistol, the SG553P is not restricted from import under 922(r) regulations, and SIG's famous manufacturing quality ensures that it will earn enough "points" to be deemed importable by the Bureau of Alcohol, Tobacco, Firearms and Explosives (BATFE) under the provisions of the 1968 Gun Control Act.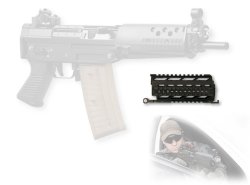 A large size semi-automatic handgun operated two a two-positions adjustable long-stroke gas piston, the SIG Sauer SG553P fires the 5,56x45mm NATO/.223 Remington cartridge, which it takes from the same detachable translucent polymer magazines used by the SIG SG-550 series of assault rifles and carbines.
The SG553P pistol is 20.2-inches long overall, and its 8.9" barrel is equipped with a three-prong flash hider and sports four right-handed grooves with a 1:7" pitch − perfect to engage targets within 300 metres with an utmost precision. The SG553P is also extremely maneuverable, its overall weight reaching 5.9 pounds without magazine and/or accessories.

The SIG Sauer SG553P pistol comes with a MIL-SPEC two-stage 7lbs. trigger, and with either the renowned Swiss Rotary Diopter Sight welded to the receiver or with a top MIL-STD-1913 "Picatinny" rail, allowing the installation of military or commercial optical sights; flip-up backup sights are standard on the railed models.
Another accessory that will be compatible with the SG553P pistol through the use of an adapter is the SB15 Pistol Stabilizing Brace, which "wraps" the user's forearm for a more stable shooting.

Since the SB15 "Pistol Stabilizing Brace" has not conceived as a stock, the BATFE ruled that its installation does not turn a handgun into a "Short-Barreled Rifle" under the provisions of the 1934 National Firearms Act.

It is not illegal to use the SB15 "Pistol Stabilizing Brace" to shoulder your pistol as if it was a stock − and indeed many shooters do − but the item has not been conceived specifically for such use, so do it at your own risk!
"The classic SG rifle series are highly sought among collectors and firearms experts," said Jeff Creamer, SIG SAUER Executive Director and General Merchandise Manager. "This was a unique opportunity and the only time SIG SAUER has been able to offer the SG 553 to the commercial market in the United States."
The SIG Sauer SG553P semi-automatic pistol will be available on the U.S. market in a non-specified, very limited quantity, and at a price of $3,792.00; interested buyers all throughout the United States of America should thus contact their closest SIG Sauer dealer immediately while supplies last.

Be always aware of all laws that may apply: this model may be restricted or outright unavailable in some jurisdictions.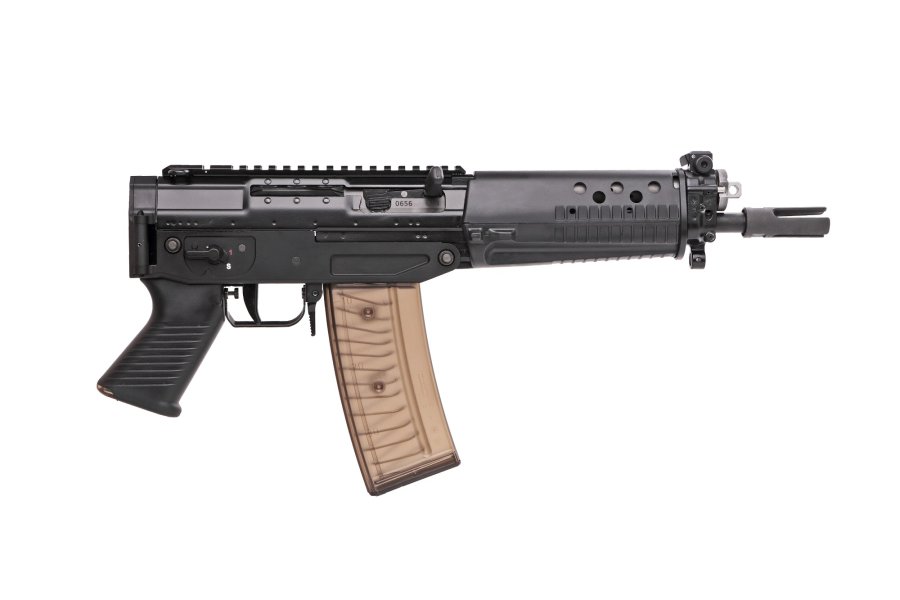 ---