Article also available in other languages
The SIG-Sauer P227 semiautomatic pistol offers 10+1 rounds in a flush-fit magazine, and 14+1 in an extended duty magazine of the powerful .45 ACP cartridge.
With similar dimensions to SIG-Sauer's popular P226 platform, the P227 offers a big-bore cartridge without a large grip diameter. The added benefit is that the P227 will work in almost any holster made for railed P220 or P226 models.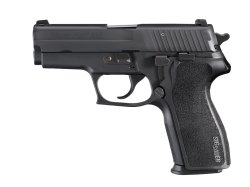 The P227 will also accept any slide assembly from the P220. This means a regular-sized P227 Nitron can be turned into a Carry, SAS, Stainless or Super Match just by swapping top ends.
As with all Classic SIG-Sauer handguns, the P227 features a stainless steel slide machined from barstock and coated with a durable, wear-resistant Nitron finish and light-weight alloy frame.
The P227 includes the SIG-Sauer four-point safety system of decocking lever, patented automatic firing pin safety block, safety intercept notch, and trigger bar disconnector.
Available in three versions, the P227 Nitron, Carry Nitron and Carry SAS2B; the Nitron has a 4.4"  barrel length, while the Carry Nitron and Carry SAS2B both have a 3.9" barrel.
The  Carry SAS2B lacks the railed dust cover that are featured in the other models and adds Siglite Night Sights as standard.