Article also available in other languages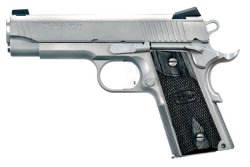 The Swiss-German SIG-Sauer group started to manufacture 1911-type pistols a few years ago through its North-American branch, the SIGARMS Inc. plant located in Exeter (New Hampshire, U.S.A.), and quickly established itself as one of the finest Government-style pistols maker on the market today, featuring high quality at relatively low price. With SIG-Sauer's entry in the 1911 business, the legendary 1911 design has been brought into the 21st Century with the refinement today's shooters demand. SIG-Sauer's 1911s prove that close tolerances equal complete reliability and need not be incompatible in an off-the-shelf pistol. SIG-Sauer has introduced clean, distinct lines that American shooters have embraced, while retaining the crisp trigger pull, classic ergonomics, and exceptional accuracy they expect.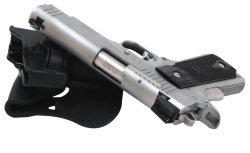 Their latest entry in the 1911 field is this "Traditional Compact" variant of the classic Colt "Commander" and "Combat Commander" design, dedicated to the needs of all those users who require a handgun to carry all day long, either open or concealed. As many 1911 users know, carrying a full-size variant can be very difficult due to dimensional and weight issues. The SIG-Sauer 1911 "Traditional Compact" perfectly addresses this demand and adds a wide array of modern features to the design.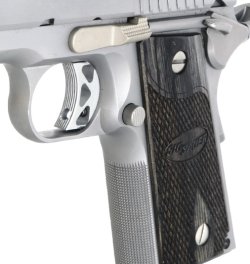 The SIG-Sauer 1911 "Traditional Compact" is a standard single-action-only, semi-automatic 1911-based pistol featuring a .45 ACP chambering and a 7-rounds magazine. The mag well will promptly accept most, if not all, of commercial-off-the-shelf .45 seven rounds magazines available on the market today. Entirely built out of stainless steel with a natural stainless finish, the 1911 "Traditional Compact" model also sports custom-design checkered blackwood grips, which add excellent gripping to the front and rear grip checkerings. The slide features a classic round top profile as well as front and rear serrations to allow users an easier chamber check. The lightened, Match-type trigger ensures a crisp pull.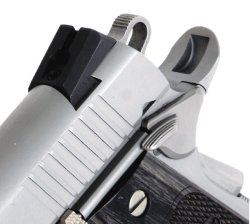 Topping a 7.7 inch overall lenght and a 4,8 inch overall height, the SIG-Sauer 1911 "Traditional Compact" is 1.4 inch wide and features a 4.2" barrel. Weight with magazine stands at merely 29,5 oz., while the trigger weight pull doesn't exceed 5 oz.
The icing on the cake of this great pistol, whose MSRP for the U.S. market stands at 1,142, are the SIGLITE low-profile night sights and the beavertail grip safety.

No accessory rail is featured on this model, and the SIG-Sauer 1911 "Traditional Compact" is not California or Massachussets compliant. No informations are available so far concerning the availability of the SIG-Sauer 1911 "Traditional Compact" pistol in Europe.

 Article also available in other languages