Article also available in other languages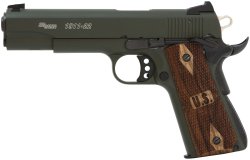 SIG-Sauer GmbH & Co., KG.
One of the most instantly recognizable names in global arms industry, SIG-Sauer manufactures some of the finest handguns, rifles, carbines and assault weapons. Be it for personal, home or property defense, public or private security, hunting, sports shooting, Police or military duty, SIG-Sauer offers some of the best solutions to the everyday problems and needs of modern shooters.
And definitely, costs are one of the worst problems of modern sportsmen. With the constant increase in price of the most common pistol calibers, including .45 ACP, more and more shooters revert to the cheaper .22 Long Rifle rimfire chambering to ensure longer sessions of fun, leisure shooting or training. .22 Long Rifle handguns also still remain the best alternative out there to teach basic handling and marksmanship to newbies, and under this point of view, SIG-Sauer probably offers one of the funniest leisure plinkers and one of the best training instruments available on the market today.

Dubbed the 1911-22, SIG-Sauer new blowback-operated, semi-automatic rimfire pistol is built to the same dimensions as the full-sized 1911 pistol. It features a lightweight metal frame and slide, low-profile three-dot sights, working grip safety and ambidextrous thumb safety, making the 1911-22 a perfect training tool for 1911 fans as well as a fun plinking pistol for all ages. Available in matte black, flat dark earth or olive drab green variants, SIG-Sauer's 1911-22 pistol feeds through a single-stack, 10-rounds detachable magazine. The SIG-Sauer 1911-22 is now available worldwide in all these Countries whose laws and regulations allow private ownership of handguns and that have no particular restriction that would prevent their import. Distribution of SIG-Sauer products is managed by a network of authorized international retailers: click here to see the list and locate the one closer to you.

Article also available in other languages