Shadows System is a US gun manufacturing company based in Plano,Texas, and offers several models of semi-automatic carry and sport shooting pistols in its catalog. Their shared features include a polymer frame and a striker fire system. Prominent among them is the CR 920 concealed carry model available in Combat and Elite versions.
Shadows System CR920 Combat and Elite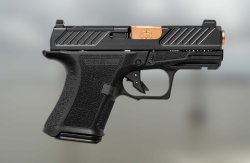 The slide of the Combat model, which is the basic version, is made of 17-4 stainless steel and has directional serrations at front and rear. The Elite model also feature serrations on the top of the slide, which also has window cuts on the sides to reduce weight. Steel sights include a dovetail-mounted notch with a blacked out serrated rear and a front sight with a bright green tritium luminescent insert for easy aiming. 
The Combat Optic and Elite models feature Shadow Systems' patented multi-footprint optic cut. The optic cut allows direct mounting of micro red dot sights from the top brands. Among them, the Shield RMS and Holosun 507k. Another feature shared by all CR920 versions is the match-type 416 spiral fluted stainless steel barrel 3.41 inches (86 mm) long, finished in bronze TiCN or black nitride. In a choice against the current fashion, the muzzle has no threading.


The trigger is flat-faced, with the automatic safety that prevents accidental firings. Trigger pull weight is about 2,000/2,300 grams (4.5/5 lb) with a very short and crisp tactile reset.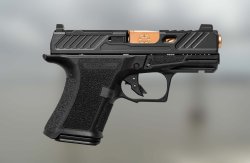 The polymer frame is designed to offer maximum grip despite its compact size. In fact, the upswept beavertail and the undercut at the root of the trigger guard allow for a safe purchase. All areas of the frame (and also the extended magazine baseplate) intended to contact the user's hand have an aggressive texture that enhances control when firing.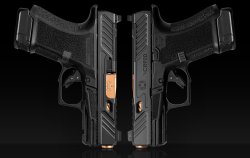 On the frame sides there are also textured recoil control ledges for the support-hand thumb, located in front of and above the trigger guard, that facilitate proper positioning. The now indispensable interchangeable backstraps allow the length of pull to be adapted to the user's hand.
Both versions of the Shadow Systems CR920 come with a compact 10+1-round double-stack flush magazine and a larger 13+1-round magazine equipped with an extended polymer base. For the time being, the gun is available in 9mm Luger (9x19) caliber only.

Let's talk a bit about size: with a 10-round magazine, the CR920 is 6.37"/161 mm long, 1.05"/26 mm thick and 4.27"/108 mm high; height becomes 4.79"/121 mm with the 13-round extended magazine. The weight of the Combat model is 17.8 oz/505 g. The price in the US is $799 for the Combat model and $920 for the Elite version. 
Shadows System CR920 specs and price

| | |
| --- | --- |
| Caliber: | 9mm Luger |
| Magazine capacity:  | 10 or13+1 rounds |
| Barrel Length: | 3.41"/86 mm |
| Overall Length:  | 6.37"/161 mm |
| Height: | 4.27"108 mm w/ flush mag, 4.79"/121 mm w/ extended mag |
| Thickness: | 1.05"/26 mm |
| Weight:  | 17.8 oz/: 505 g |
| Sights: | Adjustable rear notch and front sight, optic ready |
| Price (in the US): | From $799  |