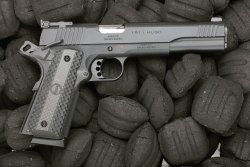 So-called 1911 "longslides" enjoy a high reputation in large-caliber static shooting sports up to semi-dynamic PPC/1500 shooting discipline. Well-made guns stand out for their high inherent accuracy and long sight radius and are therefore the first choice for "bullseye shooters". It then becomes interesting not only for beginners, when the models are quite inexpensive to have. The Schmeisser 1911 Hugo, which is priced just below the 1800 euro mark, is in this small bracket too. So what can you expect for this price?
The Schmeisser Hugo 6" in detail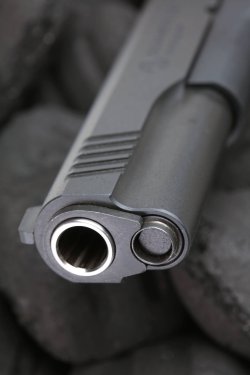 Our test gun came in a black plastic case in the "real" large .45 ACP caliber. However, the Schmeisser Hugo single-action pistol is also available in the more affordable 9mm Luger caliber. An interchangeable conversion system for this cartridge would certainly be interesting, but unfortunately this is not offered.

The features of the Longslide Hugo are limited to the most important. Safety on both sides and checkering on the front of the grip as well as on the flat hammer spring housing. Recessed into the slide is an LPA micrometer rear sight with white dots. The 6"/152 millimeter barrel is guided in the muzzle area by the classic barrel bushing. Mec-Gar's single-stack sheet steel magazine holds 8 rounds, but no spare magazine is included. Given the low price, the fits between the main components – frame, slide, barrel – were quite pleasing. With crisp characteristics, the trigger broke at a measured pull weight of 1500 grams. The plain, matte black to anthracite gray finish blends harmoniously into the overall appearance of the pistol.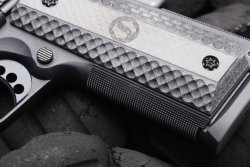 So, all in all, the Schmeisser 1911 Hugo in the longslide version showed no weaknesses and was quite neatly made. Incidentally, for those who prefer the classic Colt Government service pistol size with 5"/127mm barrel length, these models of the Schmeisser Hugo are available in .45 ACP and 9mm Luger for as little as 1590 euros

Test conclusion on the 1911 Hugo 6" from Schmeisser:

Considering its price, the Schmeisser 1911 Hugo longslide has a lot of performance to offer. Out of the box, the trigger and sights are suitable for practical use and with selected ammunition types, grouping to 1.57"/40 mm can be achieved. Thus, the pistol represents an interesting enrichment of the market segment of 1911 longslide pistols in the up to around 2000 euros price range.

Our interview with Schmeisser about the 1911 Hugo: