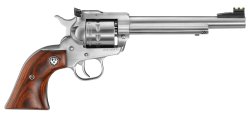 Sturm, Ruger & Company, Inc., is definitely one of America's best known, biggest-selling and probably more dynamic gun companies. In the past years, its rather static catalogue underwent a true revolution that saw a number of new products, sometimes even four to five new introductions per year, supplment or even replace some of its most classic creations. Last September 6th, Ruger introduced yet another new gun, and not the first one for the year 2012, in the form of the "Single-Nine": a nine-shot, single-action revolver chambered in the popular .22 Winchester Magnum rimfire caliber.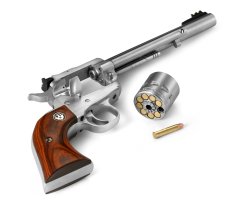 Designed to provide shooters with a pleasurable experience and cheaper, longer shooting sessions while retaining the fashion and feel of the "Old West", Ruger's Single-Nine revolver features a nine-shot cylinder which can be removed from the frame for faster and easier reloading, and is constructed from durable satin-finished stainless steel. Coming with an accurate 6.5-inch barrel and smooth, hardwood, "Gunfighter" grips, Rugers' Single-Nine revolver is well-balanced and points easily at the target. A touch of modernity comes from the use of Williams fiber optic sights, click-adjustable for both windage and elevation, which provide for a crisp sight picture that is enhanced with front and rear fiber optic inserts.
«The "Single-Nine" builds upon the success of the "Single-Ten"», remarked Mike Fifer, Ruger President and CEO. «The higher capacity cylinder is sure to please fans of the powerful .22 Magnum cartridge, and the 6.5-inch barrel helps the .22 Magnum reach more of its velocity potential. The trim, "Gunfighter" grips and fiber optic sights make the Single-Nine™ easy to point and aim».
Ruger's new Single-Nine revolver is already available on the U.S. market through authorized retailers for an MSRP of 699.00US$.