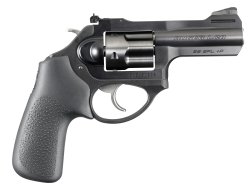 Launched in early 2014, during the gun industry's trade show season, the LCRx revolver is an external hammer variant of the Lightweight Compact Revolver manufactured by Sturm, Ruger & Co.
First showcased in 2009 as part of Ruger's "new course", the Lightweight Compact Revolver − or LCR for short − revamped Ruger's name in the six-guns industry and proved that even in the era of subcompact semi-automatic pistols, technology can make snub-nose revolvers once again a viable and valuable lightweight, pocket, effective alternative for concealed carry in personal defense, backup and undercover roles.
Extremely compact, featuring a fluted cylinder and an innovative 7000-series aluminum alloy frame and glass-filled polymer fire control housing combo to reduce the overall weight, the Ruger LCR revolver in all available calibers (.22 Long Rifle, .22 Magnum, .38 Special, .357 Magnum and 9x19mm) quickly became a modern classic in the Southport-based company catalogue, as well as an instant market success both in the United States and abroad.
The baseline LCR sports a double-action only trigger and a spurless hammer completely enshrouded in the rear top portion of the polymer fire control housing; the LCRx was thus meant to answer the request of those shooters who, for a plethora of valid reasons (physical build and strenght, smaller or bigger hands, simple habit or personal preferences) wanted an external hammer version of the platform that would allow them to choose whether to fire their shots in double action or in a lighter single action − never minding the fact that the Ruger LCR revolver comes with a patented, optimized friction reducing cam that results in a smooth, non-stacking trigger pull.
Although the light weight and compact size of both the LCR and LCRx revolver was appreciated by most, some shooters still wished "more" from the platform. More specifically, bigger-built shooters, with bigger hands, may find the LCR and LCRx revolvers just to small to be handled comfortably.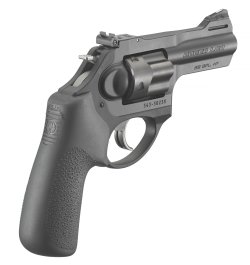 In order to meet their needs, the Ruger Firearms company announced the launch of a 3-inch barrel version of the LCRx revolver, which will be first showcased next January, at the 2015 SHOT Show in Las Vegas.
Under the technical and mechanical point of view, nothing differs from the pocket LCRx: the new 3" barrel variant sports the same 7000-series aluminium alloy frame and glass-filled polymer fire control housing, the same external hammer and double-action trigger pull and the same Ruger's patented cylinder release spring-loaded push button that prevents accidental opening.
The main difference is in the 7,62 centimetres (3 inches, that is!) barrel, cold-hammer forged out of stainless steel and sporting six right-handed grooves with a 1:16" rifling pitch − just perfect to stabilize the .38 Special caliber, the only one in which the Ruger LCRx 3" barrel revolver will come first.
The Ruger LCRx 3" barrel revolver also comes with a black blade rear sight adjustable for windage and elevation, a replaceable front sight pinned on its ramp, and a Hogue "Tamer" black synthetic/rubberized grip which makes the gun comfortable to use even for bigger-handed shooters, provides a firmer and safer grip even when the shooters' hands are wet or sweaty, and a steadier control over recoil and muzzle climb.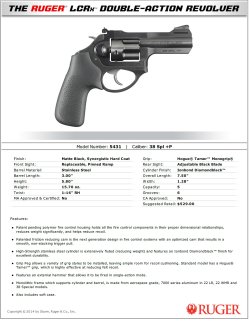 The stainles steel, IonBond "Diamondback" coated, fluted lightweight cylinder still holds only five rounds, one less than the standard six shots capacity we're all used to in full-size revolvers; this may be seen as the only drawback of the new 3" barrel version of the Ruger LCRx, but there's a reason for that too.
The new Ruger LCRx 3" barrel revolver is 19cm/7.5" long overall, approximately 15cm/5.8" high, and yet it maintains an overall width of merely 3,25cm/1.28", and its overall weight tops just 445 grams/15.70 oz. empty.
That's a true slimline featherweight here: despite the bigger grip and a barrel lenght that makes it an "all-round" talent for personal protection, home defense, small game hunting, backpacking, outdoors and other uses − the Ruger Firearms company itself refers to it as a "Kit Gun"! − the Ruger LCRx 3" barrel revolver remains slim and lightweight enough to be comfortable and low-profile to carry concealed, and unobstrusive and comfortable for those who practice open carry, even for service purposes.
The Ruger LCRx 3" barrel revolver is tested and certified for .38 Special +P loads, which ensures excellent stopping power in most situations.
The manufacturers' suggested retail price for the new Ruger LCRx 3" barrel revolver has been announced at $529.00 for the United States; no word yet about export and availability outside of the U.S., but more informations should be available at the 2015 editions of the SHOT Show and IWA, so keep following all4shooters.com in the weeks and months to come for updates on Ruger's latest wheelgun!
This video has been hidden because of an external service (YouTube) that could potentially collect personal data.Allow video services for the duration of the visitAllow video servicesStop allowing video services