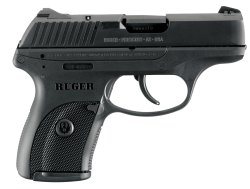 The introduction of the Kel-Tec P-11 semi-automatic subcompact pistol in 1995 revolutioned the standards by which all other pocket pistols for covert self-defense and backup use were to be judged from then on. An enormous number of gun makers both in the U.S. and abroad have since tried to equal the features, the reliability and the performances of that little polymer-framed, lightweight wonder providing both compact 9mm pistol for discreet carry by law abiding citizens and a full-power, no-compromise backup for off-duty law enforcement officer. Few, if any, have been successful. Sturm, Ruger & Co., Inc. out of Prescott (Arizona) seems to have done it the right way with the late-2011 introduction of the LC9, the "big sister" of the .380-ACP LCP handgun launched back in 2008. The LC9 has a 3.12" barrel, is 6.0" long and 4.5" tall, making for a very compact 9mm pistol. The LC9 is impressively narrow at a mere .90" wide, and weighs only 17.1 ounces with an empty magazine. Featuring a black polymer (glass-filled nylon) frame and blued alloy steel slide and barrel, the lightweight, full-featured Ruger LC9 offers the versatility and capability of the popular 9mm cartridge in a highly compact, reliable, and user-friendly pistol.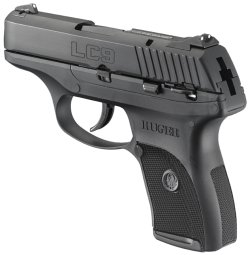 The LC9 is a double-action-only, hammer-fired, locked-breech pistol with a smooth trigger pull. Control and confident handling of the Ruger LC9 are accomplished through reduced recoil and aggressive frame checkering for a positive grip in all conditions. The Ruger LC9 features smooth "melted" edges for ease of holstering, carrying and drawing. One seven-round, single-column magazine is provided with each LC9 pistol. The magazine's standard flat floorplate aids concealability, while the provided finger grip extension floorplate offers an option to shooters who prefer a longer grip surface with more hand-to-pistol contact. Seven-round magazines, holsters and other accessories are available for purchase through Ruger's official retailers or, in the US, at ShopRuger.com, the company's Web-based accessories marketing platform.
The wider rear aperture of the dovetailed, low-profile, two-dot rear sight aids quick acquisition of the single-dot, dovetailed front sight. This high-visibility, three-dot sight system provides fast, positive sight alignment.
The slide locks open on an empty magazine and the external slide stop is easy to reach and manipulate for positive firearm functioning. A single-sided manual safety and a magazine disconnect are additional features of the Ruger LC9. A loaded chamber indicator allows for immediate visual and tactile confirmation that the chamber is loaded. A pivoting external extractor provides reliable extraction of the 9mm cases.