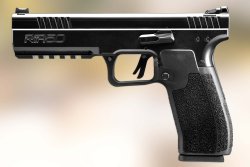 The RIA 5.0 semiautomatic pistol promises to be "a revolutionary game changer among American-made firearms", particularly for a company that is famous for its 1911-style pistols – the latter having gained a solid reputation among discerning U.S. shooters. The new RIA 5.0 pistol is a total departure from John Moses Browning's design and is intended to be a modern semi-automatic sporting and service striker-fired pistol with polymer frame, as the market now demands. But it also offers something extra, such as the patented RVS recoil system, designed to maximize barrel mass and linear movement for very smooth recoil.
The barrel of the RIA 5.0 sits deeper into the gun's bore axis so that muzzle flip is minimized, allowing for faster target acquisition or realignment during rapid fire. To improve ergonomics and recoil control, the 5.0 features a two-piece modular frame that combines the flexibility of polymer with the rigidity and the durability of a full-length aluminum receiver.
"The RIA 5.0 is really an engineering marvel," said Martin Tuason, President and CEO of parent company Armscor/Rock Island Armory. "It's an extremely shootable sporting pistol with a meticulously engineered trigger system. Best of all, we're proud to say it's made entirely in the U.S.A." 
RIA 5.0, a striker-fired pistol with lots of technology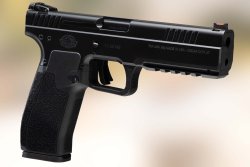 The RIA 5.0 is a semi-automatic pistol chambered in 9mm Parabellum (9x19) featuring a two-piece frame: the outer polymer one has nylon grips for a better purchase. The upper section, on which the trigger assembly is mounted, and the slide rails are made of aluminum. This is a proven technical solution that keeps the weight of the gun within reasonable limits without compromising strength and reliability. Trigger is single-action, with a release weight of 1,800 grams (4 lb); the trigger features a center blade safety that if not depressed fully and intentionally prevents the gun from firing. The barrel is an impressive 125 mm (4.9 inches) long, a rather high value that allows to make full advantage of the cartridge's propellant charge. The overall length of the RIA 5.0 is 206 mm for a thickness of 34 mm, the weight is 1,100 grams, which is relatively high and certainly has its influence in reducing felt recoil and muzzle raise.
The only manual controls on the frame are the slide stop lever on the left side and the magazine release button, which is reversible. Mounted on the slide, which is finished with a black-colored Ceratkote ceramic treatment, is a set of sights consisting of an adjustable LPA notch and a Dawson front sight with fiber optic insert. Both sights are inserted in dovetail slots that allow them to be drifted laterally. On the dust cover we find the Picatinny rail for the mounting of accessories.
The new Rock Island Armament 5.0 is chambered in 9mm only and is fed from double-stack magazines with a capacity of 17+1 rounds. Its intended use is sport shooting, but it can also be used for home defense and for external holster carry. In fact, remember that in some states in the U.S. open carry is subject to fewer restrictions and permits than concealed carry, so even "full size" guns can be considered for self-defense.
The 5.0 will also be made in a special version with serial numbers from 1 to 100 equipped with a C-More RTS II red dot sight as standard, which is distributed in the US by Advance Tactical. The price of the basic version in the U.S. is $998.88.
RIA 5.0 specs and price 
| | |
| --- | --- |
| Caliber: | 9mm Luger (9x19) |
| Operation: | Striker-fired |
| Barrel Length:  | 4.9"/125 mm |
| Overall Length:  | 8.1"/206 mm |
| Height:  | 5.3"/135 mm |
| Weight: | 38.8 oz/1,100 grams  |
| Magazine Capacity:  | 17 rounds |
| Safety: | Striker and trigger |
| Sights: | Adjustable rear and driftable front |
| Price (MSRP in the U.S.):  | $998,88 |