Article also available in other languages
The legendary Remington Arms Company − America's oldest name in gunmaking − has been back in the handguns business for some years now, with a line of 1911-based semi-automatic pistols. Remington has manufactured 1911-type handguns for the U.S. military in the past, but the 1911-R1 line of sporting, service and defense pistols didn't mark Remington's return to the engineering of handguns.
As a matter of fact, the latest pistol to have been totally conceived in-house at Remington's was the .32 ACP and .380 ACP Model 51, engineered by John Pedersen at the end of World War I and manufactured until the 1930s.

The Model 51 was based on Pedersen's own delayed blowback system, dubbed the "Pedersen Hesitation Lock", consisting of a breechblock installed to the slide and sitting slightly forward of a locking shoulder in the frame when the gun is in battery. 
As soon as the gun is fired and the cycle begins, the breechblock and the slide move together rearwards for a very short distance before the locking shoulder intervenes to stop the breechblock's rearward movement; inertia still drives the slide rearwards, though, a cam arrangement triggered by its continuing motion lifts the breechblock from the locking shoulder, allowing the cycle to finish.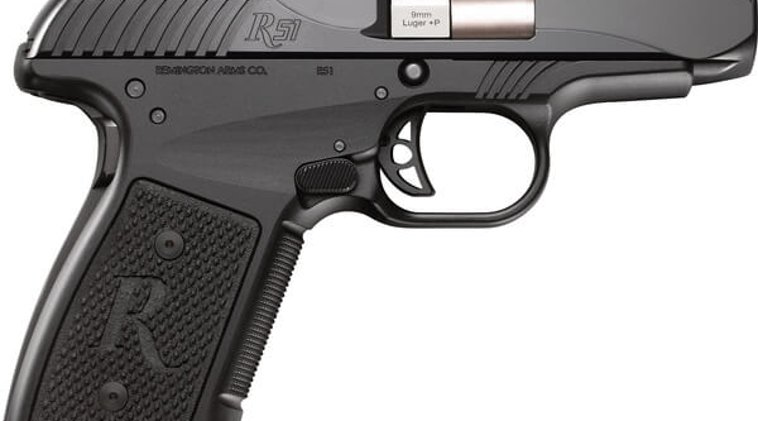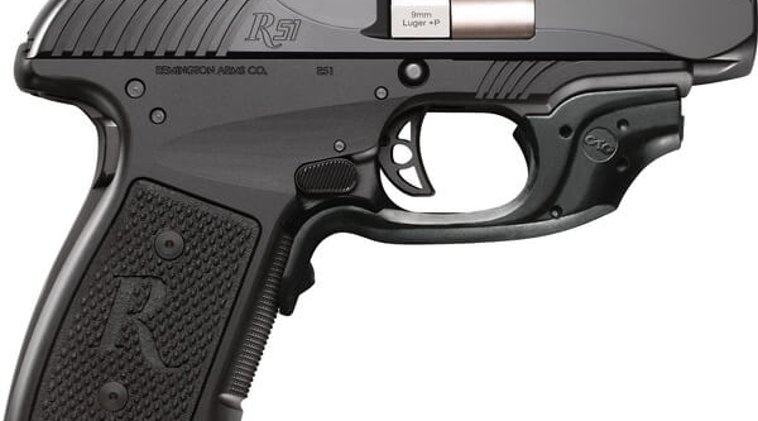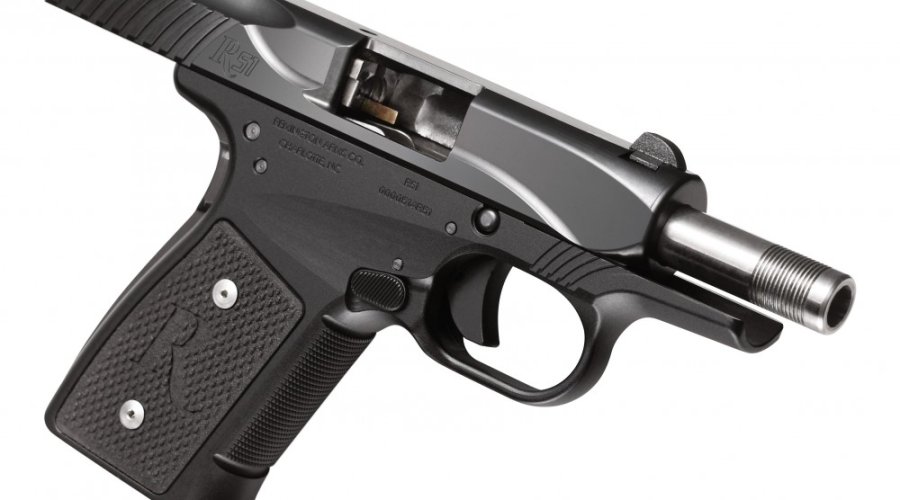 This system allowed the bullet to leave the barrel and pressures levels to drop significantly before the spent shell was extracted, consisting in a sharp decrease of both felt and actual recoil level, better control and accuracy, and longer service life, even with hot loads.
After the Model 51, however, the Pedersen system was never implemented again in a production-grade firearm − until now. The "Hesitation Lock" is indeed at the heart of Remington's latest and hottest new handgun, officially unveiled in January at the SHOT Show: the R51.
With the R51 pistol project, Remington's engineering team ambitiously aimed to "redefine" the paradigm of subcompact pistols for concealed carry, personal defense, undercover and back-up purposes.

As they proceeded to analyze Remington's own heritage of technologies and patents, it didn't took long to understand how the almost Century-old Pedersen system could be adapted to serve in a 21st Century pistol.
A sleek, almost futuristic-looking pistol, the Remington R51 is built around a machined, black anodized 7075-T6 aluminium frame with polymer grip panels, and a black ferritic-nitrocarburized, stainless steel slide, featuring windage-adjustable front and rear sights and a small hole right behind the chamber that dubs as a loaded status indicator.
The Remington R51 is 6.6-inches (17 centimetres) long overall, sports a 3.4 inches (8.6 cm.) barrel, is 4.6 inches (12cm.) high and merely 1 inch (2.6 cm.) wide, and its weight tops  22 ounces (620 grams) empty: a true pocket featherweight for concealed carry. 
The single-stack magazine, manufactured out of stamped steel and sporting a polymer pad, hosts up to seven rounds of 9x19mm ammunition; an additional round can be chambered to boost the overall capacity to eight rounds.

The Remington R51's single-action-only, sliding-bar trigger actuates a fully internal hammer, and sports no manual safety whatsoever − exception made for a pressure bar located on the rear portion of the grip, similar in design to the 1911 pistol grip safety device, which will prevent the gun from firing if it's not held correctly.
The recoil spring is wrapped around the machined 416 steel barrel, whose low bore axis plays an important role in the reduction of felt recoil and muzzle climb.
More important, though, the Pedersen hesitation lock system is so effective in the Remington R51 that the designed is certified for long-term use of hot loads: the chamber is clearly marked "9 Luger +P". 
This means that even should shooters live in a jurisdiction that doesn't allow defensive use of particularly effective ammunition − such as expanding or frangible − the Remington R51 still retains a remarkable stopping power even with average FMJs, as hotter loads can be used to pack a considerable punch against assailants.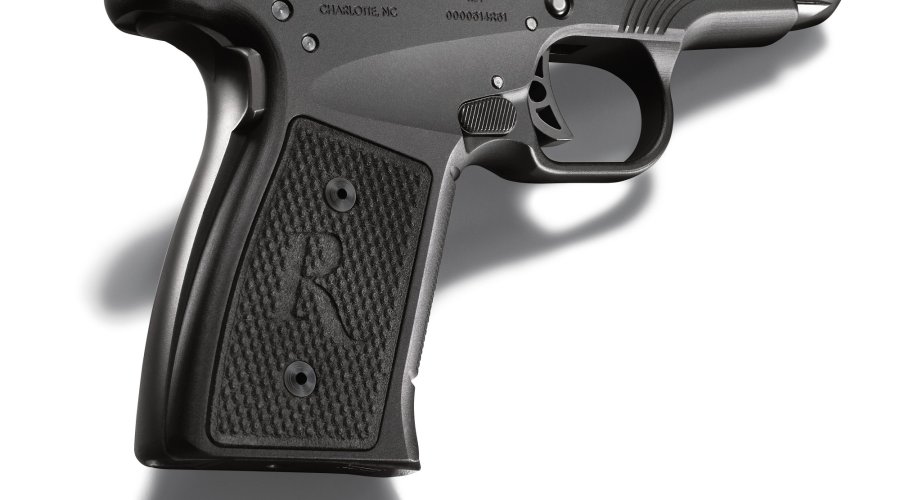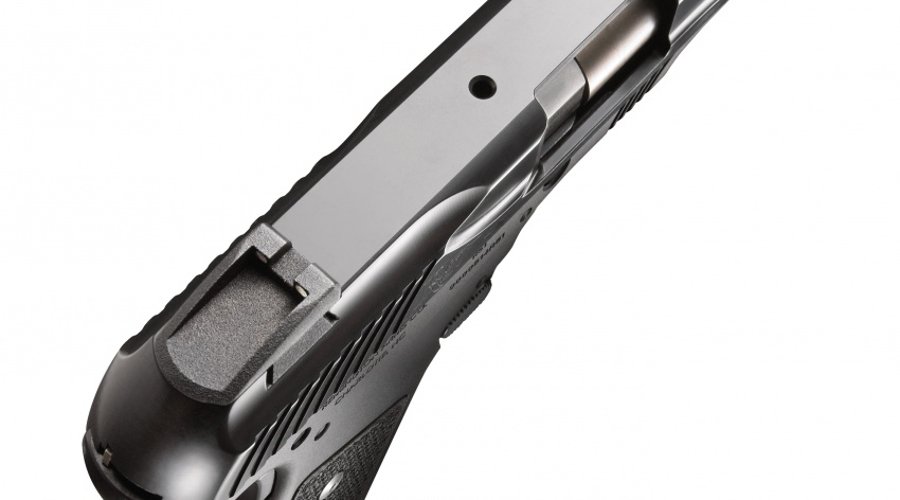 Other key features of the Remington R51 pistol include an ambidextrous magazine release button and a low-profile slide stop release lever (located only on the left side of the frame). 
A specific version of the Remington R51 will be available on MIL/LE markets with a protruding, threaded muzzle to allow the use of silencers or sound suppressors, while another commercial variant of the design will sport an integrated Crimson Trace laser pointer, allowing quicker target acquisition in extremely short distance engagements or in low light conditions − that meaning, in most self-defense situations.
Given the sharp increase of defense-oriented handguns in the United States and in Europe, the Remington R51 is slated to become a success even in those Countries where concealed carry is not allowed or requires a hard-to-obtain license. 
Security personnel may desire it for low-profile carry, and women or generally small-build, small-handed shooters may also consider it as an alternative for home defense.
The manufacturer's suggested retail price for the Remington R51 9mm semi-automatic pistol in the United States ranges between 420 US$ for the standard version and 609 US$ for the Crimson Trace laser version; average street price is today slated to be even lower than that.

In Europe, the retail price of the Remington R51 should be about 549 Euro, final price in each country as always will depend on local VAT and brand policies. Prospective non-US buyers may thus want to check with their Country's authorized Remington distributor for availability and pricing information.
This video has been hidden because of an external service (YouTube) that could potentially collect personal data.Allow video services for the duration of the visitAllow video servicesStop allowing video services