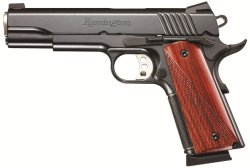 Remington Arms Company, Inc.
Remington's legacy in handgun manufacturing is die hard; albeit the company withdrew itself from the pistols and revolvers' market shortly after World War 2, with the exception of single-shot Silhouette pistols, the tradition remained in its heart and more specifically the 1911-A1 design remained deeply a typical Remington heritage, having the company been one of America's first to be contracted to manufacture John Moses Browning's quintessential American pistol for the U.S. Army shortly before World War One.
Today, two years after the introduction of the first 1911-R1 variant and almost a century after the first 1911 pistol rolled out of the Remington production lines, America's most trusted gunmaker, which is now part of the Freedom Group, is proud to introduce a new version of America's favorite pistol design – the Remington model 1911-R1 "Carry".
The 1911-R1 "Carry" is a full-size 1911 pistol that is "de-horned," meaning that any sharp edges have been smoothed, making the pistol easier to carry and holster without the worry of the edges catching or grabbing.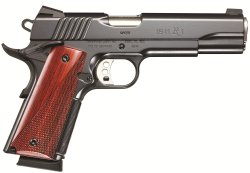 Remington Arms Company, Inc.
Chambered for the classic .45 ACP caliber and coming with a full 5" stainless steel barrel (1:16 LH pitch grooving) for an overall lenght of 8.½", Remington's 1911-R1 "Carry" pistol features a de-horned carbon steel slide and forged-steel frame with satin-black oxide finish; beavertail grip safety with 25 LPI checkered memory bump; ambidextrous safety; front strap and mainspring housing checkered at 25 LPI; a Novak® sights set with Tritium front sight for quick and easy aiming even in night or low-light conditions; and cocobola grip panels. Overall weight stands at 38.5 oz. empty, and overall height is as high as 5.½ inches.

The Remington model 1911-R1 "Carry" pistol is shipped in a custom carry case with one seven-round and one eight-round magazine and a barrel bushing wrench. Suggested retail price is $1,299 on the U.S. market; no indications concerning availability or price for other Countries are known at this time.