The German UMAREX Sportwaffen GmbH & Co. KG. group is well known on the gun market worldwide for owning the Carl Walther Waffenfabrik GmbH firearms company, for having distribution agreements with Smith&Wesson in north America and for being a longtime manufacturer of 4,5mm/.177-caliber airguns. More recently, however, the company expanded its field of operations in the Airsoft market, acquiring exclusive replica manufacturing rights from several big names in the firearms industry worldwide; since then, UMAREX Airsofts, both in its budget-oriented, spring-operated versions and in the higher-end variants with gas, CO² or electrical working systems, built using metal and high-quality plastics, have been universally deemed by Airsoft enthusiasts as some of the best on the market. The company has thus taken advantage of its major role at the 2012 edition of the IWA expo that took place last March in Nuremberg (Germany) to showcase some of its newest, extremely interesting Airsoft replicas.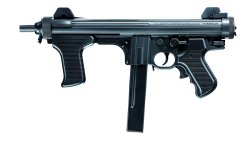 Those Airsoft enthusiasts whose main interest is in collecting rather than skirmishing will undoubtedly show great interest in the UMAREX spring-operated replica of the Beretta PM-12S, the quintessential Italian modern sub-machinegun, adopted by countless Police forces worldwide. A PM-12S replica has not been seen on the market since the "Golden Age" of gas-operated Airsofts, when Japanese comanies such as Marushin, MGC or Tanio Koba manufactured almost perfect metal replicas of the most interesting military firearms on the market, fed through magazines loaded with fake metal or plastic cases that hosted the 6mm BB pellets and were subsequently ejected (and thus proved not really apt for skirmishing, as loosing said cases made the replicas basically useless). The UMAREX replica of the Beretta PM-12S is entirely made of plastic and is extremely light, nonetheless is quite accurate and features an acceptable range, plus has been made under exclusive license and sports original Beretta markings; it is already available for Web purchase, and its price ranges around $20.00.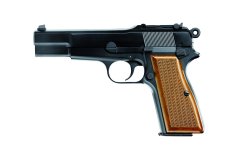 Another great classic in firearms history that UMAREX pays an homage to with a licensed Airsoft replica this year is the Browning High-Power pistol, in two versions, the best of whom certainly is the "Captain" with adjustable micrometric rear sight, low-profile frame-mounted safety switch and round hammer spur, named after the first FN Gp35 pistol version to see battlefield use and manufactured during World War II by the Canadian John Inglis Company for the Allied Forces. The UMAREX replica is entirely metal-made and exists in either non-blowback CO²-operated and gas-blowback versions.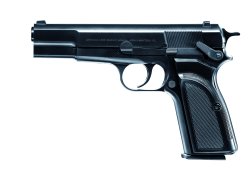 The UMAREX replica of the more modern Browning "High-Power" Mk.III variant is instead available as a gas-blowback, gas-operated non-blowback or spring-operated version. This MilSim reproduction of the post-WW2 Browning design adopted by countless Armed Forces worldwide is made out of high-end plastic and metal and features the original-design simplified, fixed sights, enlarged frame-mounted safety switch, elongated hammer spur and black plastic grip panels with thumb rest. Much like the "Captain" variant, this Browning High-Power Mk.III replica is built under license and bears original Browning markings on the slide.

The centerpiece of the new-for-2012 line of UMAREX Airsoft replicas is however the licensed reproduction of Heckler&Koch's HK-417D 13"-barrel 7,62x51mm battle rifle. Heckler&Koch's role in the realization of this repro didn't stopped in licensing the manufacturing rights: the Oberndorf-based gun firm also handed down to UMAREX a whole lot of technical assistance that played a major role in achieving the maximum levels of realism in this electrically-powered MilSim with high-end polymer furniture and monolithic aluminum upper receiver with quad Picatinny rail, whose controls duplicate exactly the configuration of the original firearm. The plastic magazine, featuring fake and non-removable .308 dummy rounds lodged on its sides, is another true gem of this incredible reproduction.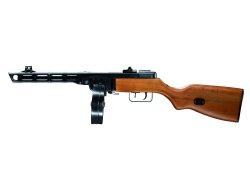 The "Re-enactors", those who mate Airsoft skirmishing with historical reconstruction, will find themselves intrigued and attracted by the final new Airsoft product from UMAREX this year: an exceptional reproduction of the Shpagin PPSh-41 7,62x25mm-TT machine-carbine widely employed by the Soviet Red Army all throughout World War 2 and then widely distributed to Communist-aligned Countries and forces up until after the Vietnam war. UMAREX' 6mm PPSh-41 is CO²-operated and hosts both the BB pellets and the propellent in its wide, removable metal drum magazine. The metal-made upper receiver features an original design-inspired barrel shroud and original-style iron sights; the trigger guard features the safety switch, thus bringing this replica to completely reproduce the controls configuration of the original machine-carbine. The stock is instead made out of treated wood, with sling swivels on both sides of the buttstock. Yet another high-end replica from UMAREX, for true connoisseurs and epicures of the Airsoft world.