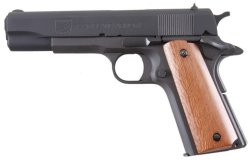 ARMSCOR - Rock Island Armory
The "Rock Island Armory" name will recall to somebody the Illinois-based, Army-run government arsenal that remained active in the military firearms and ammunitions sector well after World War II, assembling "National Match" 1911-A1 pistol variants and the "General Officers' Model" M-15 (Colt Commander-based) and M9 (Beretta-based) handguns, special models to be issued to general staffs and most senior officers of the U.S. Armed Forces, to be kept after retirement. A few years ago this name became a trademark of ARMSCOR - the Armaments Corporation of the Philippines, a company that's been active in the firearms industry wince well before World War 2, that has been producing shotguns and semi-automatic sporting carbines under the "Squares Bingham" name and that's more known for its fair-quality, low-cost 1911 pistol clones inspired by the longtime influence of the American gun culture over the Philippines. ARMSCOR launches new products every year, to meet the ever-changing tastes especially of the American market, and so it did this year at the SHOT Show, with a cache of pistols and carbines apparently very interesting.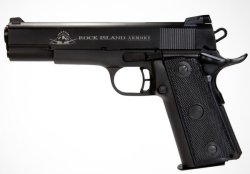 ARMSCOR - Rock Island Armory
First in order of interest between the Rock Island Armory new products for 2012 is the 9mm/22-TCM pistol: a 1911-A1 derivative with skeletonized hammer and trigger and Novak Lo-Mount rear sight, whose main feature is a quick barrel/slide change system that allows conversion from the 9x19mm chambering to the proprietary .22-TCM caliber, based upon a necked-down 9mm brass hosting a 40-grains .223 bullet, traveling well over 2000 feet/second. The .22-TCM caliber is reported to maintain a nice and flat trajectory all through its range, which will translate in enhanced accuracy in target shooting. Magazine capacity for the 9mm/22-TCM pistol ranges from eight shots in 9mm to ten shots in .22-TCM caliber.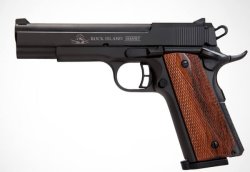 ARMSCOR - Rock Island Armory
Yet another "One size fits all" pistol from ARMSCOR/Rock Island Arsenal is the XT-22/45, a single-action semi-automatic 1911-based pistol with redesigned slide, skeletonized trigger and hammer, wooden grip panels and black anodized finish. Just like the 9mm/22-TCM, the XT-22/45 is a convertible pistol: the weapon comes factory-equipped with a conversion kit (slide, barrel, guide spring and rod, magazine) that will allow the shooter to change from the baseline .45 ACP chambering to the less expensive and more practical .22-Long Rifle rimfire, broadening choices and enhancing capabilities (not to mention, saving money) for inexpensive plinking and target shooting, accuracy training, personal and property defense, just by shifting from the most universal small caliber currently available in the world to a classic man-stopper, all without the need for a third-party conversion Kit. Capacity for the XT-22/45 pistol passes from eight rounds in .45 to ten rounds in .22 rimfire.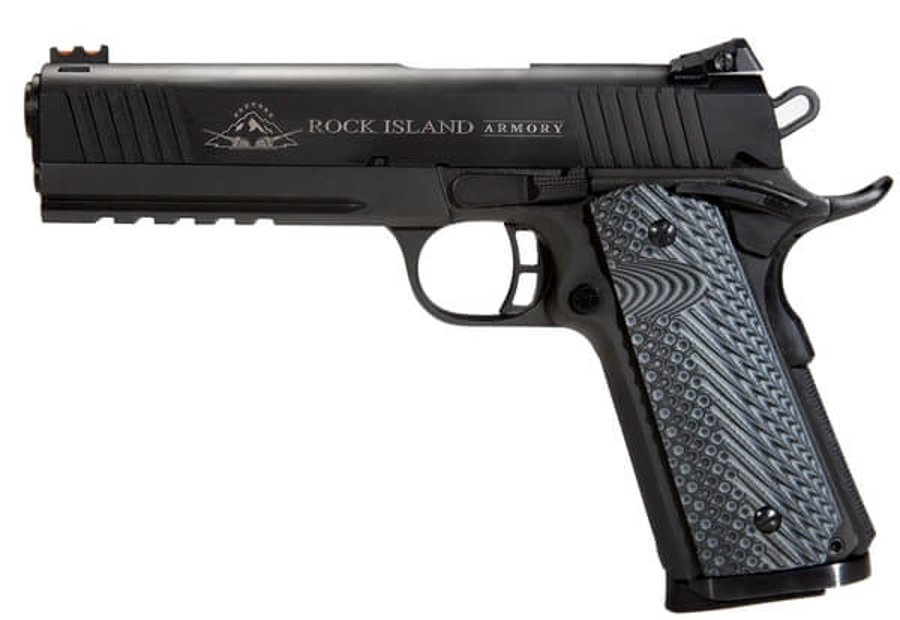 ARMSCOR - Rock Island Armory
The third new Rock Island Armory's pistol for 2012 is the "2011 Tactical Series VZ-Grip" model, a .45 ACP single-action autoloader for IPSC competitions and tactical applications, sporting an eight-shots magazine, black anodized finish, skeletonized gammer and trigger as usual, Italian-made LPA rear sight and TruGlo front post sight with tritium insert, plus extended beavertail and frontal slide serrations for easier chamber checks.  The frame on the "2011 Tactical Series VZ-Grips" pistol features a MIL-STD-1913 "Picatinny" rail for tactical accessories, and its synthetic grip panels show a peculiar checkering pattern (called the "VZ-Grips", that is) that enhances ergonomics and ensures a tight and safe hold even in the harshest conditions, or when using all kinds of gloves.

ARMSCOR - Rock Island Armory

ARMSCOR - Rock Island Armory
Last, the Rock Island Armory brand will also be distributing fresh products in its range of long arms chambered for the .22-Long Rifle cartridge, a range that includes worldwide-known military-style models such as the M-20, the M-1600 and the MAK-22. New for 2012 are the M-22 and MIG-22 blowback-operated semi-automatic carbines: the M-22 is a classic-style carbine with a wood or fake-wood stock, fed through low-capacity translucid plastic magazines, and equipped with fixed front post sight and rear sights adjustable for elevation that challenges similar guns made by some way more famous competitors such as Winchester, Remington or Ruger in their own territory, sports shooting, with a serious advantage given its way lower price tag; the MIG-22, which shares the same working mechanisms of the M-22, sports instead a military-style chassis with fixed AR15-type polymer stock and pistol grip, a right-side mounted cocking handle and a bull barrel on a free-float handguard. The MIG-22 is fed through 10-rounds or 20-rounds black metal magazines and has no iron sights, replaced by a PIcatinny rail. This wide array of features make the MIG-22 more than perfect for small-caliber target shooting competitions.