TISAS, or more correctly TİSAŞ, gives its contribution to the 10mm renaissance: Knoxville-based TISAS USA launches the new D10 1911 semi-automatic pistol, a full-size 1911 obviously chambered in the once-again-apprecciated "Big Ten".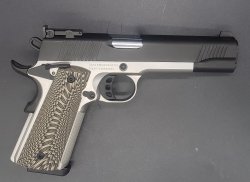 Founded in 1993, TISAS is actually a Turkish gun manufacturer based in Trabzon, specializing in 1911 pistols but also manufacturing polymer- and aluminum pistols, and AR15 style rifles. 
Tisas USA is the exclusive partner to provide these Turkish firearms to the U.S. market.
"Tisas 10mm pistols incorporate features often seen only on high-end or custom pistols. A forged frame, slide, and hammer-forged barrel, combined with the Tisas lifetime service plan make the D10 one of the best 10mm values on the market," they claim.
TISAS D10, a Series 70 1911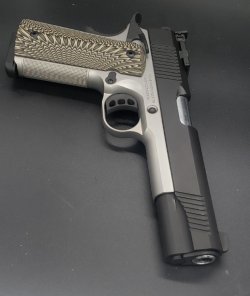 Mechanically speaking, the D10 features Series 70 internals and very classic 1911 aesthetics, with a pleasing "dual tone" finish – which is also very 1980sh, just like the 10mm cartridge...
Barrel is a classic 5" length, while the forged full size length slide has front and rear cocking serrations. Front and back straps feature fine 25 LPI checkering,. 
The grip has a stainless flat mainspring housing with 20 LPI checkering and trigger undercut. Grips are G10 Target with a fairly striking "optical" pattern. Beavertail is extended. Trigger and hammer are lightened.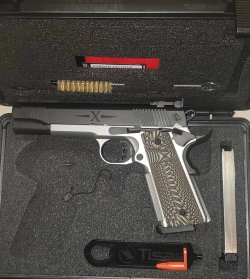 Rear sight is a fully adjustable LPA Bomar Small Blade type, coupled to a serrated black front sight. Magazines come with a black base pad.
Ejection port is flared and lowered, to reduce the risk of jamming. Thumb safety is extended and ambidextrous.
MSRP sounds pretty reasonable at $799.95, considering that the package includes two magazines, cleaning kit and owners manual, shipped in a waterproof and lockable hard case with fitted cut foam insert.
All in all, the new \0mm D10 from Tisas is a very traditional, reassuring full-size 1911 pistol, solidly made, with a sprinkle of modern details. 
Above all, it is a new option for "Big Ten"  lovers who have had to suffer for years before the general public recently rediscovered this powerful caliber from the 1980s.