ZEV Technologies announces a very special variant of their OZ9 9mm pistol: the Christian Craighead OZ9. For those who don't know who Chris Craighead is, a quick recap may be useful: a veteran of the 22nd Special Air Service, Chris joined the British Army as a sixteen-year-old, initially serving in the Parachute Regiment and Pathfinder Platoon. 
He was eventually selected for the British Army's tier-one SMU, known for covert reconnaissance, counter-terrorism, and hostage rescue. 
During his time with this unit, he deployed on operations several times, also making his name as a counter-terrorism instructor. In 2019, Craighead was decorated for gallantry after confronting a major islamist terror attack in Nairobi, Kenya. In 2020, he retired from the army after twenty-eight years of active service.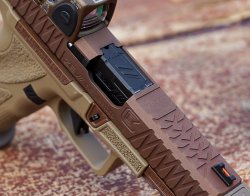 The new Craighead OZ9 was designed in collaboration with him, and the design elements of the pistol pay tribute to the significance of the number 22 in Craighead's life (as noted before, he is a a veteran of the 22nd SAS). For example, the slide serrations are cut at 22 degrees and at a depth of 22 thousandths. Also, you can find the CC logo on one side of the slide and the modified Blackbeard (Edward Teach) pirate  logo on the other. 
"There's also the hourglass, and the hourglass is extremely important to me because it obviously represents time, and time is running out for us all: we don't  know that but in a fire fight time is key. Not only, not just about time to take the shot, that's the obvious, but it's time to make the decision whether to shoot or not to shoot, whether to act and when not to act, and that was key in my life," Craighead explains. Nothing on this weapon is accidental, everything means something: "it's a nod to things that happened in my life," he adds. You can watch the full interview in the video below.
ZEV Christian Craighead OZ9: interview to Chris Craighead
This video has been hidden because of an external service (YouTube) that could potentially collect personal data.Allow video services for the duration of the visitAllow video servicesStop allowing video services
"Some of these elements are laced in mystique and others are out in the open," they say at ZEV about the symbolism embedded in the gun.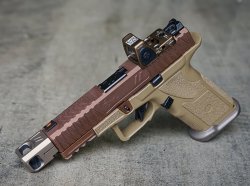 Originally introduced in 2019, the OZ9 was ZEV's first complete 9mm pistol with everything built entirely from the ground (we already it here). Till then ZEV wan in fact known as a manufacturer of tuning parts for Glock pistols. Dimensionally similar to a Glock 19, the OZ9 frame combines a steel chassis with a replaceable polymer grip. Other features of the original OZ9 also to be found in the Christian Craighead OZ9 special variant include the PRO flat face trigger and a removable PRO-Plus magwell. 
Additionally, the Christian Craighead OZ9 comes with a compensator as standard, which can be removed in the name of full versatility and modularity. The gun has a red-dot ready milled slide. Price for the Christian Craighead OZ9 is yet to be announced and its release is scheduled for June 15, 2022.