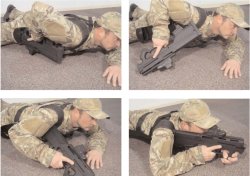 In 2009, the MagPul Defense Industries Corporation out of Erie (Colorado - U.S.A.), just a year after astonishing the gun world with the prototype "Masada" adaptive assault rifle, now in production as the ACR through two Freedom Group companies (Bushmaster Firearms International and Remington MPD), drew attention upon itself by briefly showcasingat the NDIA expo another firearm prototype, dubbed the PDR, or "Personal Defense Rifle": a subcompact, bull-pup, STANAG magazine-fed 5,56x45mm-NATO select-fire weapon featuring a polymer chassis and a 11.5-inch barrel, plus ambidextrous controls, Picatinny rails, and a clever forward-ejecting system. A true "game changer" in the field of personal defense weapons, as it would represent an effective alternative to proprietary-caliber submachineguns, just as compact and lightweight, yet packing the punch, the range and accuracy of a compact assault rifle such as a SIG SG-552 or a Colt "Commando", with another considerable advantage being simpler logistics given that it would use standard service rifle ammunition and magazine.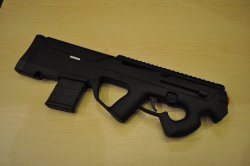 The PDR project didn't develop any further as of today, but this doesn't means that the public isn't interested in the prototype any more; Airsoft and MilSim enthusiasts, particularly, longed for a replica version since the first mock-ups were seen at the 2009 SHOT Show, and hence why at the 2011 edition in Las Vegas (NV), the Hong-Kong based PTS - Products for Training and Simulation division of the MagPul Industries Corp. first showcased an Airsoft variant of the project; expected delivery was then slated for about one year, and trepidation between MilSim enthusiasts grew up day by day just like it did back when the first "Masada" assault rifle prototypes where shown and up to when the early AEG variants were first sold.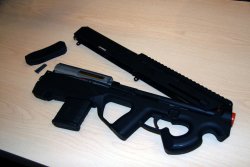 Now the time appears to be come, as all4shooters.com learned at the SHOT Show and IWA this year: MagPul PTS is gearing up for the mass production of the PDR Airsoft replica, and unless any further delay steps in the way, distribution should start by Fall 2013. Originally production and distributions were slated to begin in late summer, but tooling up and stocking phases for a product that is definitely bound to gather a high demand on the market took more time and resources than expected. We weren't actually surprised by the early July/August deadline being pushed forward, as it hadn't been established as sure and ultimate. We however hope that there will be no further delay in the deliveries of this hot product.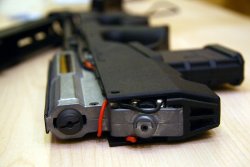 The MagPul PTS PDR Airsoft carbine should feature a proprietary gearbox and basically reprise the standards and configuration of the MagPul PTS "Masada" rifle as far as it concerns batteries, magazines, and materials. MSRP for the U.S. market is slated to be around $300.00.
Sure the MagPul PTS PDR has a lot going for it, and is not the most eagerly awaited event in MilSIm and Airsoft ever since the "Masada" itself and the FPG... both of them MagPul products. This can't be just a coincidence.