It's been a long road: first announced by Hi Point Firearms in January 2019 with a social media naming contest they called "The peoples pistol – name our nine", they chose a (pretty embarrassing) name, but the pistol was not to be seen for four years and half. To the delight of all Hi Point supporters, the new 9mm "Yeet Cannon", or YC9 for short, is finally here: MKS Supply, the exclusive distributor of Hi Point Firearms, has announced the launch of new handgun.
Hi Point YC9, with or without threaded barrel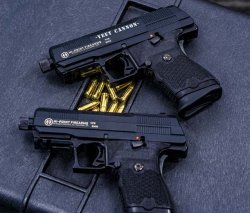 An improvement over the previous C-9 model, "the YC9 comes out as HI Point's top-tier 9mm handgun, equipped with a threaded barrel that enhances its adaptability for various accessories. The 1/2-28 threads on the 4.12" barrel length allows users to effortlessly attach suppressors, compensators, and other muzzle devices, elevating the shooting experience to new heights and offering customers more options".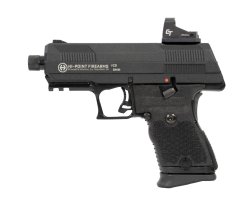 A Glock-style replaceable front sight, new stylized grips, backstrap safety, reversible backstrap for a more customized fit, a new styled slide for a better look adaptable for mounting a red dot plate and a proprietary double-to-single stack magazine round off the package. Finish is all black and the gun is +P rated.
The new YC9 is also available in a version without the threaded barrel and, for those who wish, in a variant with a flashy "YEET CANNON" white marking on the slide.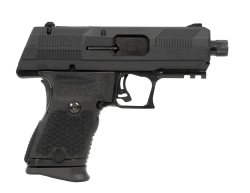 The 4.12"/104 mm barrel has a 3-groove LH twist rifling. The weight of the unloaded handgun is 34.2 oz, or 969 g: not exactly a featherweight.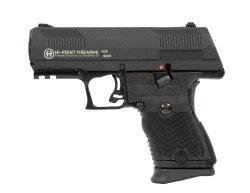 Magazine transitions from a double stack to a single stack and its capacity is 10 rounds – again, not that impressive, especially in such a bulky handgun (overall width is 1.4", more than 35 mm, and overall length is 7.6"/193 mm).
So, summing up, the Yeet Cannon is massive and cumbersome, aesthetically chunky, heavy and with a modest capacity for a 9mm handgun. What's its best quality? Well, it is very affordable. 
With an MSRP starting at $229 in the U.S. the YC9 responds to the objective of "providing handguns for any American who wishes to protect their family, despite their income level," as explained by Kara Boesenberg, Executive Vice President at MKS Supply.
Hi Point YC9 Yeet Cannon specs and price
| | |
| --- | --- |
| Caliber: | 9mm |
| Barrel Length:  | 4.12"/104 mm  |
| Overall length:  | 7.6"/193 mm |
| Height: | 5.8"/147 mm |
| Width: | 1.4"/35.5 mm |
| Weight (unloaded):  | 34.2 oz/969 g |
| Magazine Capacity:  | 10 rounds |
| Price (MSRP in the U.S.):  | $229 |