Girsan is a Turkish company based in Giresun, a pleasant town overlooking the Black Sea. Girsan is active since 1994 in the production of firearms, in particular semi-automatic pistols. In its catalog you can find several pistol series, some based on the 1911 platform, others based on original designs, and still others clearly inspired by Beretta, such as the Regard model we are introducing here.
The fourth generation of the Girsan Regard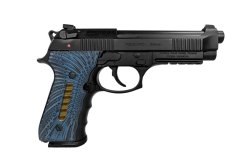 The Girsan Regard Gen 4 is a semi-automatic, double/single action pistol strongly inspired by the great classic of the Italian firearms manufacturer. The slide features very deep  cocking serrations, both at the front and at the rear. In front of the trigger guard there is the now ever-present accessory rail. The DA/SA competition trigger has a very short travel, with a clean break and a fast reset.
The blue or black multiple-layered G-10 grips feature a window to display the remaining cartridges in the 18-round double-stack magazine and the front strap features grooves to improve gun control. The windowed grips for check rounds remaining is not an original idea – they first appeared in a variant of the Luger pistol and more recently in the pistols manufactured by ASP, featuring full clear plastic grips. We have some doubts about the practical use of this feature, but it can't be said that these grips are not original – Girsan obviously holds them in great consideration, since it offers them in other models from its catalog too.
Sights and controls
Sights consist in a dovetail-mounted front sight with a white dot and a low-profile, drift-adjustable rear sight, with two white dots. On request the gun is also available with a fully adjustable rear sight.
The Girsan Regard Gen4 is equipped with a decocking lever, an oversized magazine release, a thumb-rest slide stop and an ambidextrous safety lever on the slide. It also features a visual and tactile loaded chamber indicator.
The barrel of the Girsan Regard Gen4 is 4.9"/125mm long, while the overall length of the gun is 8.6"/217mm for an empty weight of 34.4 oz/874 grams.

For the moment, the Girsan Regard Gen4 is available in 9mm Luger caliber only with an attractive MRSP of around 510 USD.