Article also available in other languages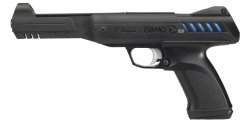 A company that longs to be a market leader in its sector − no matter the sector − must prove itself to be capable of constant innovation. But "innovation" is not limited to the mere launch of brand new products every year; "innovation" also means coming out with new technologies that may be integrated in already-existing designs, so that users that are already fond and happy with them may still be able to use what they're familiar for and get the best out of them without being forced to buy something new year after year, not only spending money but also wasting time to train with their new instrument. This is valid for any instrument, be it a screwdriver or a drill, a car or an airplane, a shotgun or a handgun, or even an airgun.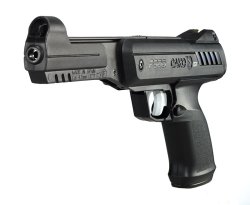 And that's exactly the mindset that led the Spanish-based GAMO Outdoor company to prosper and grow stronger in the past years, conquering wider and wider shares in such a competitive market; as a matter of fact, currently GAMO is an almost undisputed world leader in air pistols and air rifles.
As the years went by, GAMO undeniably scored by by acquiring important globally-acknowledged brands such as BSA and Laser Genetics, and devoted a lot of effort in launching a wide product line that now includes dozens of air pistols and air rifles dedicated to any shooting activity, from inexpensive plinking to field target up to airgun hunting. GAMO's core business however still firmly lays in entry level airguns offering quality and performance at a budget price. GAMO air pistols and air rifles may not be the first choice for top-rated olympic shooters, but will always have a place in the hearts − and in the gun racks − of all those shooters who seek for an inexpensive and versatile airgun for indoors and outdoors practice, realistic enough to be used as a viable training aid to introduce younger generations of future top-notch shooters to the basics of safe gun handling and individual marksmanship.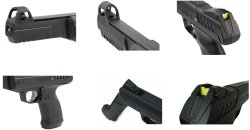 GAMO's research and development department has been engaged for years in an attempt to better identify − and positively solve − the drawbacks of the bulk of existing airguns, including GAMO's own ones. Their response was an innovative, patent-pending working system now being implemented by GAMO in all its single-shot, break-barrel airguns, starting with some of the company's latest and most highly regarded air rifles.

Dubbed IGT - Inert Gas Technology, GAMO's new working system basically replaces the standard loading spring system with a pneumatic inert gas piston that will fill a chamber with nitrogen. The piston armament and its release when the trigger is pulled cause a considerably lower level of attrition in the airgun's internals, meaning that the IGT piston is easier, lighter to load than a standard airgun spring, and shooting is crisper and cleaner.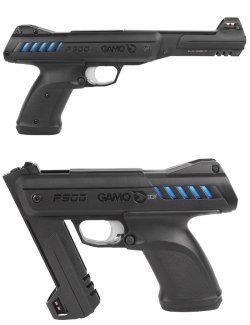 Lower attrition levels are also cause of a considerable reduction in vibration, guaranteeing superior stability and thus an increase in inherent accuracy; inert gas will also provide a more uniform propulsion to the pellet, increasing terminal velocity to levels that will be particularly satisfying and welcome for those who use airguns for pest control.
The undeniable advantages of the IGT system led the Company to the decision to adapt said technology for the first time to one of GAMO's own best-regarded and best-looking target shooting single-shot airguns.

As a result, the Spanish company introduced the GAMO P900 IGT single-shot break-barrel pistol at the SHOT Show, IWA and other gun trade shows of early 2014.
The appealing, futuristic outline of the basic P900 now blend with an innovative technology that will boost the platform's capabilities for all intended and imaginable purposes, from simple outdoors plinking to target practice and official training.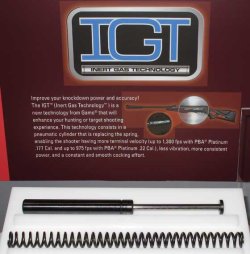 The GAMO P900 IGT is a break-open single-shot pistol whose breech will host a single 4,5mm/.177 metal pellet at the time; it is compatible with all 4,5mm/.177 pellets, exception made for spheric ammunition. The P900 IGT piston requires a 21lbs/9.5Kg. cocking effort; the airgun itself is mostly manufactured out of metal and ABS polymer, is 12.6-inches/32cm. long and weighs 1.3 pounds 580 grams).

The fluted, polymer-coated, rifled steel 6.2"/16cm. barrel will provide superior accuracy, while superior stability is granted by the rubberized, checkered, user-friendly grip. The overall design of the P900 IGT makes it more instinctive and natural to align with the target, and so does the rear sight with a bright yellow aperture and the hooded, adjustable fiber-optic front post. The P900 IGT airgun also sports GAMO's very own, patented SAT "Smooth-Action Trigger", adjustable for 2-stages or 1-stage release and breaking at 4.5lbs/2Kg. approximately. The P900 IGT also features a manual safety located behind the trigger guard.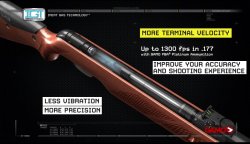 The muzzle velocity levels offered by the GAMO P900 IGT may vary greatly from Country to Country, usually ranging around 400 feet per second (121.92 meters per second), which translates in a muzzle energy level well below the 7,5 Joules threshold. This is actually deliberate: in most Countries, this treshold is what sets apart airguns that can be freely purchased and owned by anybody over 18 years of age from those whose ownership requires a gun license and must be registered with Police authorities.
The GAMO P900 IGT airgun is already available on the international parket; it's manufacturer's suggested retail price is set at US$79.95 in the United States, and it can be purchased at a steet price ranging anywhere between 65 and 75 Euros in Europe. Further informations concerning local availability and pricing can be asked to your local GAMO distributor: the company maintains a comprehensive list of authorized international distributors on its website.

This video has been hidden because of an external service (YouTube) that could potentially collect personal data.Allow video services for the duration of the visitAllow video servicesStop allowing video services