Article also available in other languages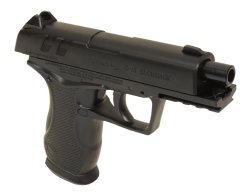 Airguns are some of the best training instruments out there to introduce newbies and youngsters to the principles of individual marksmanship as well to the basic rules of safe and effective handling of firearms. In some Countries and jurisdictions − where the handling and use of firearms by minors and otherwise unlicensed persons, even when small-caliber (.22, so to speak) and/or under adult or expert supervision, is heavily restricted or outright forbidden by law − the "Appleseed" initiatives so common and popular in the United States are legally impossible, and thus airguns may be the only legal way to provide the younger generations of shooters with the basic training until the "time is right" to provide them with real firearms.
Spanish-based GAMO Outdoor, Europe's biggest airgun manufacturer and one of the greatest names overall in the world of air guns − be them low-yield (<7.5J muzzle energy) or high-power (>7.5J muzzle energy) − is very well aware of this; as a matter of fact, most of new GAMO products from the past years are specifically aimed to the younger shooters, and as such they sport appealing designs and a performance level that makes them perfectly suitable for both shooting range training and outdoors leisure plinking.
The C15 Blowback semi-automatic pistol is one of these, having been launched by the GAMO company this year as a component of the new product line whose other "members" include the  MP9 sub-machinegun and the Whisper IGT carbine − all built around extremely dynamic, modern designs and featuring innovative technical solutions to make them even more performant for their category, without sacrificing affordability.

GAMO's C15 Blowback semi-automatic pistol is incredibly realistic in both general layout and working principles: it is thus a true training instrument, faithful to these times when small-caliber (generally rimfire) variants of service weapons − and sometimes even airguns − were used by some important Armies worldwide to teach the basics of gun handling and individual marksmanship to fresh recruits, mostly conscripts who had never seen or handled a firearm before and would thus be dangerous with a full-caliber weapon in their hands without some sort of propedeutic work. As a matter of fact, some cadet organizations worldwide still use airguns for basic marksmanship training, and that's another market that the ultra-realistic GAMO models are likely to appeal to.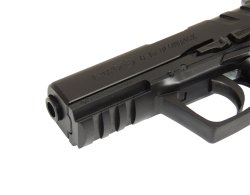 The GAMO C15 Blowback pistol is built on behalf of the Spanish group by a Japanese-based contractor: the quality and affordability levels that the GAMO name is known for, thus, go hand-to-hand with the excellent level of performance, precision and craftmanship of Japanese industrial products.
The GAMO C15 Blowback pistol is almost totally made of polymer plastics. The slide is reminiscent of many modern handguns construction, featuring a fake (closed) ejection window and an imitation hammer; so is the frame, which is ergonomically modeled and features a totally ambidextrous, and realistic, controls configuration: once again, the magazine and hold-open release catches, the takedown pins, and others, do match the position and proportions of the components found on many modern service pistols. The C15 Blowback even features a MIL-STD-1913 "Picatinny" rail to fit Airgun- or Airsoft-grade imitations of tactical accessories (tactical lights, laser pointers, and so on) should the shooter want to use it to train with the specific handling and shooting procedures that have been invented during the years to exploit the features of handguns with tactical accessories for service or defensive purposes.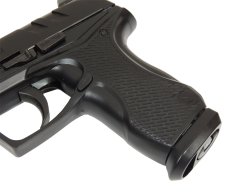 According to the data provided by the GAMO company, the C15 Blowback air pistol will propel a 4.7-grain .177 pellet (tests were made with GAMO's own PBA "Platinum" pellets) at 450 feet per second, which turn into roughly 2.82 Joules of muzzle energy; this means that its power level makes it legal to purchase and own by any citizen of legal age in many Countries (most of Europe, Russia, and others) without any sort of license or other restrictions, which would instead apply if the muzzle energy leve was over the 7.5 Joules threshold.
Said power level is amazing nonetheless, as the GAMO C15 Blowback pistol will still empty an entire magazine in 2.4 seconds while still be able to provide a 0.25" group (center to center) at 10 yards: thats quite a good performance for a 4" all-steel smoothbore barrel!
The  GAMO C15 Blowback pistol feeds through a slimline polymer single-stack magazine that will hold up to fifteen 4,5mm (.177) pellets. GAMO recommends all shooters to use only BB-type (round) or short-skirt mushroom-shaped ("Diabolo") pellets, as long-skirt Diabolos may damage the magazine.
Propulsion is achieved through any standard commercial-grade, 16gr. CO² canister with threaded end, which is to be inserted in its proper seat in the rear portion of the pistol grip. One of said standard CO² canisters will provide enough carbon monoxide for 80 shots, each accompanied by a sharp slide blowback effect − that's what the C15 actually takes its name from.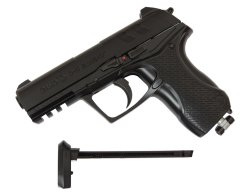 The GAMO C15 Blowback pistol is 10 inches long and weighs roughly 1.5lbs. with a full magazine and a CO² canister. It features a fixed sights set with white reflective inlays, a manual safety, and a SA/DA trigger that's quite heavy for firearms' standards, but fairly average for airguns' standards: its pull ranges from 9.24lbs. in single action up to 9.46lbs. in double action.

Distribution of the GAMO C15 Blowback CO²-operated airgun has already started worldwide; the pistol is currently available for sale in most Countries reached by the GAMO international distribution network.
Manufacturer's suggested retail price for the C15 Blowback pistol ranges around 80.00€ in Europe and tops 99.95US$ in the United States; nonetheless, perspective buyers should inquire with their local GAMO authorized importers and distributors, or with their local gun shop, for availability and locally-applied street price.