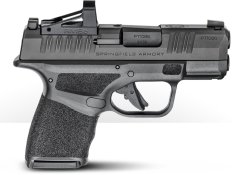 "Micro-compact " polymer-framed pistols in 9mm are much in  vogue these days, and competition between manufacturers is fierce. After a long teasing campaign, it's now the turn of Springfield Armory, that with its all new Hellcat model has just released "the World's Highest Capacity Micro-Compact Gun" . 
Well, this is the claim, at least: the Hellcat actually features a patented magazine with "best in class capacity" of 11+1 and 13+1 rounds with included extended magazine. That's not bad, considering that similar guns such as the SIG P365 Micro-Compact  offers a 10-round capacity (but there's an optional 12-round or 15-round extended magazine) while in the GLOCK 26's standard magazine you can squeeze just 10 cartridges (even if it can use the larger magazines of GLOCK 17 and 19 models).
Springfield Armory Hellcat, "The Capacity to Defend"
"The Capacity to Defend" is the pistol's payoff. As most modern micro-compact guns, the Hellcat is a striker-fired pistol designed for every-day carry . It's 6" / 152 mm long and 4" / 101 mm high (w/ flush mag, 4.5" / 114 mm w/ extended mag), with a grip width of 1" / 25 mm.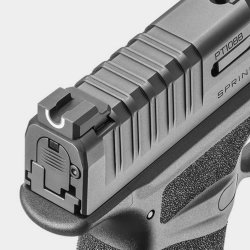 Actually developed by the Croatian manufacturer HS Produk, among the features the tiny pistol boasts top slide serrations for positive engagement in adverse conditions, an Adaptive Grip Texture and high visibility sights – a tritium & luminescent front sight paired with a Tactical Rack U-Dot rear sight for easy target acquisition in all lighting conditions. An optics ready OSP configuration with a milled slide to accept micro red dots is also available (the manufacturer recommends JP Enterprises JPoint and Shield RMSc micro red dots). This way, optics can be mounted directly to the slide for the smallest possible footprint.
The hammer forged barrel is 3" long and overall weight is just 18.3 oz. empty. The dust cover sports the usual standard rail for mounting of lasers and lights. A flat trigger body with nickel boron coated trigger group offers a consistent trigger pull. A loaded chamber indicator – in the form of a peep hole at the rear of the barrel hood – adds to the gun's safety features that also include a GLOCK-style trigger safety. The single-sided magazine release can be reversed for left-handed shooters.
For a MSRP of 599 USD, the Hellcat comes with 2 magazines (a patented 11-round mag with pinky extension and a 13-round extended mag). A flush plate is also included to give the pistol as small of a footprint as possible.
All in all, it looks quite promising and here at all4shooters we can't wait to get our hand on it – if nothing else, to see if the Hellcat can have a place in our disillusioned heart beside our beloved GLOCKs and SIGs!